Thekchen Chöling, Dharamsala, HP, India - His Holiness the Dalai Lama met about 80 members of the Vietnam CEO Club at his residence today, as he has done on previous occasions. In a new development, by means of interactive video-conference links groups of between 300 and 500 in four cities in Vietnam—Hanoi, Haiphong, Ho Chi Minh City/ Saigon and Da Nang---were also able to take part. These groups, gathered in conference rooms rather than temples, consisted of both Buddhists and young people who have been inspired by His Holiness's explanations of universal values in books like 'Ethics for a New Millennium' and 'Beyond Religion'. From where he sat here in his residence, His Holiness was able to see each of these groups in Vietnam on a large split screen video display.
To start with, His Holiness took some minutes to perform preparatory procedures for a Medicine Buddha Permission.
"Spiritual brothers and sisters," he began, "today I can talk not only to you Vietnamese brothers and sisters here, but also those of you gathered in cities at home in your own country. And although those of you in Vietnam are physically far away, at this time we have come together as one group. It's a new experience for me to be able to speak not only to the people in front of me, but also to those who are far away, with the help of modern technology.
"I always stress that limitless mother sentient beings all want happiness and do not want suffering. While there may be other beings in other parts of the universe, it's only the beings on this planet with whom we have a direct connection. Today, we are all interdependent. Challenges like climate change and global warming, and the natural disasters such as earthquakes that they provoke, affect us all, so we have to act as one community.
"You Vietnamese have proved yourselves as tough and determined. Now you need to think in terms of the whole world, not just what concerns Vietnam."
He told them that when we talk about happiness, we must think in terms of peace of mind, which is a real source of joy. He mentioned that all the major religious traditions carry a message of love and affection and that conflict in the name of religion is unthinkable. Suggesting that here in the 21st century it would be better not to repeat the problems of the past, he observed that there are signs of a new maturity amongst humanity. He cited recent renewed talk of a widespread wish to eliminate nuclear weapons as an example.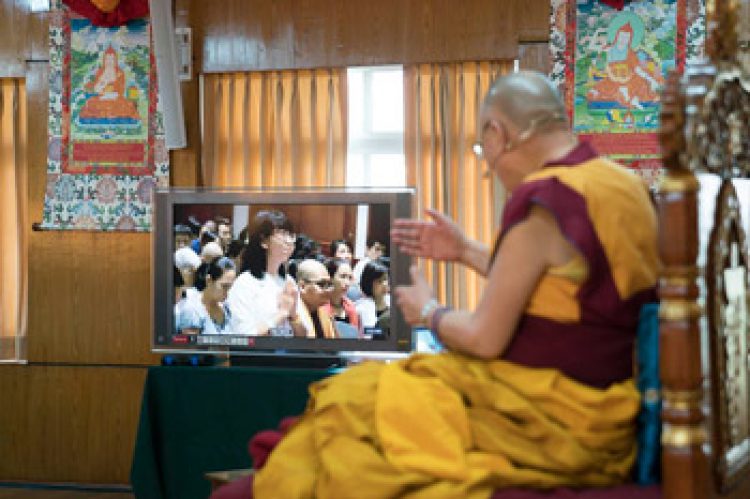 The Perfection of Wisdom Sutra in 25 lines, commonly known as the 'Heart Sutra' was recited in Vietnamese, following which His Holiness gave a summary explanation of what it meant. He said that the Buddha showed us from his own experience how we too can become enlightened, noting that the dharani in Sutra, 'Gate, gate, paragate, parasamgate, bodhi svaha' indicates the paths from how we are now progressing up to perfect enlightenment. Referring to the lines, 'Form is empty, Emptiness is form', His Holiness told his listeners that what he says to himself every day is, "I am empty, emptiness is I".
He suggested that the quantum physics observation that so long as there is an observer there is an observed object, but no object is observed when there is no observer, resonates with the view of the Mind Only School. Consequently it has proved fruitful for Buddhist and modern scientists to discuss questions like 'What is the observer?' and 'What is consciousness?' His Holiness mentioned that Nagarjuna's 'Fundamental Wisdom' is available in Chinese and there are English translations, recommending that those interested could usefully read Chapter 26, then Chapter 18 and then Chapter 24.
His Holiness briefly answered questions put to him by the groups in Vietnam before beginning to conduct the Medicine Buddha Permission. In the course of this he led the students first in generating the awakening mind of bodhichitta and then in taking the Bodhisattva vow.
As the ceremony came to an end, representatives of each of the four groups in Vietnam separately thanked His Holiness for his teaching and expressed their wishes for his good health and long life.