'Leh, Ladakh, J&K, India, 20 & 21 August 2016 (from news reports) - Continuing to teach Shantideva's 'A Guide to the Bodhisattva's Way of Life' His Holiness the Dalai Lama today suggested: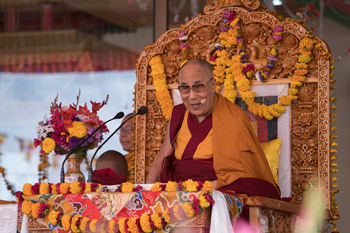 His Holiness the Dalai Lama during his teachings in Leh, Ladakh, J&K, India on August 20, 2016. Photo/Tenzin Choejor/OHHDL
"The more we practice altruism and help others, the more we will benefit ourselves. The resultant peace of mind helps us live longer, able to serve humanity longer."
He recommended that devotees pray with a good motivation to live longer in order to have greater opportunity to practise the Buddhadharma, cultivate bodhichitta, and attain Buddhahood. He added:
"Right from childhood we are under the influence of destructive emotions. We have an instinct to harm others, to kill insects and so forth, due to our past karma and being habitually driven by negative attitudes.
"From the beginning, we are accustomed to being ignorant about reality and adopt a self-cherishing attitude. Now, due to encountering the teaching of the Buddha, we are awakening from the slumber of ignorance. Therefore, we should try to generate the awakening mind of bodhichitta. In the immediate short term it will bring us peace of mind and better health, while in the longer term it will ensure that we take a higher rebirth."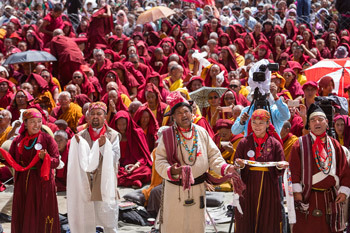 Reprenstatives of the Ladkhi community presenting offerings during Long Life prayers for His Holiness the Dalai Lama in Leh, Ladakh, J&K, India on August 20, 2016.
Photo/Tenzin Choejor/OHHDL
As His Holiness came to the end of his explanation, hundreds of monks and members of the public, led by Ganden Tri Rinpoche and Ladakh Buddhist Association President Tsewang Thinles, performed ceremonial prayers for His Holiness's long life and good health. On behalf of the entire people of Ladakh, Tsewang Thinles expressed thanks to His Holiness for coming and showering his blessings on them. He further requested His Holiness to visit Ladakh again and again in the future.
In his response His Holiness said,
"These prayers made with great faith and devotion will help me live longer, giving me the opportunity to work for the welfare of all sentient beings."
On 21st August, the last day of the four days of public teachings, His Holiness conferred an Avalokiteshvara empowerment. In the preamble he encouraged Buddhists among his listeners to adopt a vegetarian diet and curtail their use of alcohol. He urged everyone to be more compassionate and sincere and to recognise that we are all brothers and sisters belonging to one human family.