Geneva, Switzerland, 11 March 2016 - When His Holiness the Dalai Lama arrived in Geneva yesterday evening a large number of Tibetans gathered in front of the hotel to welcome him.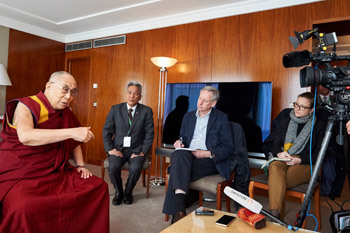 His Holiness the Dalai Lama speaking to journalists in Geneva, Switzerland on March 11, 2016. Photo/Olivier Adam
This morning, during a meeting with journalists he explained his three commitments. He recommended that education should emphasize the inner values of warm heartedness, tolerance and forgiveness. He observed that although religion has been a source of happiness for thousands of years, sadly, today, it is becoming a source of hatred.
He made clear that when he retired from his political responsibilities in 2011, he did so completely, voluntarily and proudly, but conceded that 99 percent of the Tibetan people continued to place their hope and trust in him. Therefore, in addition to being concerned for them, he continues to work for the protection of Tibetan culture and Tibet's natural environment. He explained that since Tibetan culture is a culture of peace, non-violence and compassion, it is in everyone's interest that it be preserved.
In the afternoon, His Holiness the Dalai Lama, fellow Nobel Laureate Tawakkol Abdel-Salam Karman and Leila Alikarami, an Iranian lawyer and human rights activist representing Nobel Laureate Shirin Ebadi, engaged in discussions on the theme 'Nobel Laureates on Human Rights - A view from civil society' at the Graduate Institute of Geneva. This event, hosted by the Permanent Missions of the United States and Canada to the United Nations, took place on the periphery of the UN Human Rights Council's 31st session. Mrs. Kate Gilmore, UN Deputy High Commissioner for Human Rights moderated the event.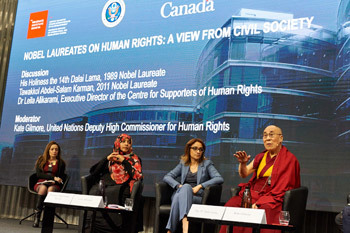 His Holiness the Dalai Lama speaking during the panel discussion on 'Nobel Laureates on Human Rights - A view from civil society' in Geneva, Switzerland on March 11, 2016. Photo/Olivier Adam
His Holiness expressed his gratitude to the US and Canadian Permanent Missions to the UN for hosting the event. He also acknowledged the moving addresses of the two speakers who preceded him.
"We are talking about the future of humanity," he said. "No matter how small our voice here may be, it is essential we speak up. Sometimes people say all is well with the world, but they are mistaken. We are facing many problems. During my lifetime I have witnessed continual conflict and bloodshed in the course of which millions of people have been killed. We need to ask where we went wrong, what qualities we lack and why violations of human rights take place. Answering these questions and creating peace will require wisdom and compassion.
"Although I am a Buddhist monk, I am sceptical that prayers alone will achieve world peace. We need instead to be enthusiastic and self-confident in taking action."
He said those now causing trouble and disturbing peace in the world are also confident, but are insufficiently moved by basic human values. Therefore, if we are to create a more peaceful world in the future, we need to introduce warm-heartedness and secular ethics into our general education system.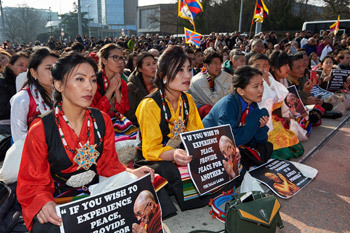 Many of the 3000 members of the Tibetan community listening to His Holiness the Dalai Lama at the Palais des Nations in Geneva, Switzerland on March 11, 2016. Photo/Olivier Adam
He observed that climate change and the ups and downs of the global economy are problems that affect us all. They are not confined to national boundaries. Focussing on secondary differences between us like race, religion, nationality and gender, stokes our inclination to divide people into 'us' and 'them', which easily becomes a basis for conflict. He stressed that if we remember the oneness of humanity and think of each other as brothers and sisters we can overcome that potential for violence.
Following the panel discussion, His Holiness drove to the Palais des Nations where he addressed about 3000 Tibetans. He assured them that he was in good health and thanked them for their prayers for his well-being.
Early tomorrow morning he will leave Geneva to return to India.