Bodhgaya, Bihar, India - Addressing pilgrims who are about to return to Tibet, first thing this morning, His Holiness the Dalai Lama told them they were a source of inspiration to Tibetans in exile. He spoke of the value of Tibetan religious traditions and stressed the need to study and develop a sound understanding. He told those who had intended to attend the Kalachakra Empowerment not to worry if circumstances now made that difficult. He encouraged them to remember to think of Kalachakra on 13th, 14th and 15th of the Tibetan month, which correspond to the 11th, 12th and 13th of the common calendar. He assured them that as he gives the Empowerment, he will think of them and keep them in mind, so they can feel confident that they have received its blessings. He mentioned a precedent from the time of the Buddha when, because of circumstances, monastic ordination was given from a distance.
His Holiness led the pilgrims through a short ceremony for generating the awakening mind of bodhichitta and gave them transmission of the mantras of Buddha Shakyamuni, Avalokiteshvara, Manjushri and Arya Tara.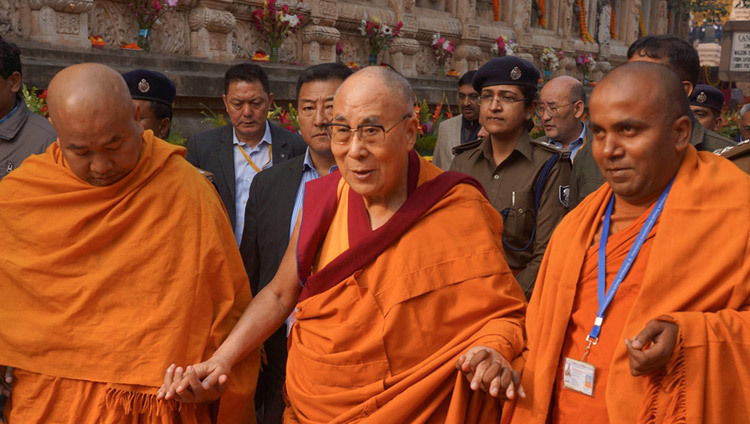 Amidst elaborate provisions for his security, His Holiness then drove the short distance to the gate of the Mahabodhi Temple compound, where he was received by the Gaya District Magistrate, Mr Ravi Kumar and the Bodhgaya Temple Management Committee Secretary, Nangsay Dorje. Two monks from the Mahabodhi Society escorted His Holiness down to Bodhi tree and the Vajrasana beneath it. From there, also accompanied by the Gaya Senior Superintendent of Police, Ms Garima Malik and the DIG, Mr Surabh Kumar, he began to walk clockwise around the temple.
Reaching the door to the inner sanctum he entered, paid his respects before the statue of Buddha Shakyamuni and sat on the floor. The monks from the Mahabodhi Society chanted the Mangala Sutta in Pali. Next, His Holiness, and monks from Namgyal Monastery recited the 'Sutra Recollecting the Three Jewels', 'In Praise of the Buddha for Teaching Dependent Arising', the 'Praise to the 17 Masters of Nalanda', the 'Supplication to the Buddha known as Drumbeat of Truth', the 'Prayer for the Long Life of the Dalai Lama' composed by Jamyang Khyentse Chökyi Lodro, the 'Praise for the Ecumenical Flourishing of the Teachings', the 'Power of the Words of Truth', the one verse prayer for His Holiness's long life and the 'Verses of Auspiciousness of the Three Jewels'.
Emerging from the temple, and escorted once again by the two monks from the Mahabodhi Society, His Holiness completed his circumambulation of the temple. Saluting friends and well-wishers on the way, he put his shoes back on and climbed the steps up to the gate. From there he drove back to the Gaden Phelgyeling – Namgyal Monastery.