Los Angeles, CA, USA, 17 June 2016 - Yesterday, His Holiness the Dalai Lama flew from Washington DC to Los Angeles on the other side of the country. This morning, he told a group of people he was meeting prior to a 'Women in Compassionate Leadership' Breakfast that while he would forget their names, he would remember their faces for decades. Answering a question about how politicians might become more compassionate, he recalled telling Vice-President Al Gore that human beings have an ability to deal with difficulties without becoming overly flustered. He likened this to the way the ocean may be choppy on the surface while remaining calm and undisturbed in its depths. The key to this is keeping things in perspective.

As His Holiness entered the room where the breakfast was being held, about 275 people, among them influential women, CEOs, entertainers and media representatives, were already seated at tables. A brisk video depicting His Holiness's life and activities was shown by way of introduction. Mimi and Maribel Unanue told how moved they had been to visit His Holiness in Dharamsala. They thanked him for encouraging women to take up compassionate leadership roles. First Lady of Anaheim, the Mayor's wife, Julie Tait, asked the gathering to welcome His Holiness and he took his seat on the stage.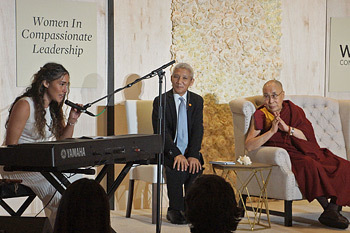 Q'orianka Kilcher performing at the "Women in Compassionate Leadership" breakfast in Los Angeles, California on June 17, 2016. Photo/Jeremy Russell/OHHDL
Q'orianka Kilcher then performed a song which began with a poignant flute piece. She then sang from the piano about the interdependence between the earth, sky, oceans, animals, and forests, as well as the gift we have to raise the next generation. Remarking that the flute evoked for him the vast grasslands of Tibet, His Holiness added:
"What I was going to say, she's already said." He laughed and continued, "Dear sisters and brothers, we are all the same as human beings. Like other living beings we have a right to survive. We are part of nature and our lives depend on it. We all want to live in peace, but peace is not something external to us, rather it is something here in the heart. Anger and jealousy destroy it. Inner peace is linked to cultivating inner values, which should be part of education. In the past we've relied on religion to show us the way, but today 1 billion people say they have no interest in religion. Meanwhile of those who claim to be religious, many talk about 'my religion' as if their own interests were more important.
"Education is the key to a healthy and happy humanity. Having a healthy mind is crucial to our physical health. Destructive emotions like anger disturb our peace of mind and distract our ability to judge right from wrong. Love and compassion—the essence of all major religious traditions—are fundamental to human happiness. What we need is an education in warm-heartedness. And since women are more sensitive to others' needs, it's possible that if a majority of the world's 200 or so countries were women, the world might be a more peaceful place.
"I believe that at a time when we need to emphasise love and compassion, women should take a more active role in public life. Regarding women as somehow inferior is a sign of backwardness. When, some years ago, the editor of a French magazine asked me if there could ever be a female Dalai Lama, I said, 'Why not?'"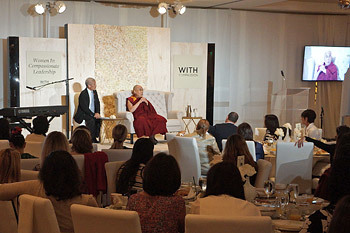 His Holiness the Dalai Lama at the "Women in Compassionate Leadership" breakfast in
Los Angeles, California on June 17, 2016. Photo/Jeremy Russell/OHHDL
His Holiness invited questions, comment and criticism and was asked what spiritual practice he would recommend for those with no belief in religion. He suggested following the advice of American psychiatrist Aaron Beck who told him that when we are angry and the object of our anger seems to be entirely negative and without redeeming qualities, it's worth remembering that 90% of that perception is exaggeration and mental projection.
He said it's helpful to recognise that anger and attachment arise from an inflated sense of self, which also distracts us from recognising which emotions are beneficial and which are detrimental. He added that we tend to think of anger as a natural part of the mind without recognising its drawbacks. We also tend to think that anger is a source of energy, without realizing that it is blind.
His Holiness told someone who helps other women who are victims of violence that to counter feelings of exhaustion it's important to keep the goal in mind.
Invited to speak about his mother, His Holiness said that when he was small he had no toys to play with. Instead his mother would take him with her as she went about her work. He and his brothers and sisters never saw their mother get angry. Indeed, he said, it was from her that he received his first lessons in compassion.
Regarding climate change he recalled people in Tibet telling him that the mountains around Lhasa used to have more snow on them. This is true too of Dharamsala where he lives now.
"Since we make efforts to keep our houses clean we should also take more care of this planet that is our only home."
Another question prompted His Holiness to voice his disagreement with people referring to 'Muslim terrorists'. He said that terrorists are terrorists whose appalling actions run counter to all religious teachings. Therefore, we should not try to link them with this or that faith. He mentioned writing to President Bush to express his condolences after the tragedy of 9/11, but also suggesting that it would be better to respond in a non-violent way. Since that time, although he is a Buddhist monk, he has defended Islam because a genuine Muslim does not commit bloodshed.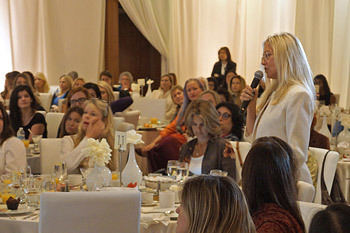 A member of the audience asking His Holiness the Dalai Lama a question during the "Women in Compassionate Leadership" breakfast in
Los Angeles, California on June 17, 2016.
Photo/Jeremy Russell/OHHDL
He mentioned that we can think of religion in terms of the religious practice of cultivating love and compassion, which all religions teach in common. Although they advocate different philosophical views, their purpose is ultimately to support the practice of love and compassion. A third aspect is cultural and is often influenced by social customs. Where these are out of date, as gender bias and caste discrimination are today when everyone is considered equal, they should change.
"We need to focus on the oneness and equality of all human beings, recognising that thinking in terms of 'us' and 'them' leads to conflict."
A representative of the With Compassion thanked His Holiness for his encouraging words, which prompted him to respond:
"At the age of 16 I lost my freedom, at 24 I lost my country and for the more than 50 years since then I've had to deal with often heart-breaking news from Tibet, but I have never lost hope. I'm convinced of the power of truth and honesty. No matter what difficulties you may face, don't let your determination slacken."
His Holiness was presented with a painting by Johnathan Marro that not only portrayed his likeness, but also sought to depict his qualities and his life.
Meeting friends and family of Anaheim Mayor, Tom Tait after lunch, His Holiness told them that while he thinks of America as the leader of the free world, he hopes that she will also become the leader of a movement for peace and compassion. He said he was impressed that Anaheim has declared itself a city of kindness, because peace in the world will only come about through inner peace, just as global disarmament will only be achieved by beginning with inner disarmament.
From friends and family of California Senator Janet Nguyen he heard that there are 2 million Vietnamese in the USA and that the Vietnamese community in Orange County, where he is now, is the largest outside Vietnam.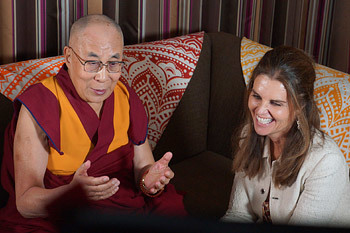 His Holiness the Dalai Lama with Maria Schriver during their live interview broadcast on Facebook in
Los Angeles, California on June 17, 2016. Photo/Jeremy Russell/OHHDL
In a live interview with Maria Schriver on facebook His Holiness reiterated that since basic human nature is compassionate there's hope. And because we are all interdependent it is important to think of ourselves as part of one human family. He told her that when having to deal with a sad situation like losing his mother, he finds it helpful to remember that he is not alone in facing such experiences. Likewise looked at close up, a problem may seem unbearable, but from a wider perspective may not seem so bad. He added that being able to help others brings immense satisfaction.
When she asked him what was the one thing we could do to help humanity, he replied:
"We have no choice but to be more compassionate."