Washington DC, USA, 13 June 2016 - After arriving in Washington from India yesterday and, as he declared this morning, having had ten hours sleep last night, His Holiness the Dalai Lama's first engagement was at the United States Institute of Peace (USIP). The Institute's President Nancy Lindborg and House Democratic Leader Nancy Pelosi met him at the door and ushered him into a breakfast meeting. Introducing him Mrs Pelosi said:

"A visit by His Holiness is always a cause for celebration and—in the light of the tragedy in Orlando—today we need you more than ever." He responded:
"Genuine peace must come from inner peace. It's impossible to find peace if we are full of frustration, suspicion and mistrust. USIP must encourage a change of heart based on a change of awareness rather than a dependence on blessings. Whether we are happy or sad depends directly on our own actions. I know that USIP is committed to creating peace. I believe that to achieve it what we need is education. Today's education with its focus on materialistic goals needs to pay more attention to inner values. If this can be done, we may create a more peaceful world by the middle of this century."
When Nancy Lindborg mentioned a recent USIP led visit of youth leaders from countries in conflict to meet His Holiness in Dharamsala, he remarked that these young people had real determination and courage, which he took as a real sign of hope for change. In his answers to questions he spoke of a draft curriculum that is being developed to incorporate human values into modern education, which will also require the training of teachers. Asked how to help the current waves of refugees he said:
"I admire all those countries that are helping them, but simply providing shelter is not enough. The long term solution is to restore peace in the lands these people are fleeing. In the meantime their young people must be given education and training to equip them to be able to help rebuild their countries in due course.
"Life is difficult, but coping with it is much easier if you have peace of mind. One way to achieve this is to encourage a more holistic approach to education that fosters a greater warm-heartedness based on scientific findings, common experience and common sense."
Nancy Lindborg concluded the meeting by thanking Kalden T Lodoe, Tibetan Representative Kaydor Aukatsang and USIP Vice-Chairman George Moose for facilitating the Dharamsala visit.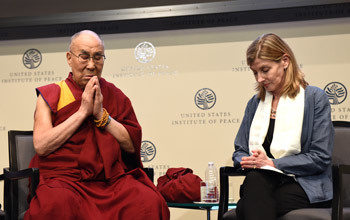 His Holiness the Dalai Lama and United States Institute of Peace President Nancy Lindborg observing a moment of silent prayer in view of the tragedy in Orlando at the start of the discussion in Washington DC, USA on June 13, 2016. Photo/USIP
Moving to a discussion before a larger audience in the Frank Carlucci Auditorium, His Holiness opened the meeting with an invitation to observe a moment of silent prayer in view of the tragedy in Orlando. Introducing herself as President of USIP, Nancy Lindborg said, "Peace is possible, practical and essential for world security." Referring again to having taken 28 youth leaders to Dharamsala, she invited all present to watch a short video that summarized what took place. She said, "We share your vision of the 21st century as an era of peace."
"We all have problems to do with fear and anger," His Holiness said in his address, "but withstanding difficulties is much easier if you have mental strength. In my own case, I lost my freedom aged 16 and then lost my country when I was 24. I faced an array of problems after that, but my mind has remained peaceful.
"All 7 billion human beings alive today are mentally, physically and emotionally the same. We all have the same potential to find peace of mind. Some people mistakenly conclude that cultivating compassion is all about others' benefit, whereas the first benefit is to us. Compassion brings us peace of mind. It attracts friends. Friends are based on trust and trust develops when we show concern for others. I really admire these young people who came to see me, not only for their interest, but because of the action they have taken in their own countries."
Columnist Michael Gerson described the Dharamsala youth workshop in terms of something Robert Kennedy said in Cape Town 50 years ago, "Each time a man stands up for an ideal, or acts to improve the lot of others, or strikes out against injustice, he sends forth a tiny ripple of hope..."
Soukaina Hamia, a young leader from the Sidi Moumen Cultural Center, a large slum in Casablanca, Morocco said she had learned to be more honest; that she didn't need to be afraid to be open. "We are all members of one human family," she said. "We are peace and love. Knowledge only becomes real when it is shared. We should build a generation that dedicates itself to peace every day, again and again."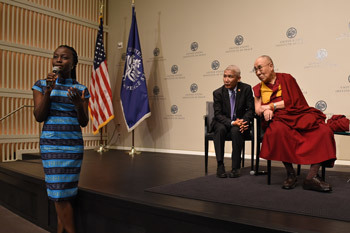 Victoria Ibiwoye from Nigeria sharing her experiences during the discussion with His Holiness the Dalai Lama at the United States Institute of Peace in Washington DC, USA on June 13, 2016. Photo/USIP
Victoria Ibiwoye from Nigeria, who works with a group that helps vulnerable children and youth, said, "We have the choice to work for peace. At the heart of the community we have the opportunity to build peace. We want to change the narrative."
Among questions from the audience, His Holiness was asked his advice for girls and women in violent circumstances. He explained how early human groups probably had no leaders, but once agriculture and a sense of property emerged there was a need for them. At that time the criterion was physical strength, which is why men became dominant. However, education has brought greater equality between men and women. He said that at a time when we need to encourage a greater sense of warm-heartedness, since women are more attuned to others' pain, they need to take a more active role. He wondered if more of the world's nearly 200 nations were led by women, the world might be a more peaceful place. Smiling at the two delegates, he remarked:
"Thank you for coming to our meeting. I learned a good deal from you."
His advice to young leaders to fend off discouragement was to meet with other people, to make a point of recognizing them as fellow human beings, and to make friends with them.
As His Holiness was leaving the building, Oren Dorell of USA Today asked him about the meeting he had just attended. His Holiness reiterated the importance of cultivating peace of mind. He cited it as the main reason that friends tell him that, although he is now nearly 81 years old, his face looks younger. He continued this theme in an interview after lunch with David Bronnstrom of Reuters, telling him that peace can only grow where people have inner peace. He stressed the importance of not isolating our Muslim brothers and sisters. He repeated once more with regard to the current refugee crisis that the key factor is to achieve a cease-fire and restore peace to the lands that people are fleeing.
Bronnstrom asked whether, in the context of what His Holiness had already said about female leadership, it would be good for the US to have a women President. He would only say that he was confident the American people would make the right choice. He ended by saying:
"I support President Obama's recent initiative to reduce and eventually eliminate nuclear weapons and pray that it will come to fruition."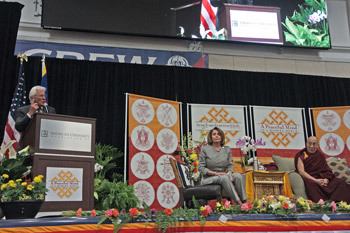 House Democratic Leader Nancy Pelosi looks on as actor Richard Gere introduces His Holiness the Dalai Lama at the start of the talk on at the American University in Washington DC, USA on June 13, 2016. Photo/Jeremy Russell/OHHDL
At the American University in the afternoon, His Holiness was welcomed by Richard Gere, Chairman of the International Campaign for Tibet, House Democrat Leader Nancy Pelosi and Capital Area Tibetan Association President Jigme Gorap. In her introduction Mrs Pelosi spoke of her recent delegation to Tibet where local authorities boasted of gilding the roof of the temple as evidence of their respect for religious freedom, while what is studied in the monasteries is subject to restrictions. She said there is no better way to honour His Holiness than to be a friend of the Tibetan people. Richard Gere, for his part, described His Holiness as the greatest advocate of his people and an exemplary proponent of non-violence.
"Dear brothers and sisters I'm so happy to see you all here," His Holiness began. "As human beings we have a marvellous brain and we have to use it to find joy in life and avoid suffering. That scientists are finding indications that basic human nature is compassionate gives us real hope. It enables us to foster a sense of community and develop infinite altruism.
"We face a lot of problems, many of them of our own making, arising as they do from anger and self-centredness. But we can change. We can use our brains to learn to extend our concern to others, recognizing that as human beings we are physically, mentally and emotionally the same. We all have a seed of compassion in our basic nature. When someone asked me at Heathrow Airport yesterday the secret of my happiness, I replied that it's a secret, but then told him it's having peace of mind.
"Education can help us change our way of thinking. The generation of the 20th century to which I belong has created a lot of problems which those of you who belong to the 21st century have to solve. If we take a calm and compassionate approach I believe we can create a better, more peaceful world, but if we continue to quarrel, cheat and exploit each other, we'll only see greater misery."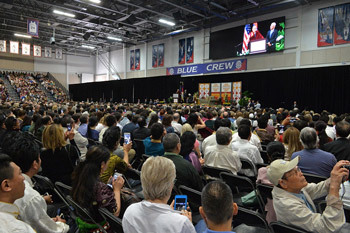 A view of American University's Bender Arena, venue for His Holiness the Dalai Lama's talk in Washington DC, USA on June 13, 2016. Photo/Sonam Zoksang
Speaking in Tibetan he encouraged Tibetans not to think only of their livelihood but to remember they are ambassadors for Tibet. He counseled them to appreciate the value of their culture, to remember that Tibetan Buddhism is derived directly from the Nalanda tradition that hinges on the use of reasoning. He suggested that his own training in this tradition, with no modern education, had equipped him engage in meaningful discussions with scientists for more than thirty years.
He suggested that understanding of the workings of the mind and regulation of emotions is something that Tibetans can contribute to the world. Analyzing whether anger is of any value or whether warm-heartedness is more helpful is an example. He said that while anger may appear to bring energy to bear, it tends to be blind. He stressed once again the importance of education.
He referred to his own devolution of political authority to an elected leadership and his retiring the institution of Dalai Lamas from future political activity in the context of the need to adapt to the modern world.
Coming down from the stage, His Holiness made his way right along the front row of an audience eager to make contact with him, shaking hands, exchanging a few words with old friends, and naming young children. Finally, he turned to wave goodbye and, as the audience chanted "Long live the Dalai Lama", climbed into a car to return to his hotel.