Bodhgaya, Bihar, India - A wintry sun shone as His Holiness the Dalai Lama took off this morning from Delhi for Patna, capital of Bihar. On arrival, he was received by Chief Minister, Nitish Kumar.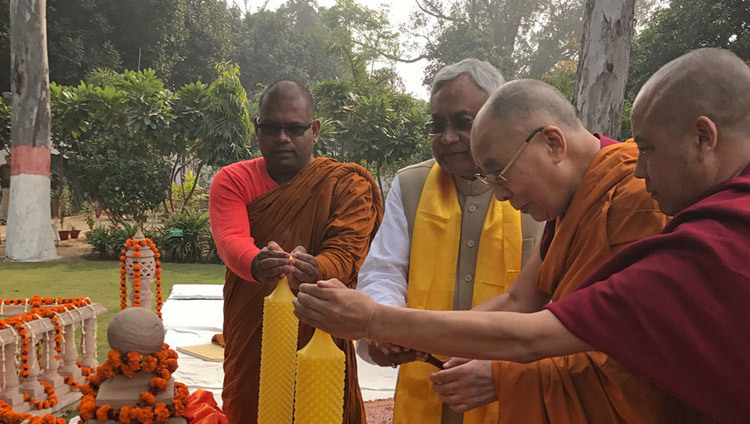 Together they drove directly to the Buddha Smriti Park, where groups of monks from both the Pali and Sanskrit traditions waited to welcome them. They approached the Karuna Stupa before which both His Holiness and the Chief Minister lit candles and incense. Prayers were chanted first in Pali, after which His Holiness and monks of Namgyal Monastery chanted in Tibetan, and finally there were prayers in Japanese.
Before leaving for the Chief Minister's residence, His Holiness took part in planting a sapling from the Anand Bodhi tree in Shravasti before a statue of the Buddha. He also spent a few minutes with pilgrims from Tibet. At the Chief Minister's residence His Holiness was asked to bless another Bodhi tree. He then sat down to a sumptuous lunch with the Chief Minister, Deputy Chief Minister and senior officials. When it was time to leave, the Chief Minister saw His Holiness off at Patna Airport.
Landing at Gaya after the short flight His Holiness was welcomed by the local District Magistrate, Superintendent of Police and senior officials, as well as the Kalon for Religious & Cultural Affairs, Ven Karma Gelek and the Kalon for Health, Chökyong Wangchuk, from the Central Tibetan Administration. Tibetans and other well-wishers lined the road to the Tibetan Monastery, where His Holiness retired for the night.