Ulaanbaatar, Mongolia, 21 November 2016 – The sun was shining this morning as the motorcade carrying His Holiness the Dalai Lama wove its way through the downtown traffic on its way to the hotel that was to be the venue for today's activities.
His Holiness first met with about 150 members of the Jetsun Dhampa Centre. Reading a report of their activities the Director informed His Holiness of the various community services they provide, such as offering spiritual support to prisoners and terminally ill patients and their families in one of the local cancer hospitals.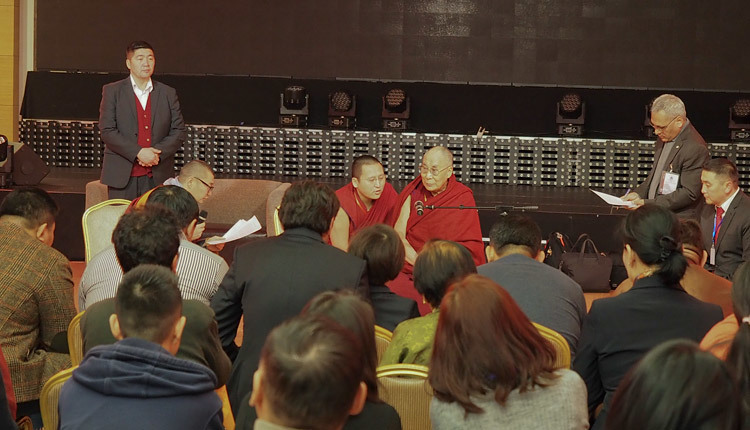 His Holiness commended their work and remarked approvingly that in Australia, one of the FPMT Centres similarly runs a hospice.
"In our old society," he said, "monks did not provide people with such practical service. If they can do so, it is immensely beneficial. Once when I was visiting Arunachal Pradesh, some local people praised the Christians for their practical help. They complained that the Buddhist monasteries gave no such help, but readily accepted donations."
His Holiness recalled his first visit to Thailand and a meeting he had with the Sangharaja. He raised the question of Buddhist monks engaging in community service as their Christian brothers and sisters did. The Sangharaja responded that a Buddhist monk's role was to dwell in isolation in order to focus on his practice. His Holiness reported that although he accepted the validity of this, he also felt that extending help to others would also be mutually beneficial.
Advising the centre to take a more academic than religious approach to their study of philosophy and logic, His Holiness related what he has told Buddhists in Ladakh:
"Many people tend to think of monasteries only as places of worship. But if you introduce extensive study of Buddhist science and philosophy, and don't limit yourselves to performing rituals, people will come to view these institutions as centres of learning where people of any faith or none can acquire knowledge that will be helpful in their day to day life.
"In the past some Westerners referred to Tibetan Buddhism dismissively as Lamaism because of the prominent role accorded to Lamas in the conduct of rituals and prayers. However, I constantly remind people that Tibetan Buddhism derives directly from the traditions of Nalanda University. These days, more and more people are coming to realize that Tibetan Buddhism is a complete form of Buddhism. Many Chinese Buddhists are coming to appreciate the emphasis the Tibetan tradition places on study and that Tibetan Buddhist scholars are accomplished teachers with more to impart than just prayers and rituals. Therefore, increasing numbers of Chinese Buddhists are showing interest in studying Tibetan Buddhism. Even Western scientists have noted that the logical character of Tibetan Buddhism is comparable to science."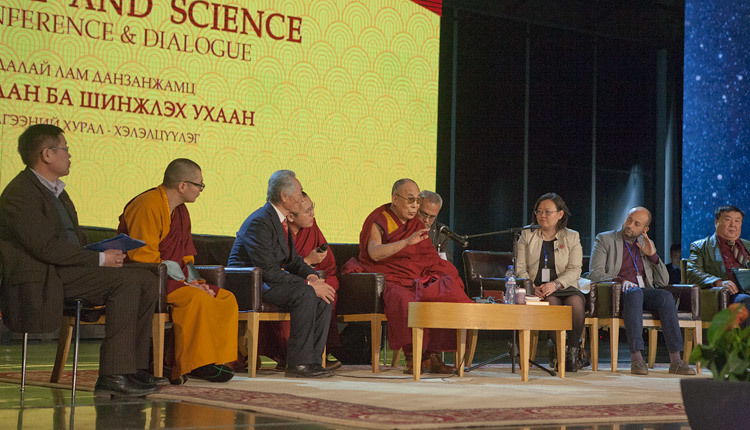 Addressing a conference on Buddhism and Science organized by the Tritiya Dharma Chakra Foundation and the Jetsun Dhampa Centre, His Holiness remarked that having attended such meetings in the West, in India and Japan, he was now happy and honoured to participate in such a conference in Mongolia.
"I sometimes describe myself as half-Buddhist and half-scientist," he disclosed. "For more than 30 years I have held discussions with scientists focussed mainly on neurobiology, cosmology, physics---especially quantum physics---and psychology. Buddhist literature also has a contribution to make to understanding of these four fields, so our discussions have been immensely beneficial. Buddhist scholars and practitioners have benefited from learning about physics while modern scientists have shown a keen interest in learning more about what Buddhism has to say about the workings of the mind and emotions."
Referring to historical relations between the two peoples, His Holiness remarked that even before they developed an interest in Buddhism, Tibetans and Mongolians were like brothers and sisters. In due course both came to uphold the pure Nalanda tradition.
After Kabju D. Nyamsambuu of Gandan Tegchenling Monastery had spoken about ethics and living a moral life, His Holiness responded that his interest in science is twofold. On the one hand science leads to a clearer understanding of reality, on the other scientific findings can help promote human values.
Helen Y. Wang, a neuroscientist and a clinical psychologist at the Osher Center for Integrative Medicine at the University of California, San Francisco spoke about Contemplative Neuroscience and Socially Engaged Buddhism. She presented her findings that training in meditation on compassion not only increases altruistic behaviour but also the neural response to suffering. She also explained how much more accurate measurements of brain activity and different types of mental activity can be achieved using pattern recognition technology. His Holiness commented that although single-pointed meditation may temporarily reduce anger, analytical meditation is also important for helping us understand why we are angry and how compassion can be of benefit in overcoming anger in the long run.
His Holiness was invited by the Indian Ambassador to lunch at the Indian Embassy.
Returning to the conference in the afternoon he explained ways in which Buddhism can relate to modern science.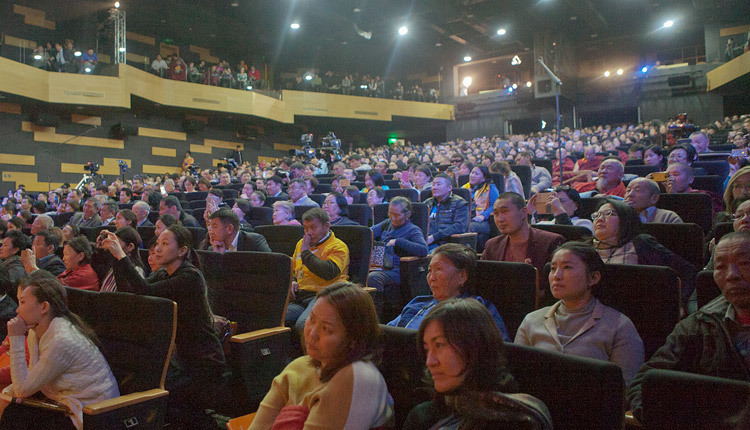 "I usually divide Buddhism into three parts: science, philosophy—which deals for example with conventional and ultimate truth—and religion which is only of interest to spiritual practitioners. It's on the basis of Buddhist science and philosophy that we have been able to hold conversations with modern scientists over the last 30 years and more."
In the first presentation of the afternoon, B. Boldsaikhan from the System Science Research Institute of the Mongolian University of Science and Technology spoke about medicine and logic under the heading Buddhism & Bridging Science. Next, K. Namsrai, a senior scholar in physics gave a talk about relations between Quantum Physics and Buddhist philosophy. He mentioned a profound connection between abstract physical theory and nature. He concluded with a request for His Holiness's prayers for the welfare of ordinary nomads and herders.
Dr. Fadel Zeidan, Assistant Professor of Neurobiology and Anatomy and Associate Director of Neuroscience at the Center for Integrative Medicine at Wake Forest School of Medicine and a Mind & Life Fellow, spoke about the Neuroscience of Mindfulness, Meditation and Pain. He stressed the importance of developing non-drug remedies to alleviate pain and suffering, mentioning how mindfulness training can contribute to relief of anxiety, depression, elevated blood pressure and other health issues.
Finally, N. Ariun, a biologist, spoke about the Latest Developments in Biological Sciences and Buddhism.
In his concluding remarks, His Holiness mentioned encouraging findings that basic human nature is compassionate and that this quality can be strengthened through education. He spoke of the need to promote a sense of the oneness of humanity based on human beings' shared compassionate nature. He stressed that promoting this will require vision and determination, but that conferences such as today's could make avaluable contribution to that goal.
Tomorrow, His Holiness will take part in a conference with Mongolian Youths.