Leh, Ladakh, J&K, India, 14 August 2016 - His Holiness the Dalai Lama was invited to a lunch in his honour by the Ladakh Hill Development Council (LAHDC), the local government of Ladakh and Zanskar.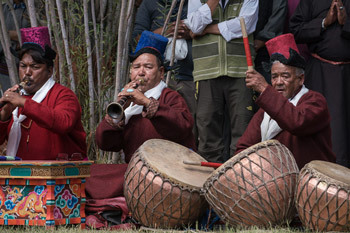 Traditional Ladakhi drummers and horn players welcome His Holiness the Dalai Lama on his arrival for lunch at Forest Park in Leh, Ladakh, J&K, India on August 14, 2016.
Photo/Tenzin Choejor/OHHDL
He was received at the Forest Park picnic spot by Dr. Sonam Dawa, Chief Executive Councillor. They crossed the River Indus on a steel bridge decorated with prayer flags. His Holiness saluted the traditional Ladakhi drummers and horn players who were there to welcome him and they reciprocated.
Morup Namgyal, who His Holiness embraced as an old friend, opened proceedings, reciting a verse in praise of His Holiness. Dr Sonam Dawa spoke briefly, acknowledging the dignitaries, Ganden Tri Rinpoche, Bakula Rinpoche, Thupten Tsewang (MP), Rigzin Jora (MLA), and the District Commissioner of Leh among them. He highlighted some of the recent educational and political developments in Ladakh and requested His Holiness's advice.
Introducing several cultural performances, Morup Namgyal recalled the historic ties that have existed between Tibet and Ladakh since the reign of the Tibetan Emperor Songtsen Gampo in 7th century. He expressed appreciation of the impact His Holiness's regular visits have had on the progress and development of the region. In a concluding poem recited in Ladakhi by Mohammed Khan of Thorthuk in praise of His Holiness he said, "You (Buddhists) can't call him yours alone; he belongs to us (Muslims) too."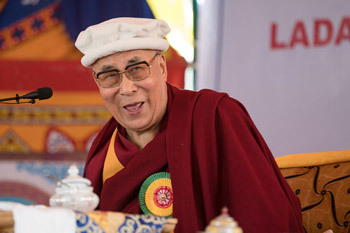 His Holiness the Dalai Lama speaking at a lunch in his honor at Forest Park in Leh, Ladakh, J&K, India on August 14, 2016. Photo/Tenzin Choejor/OHHDL
Addressing the gathering as brothers and sisters, His Holiness suggested that instead of giving a talk he would prefer to answer questions. Asked about euthanasia he said that like the question of abortion it is hard to generalise and all the factors involved need to be taken into account in each case. In answer to a question about water pollution, His Holiness spoke briefly about the importance of protecting the environment and natural resources as well as of taking steps to conserve water. He mentioned that he had promised his friend Sunderlal Bahuguna, founder of the Chipko movement, that he would speak on environmental issues in the Himalayan regions of India from Ladakh to Arunachal Pradesh whenever he could.

After everyone had enjoyed lunch together, the District Commissioner thanked the cooks for their good work and the Ladakh Hill Council for organising the event. His Holiness then returned to his residence.