Wroclaw, Poland, 19 September 2016 - Before leaving France after a successful week's visit during which he visited the European Parliament and Council of Europe, gave teachings and spoke to thousands, His Holiness the Dalai Lama gave a couple of short interviews.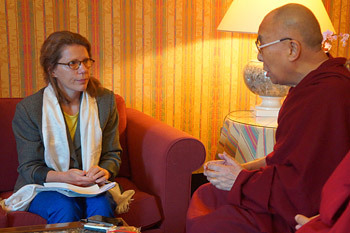 Dorothee Wernar of Elle magazine interviewing His Holiness the Dalai Lama in Strasbourg, France on September 19, 2016. Photo/Jeremy Russell/OHHDL
His conversation with Dorothée Werner of Elle magazine touched on the importance of ecology, how we are all equally human beings, the status of women and the need for more women leaders. His exchange with a correspondent from weekly cultural magazine Telerama broached what happens to consciousness at the time of death, young children His Holiness has met with clear memories of their previous lives and his long-standing interest in science.
"Since my childhood I have been curious," he said, "wanting to know how this happens and how that works."
About 50 volunteers who had been involved in the organization of His Holiness's five day stay in Strasbourg gathered on the hotel forecourt. They had their photographs taken with him in groups before seeing him off.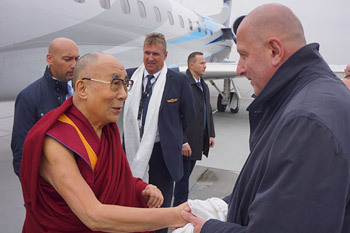 Mayor of Wroclaw, Rafal Dutkiewicz, welcoming His Holiness the Dalai Lama on his arrival at the airport in Wroclaw, Poland on September 19, 2016. Photo/Jeremy Russell/OHHDL
From Strasbourg Airport he flew directly to Wroclaw in Poland where his host, the Mayor of Wroclaw, Rafal Dutkiewicz, was there to greet him and accompany him to his hotel in the city. Tibetans living and studying in Poland were at the door to welcome him with silk scarves and smiles.
His Holiness met immediately with members of the Group of Polish Parliamentarians for Tibet, who had come expressly from Warsaw to see him, before retiring to rest after his journey.
This year, 2016, Wroclaw is a European Capital of Culture and tomorrow His Holiness will visit an exhibition entitled 'Forgiveness and Reconciliation' and speak about Freedom at the Depot History Centre.