Paris, France, 13 September 2016 - Representatives of several news agencies including Agence France-Presse, Le Croix (Christian Daily News), and Le Point (a weekly news magazine) conducted an interview together with His Holiness the Dalai Lama this morning. They began by asking how to talk about happiness in France and he replied that this was a question asked in many developed countries. Material goals and material development can be very helpful, but of limited benefit. They provide physical comfort without affecting our mental unease.
"We tend to think that if we fulfil our material needs," he said, "all our problems will be solved, but that's not so."
Asked if he would like to meet Pope Francis, he told them that he had tried to meet each new Pope since 1973, but in the present case it had not yet happened. He was similarly asked if he regretted not being able to shake President Francois Hollande's hand and replied that meeting members of the public was more important.
He explained that since retiring from political responsibility 5 years ago he has been more concerned about preserving Tibet's culture, language and natural environment. He confirmed that the Middle Way Approach he advocated with regard to Tibet in relation to China remains viable because it envisages a mutually beneficial solution. He said:
"The days of victory for one side and complete defeat of the other are over. What we need is reconciliation, otherwise we'll not succeed."
His Holiness told the journalists it was not especially important to preserve the institution of the Dalai Lama because everything does not depend on one person. The most important advice he would like people to heed is that the well-being of all 7 billion human beings alive today is everyone's concern. He compared adopting a sense of universal responsibility to the spirit of the EU according to which it is better to support the greater good than just local or national interest.
"We Tibetans took refuge in India and other countries," he said, describing the issue of migrants as complicated, "but our long-term goal is to return to Tibet. People from Africa and the Middle East deserve to be given opportunity. The innocent and vulnerable, especially children need temporary shelter. Children need education and youth need training so that when they eventually return they can help rebuild their countries."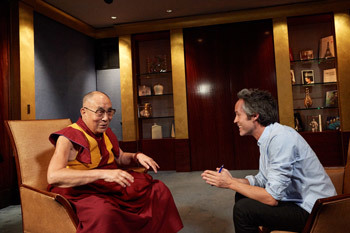 Yann Barthes of TF1 interviewing His Holiness the Dalai Lama in Paris, France on September 14, 2016. Photo/Olivier Adam
In a separate interview with Yann Barthes focussing more on youth for TF1, His Holiness told him that he understood that young people feel anxious about the future, but that they could take strength from the fact that more and more people are fed-up with violence and are genuinely concerned to protect the environment. In the early 20th century no one gave a thought to the environment—now it's a common theme. The important thing, he said, was not to let your confidence flag and lose hope. He described himself as optimistic.
When Barthes also asked about migrants His Holiness spoke of his sadness seeing reports and images of forlorn women, starving children and old people. He couldn't help asking himself what fault they had committed.
In response to another question about the future Dalai Lama, His Holiness clarified that the Tibetan Buddhist tradition as a whole is much older than the institution of one lama. He observed that what will happen is not yet clear. If the Tibetan people want another Dalai Lama, one option may be for a good candidate to be chosen while the present incumbent is still alive.
Barthes asked what His Holiness says to himself when he rises early in the morning and he mentioned some opening lines from Nagarjuna's 'Fundamental Wisdom':
I prostrate to Gautama
Who, through compassion,
Taught the exalted Dharma,
Which leads to the relinquishing of all views.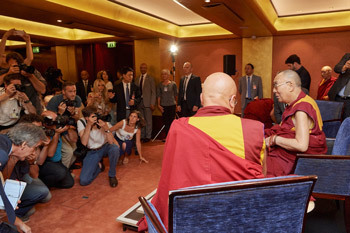 His Holiness the Dalai Lama meeting with members of the press in Paris, France on September 14, 2016. Photo/Olivier Adam
Addressing a general meeting with the press, His Holiness told the assembled journalists that many of the problems we face today are our own creation.
"But," he said, "our future is dependent on the rest of the world, so we need a more vivid sense of the oneness of all 7 billion human beings alive today, a sense that we all belong to one human family. Scientists finding that basic human nature is compassionate is a great source of hope."
He mentioned being committed to promoting human happiness and encouraging inter-religious harmony. As a Tibetan, and someone in whom the Tibetan people place their trust, he is dedicated to keeping Tibetan culture and language alive and protecting Tibet's natural environment.
A question about how meditation could help people lead happier lives prompted His Holiness to make a clarification.
"Meditation isn't about just closing your eyes and not thinking of anything. It looks like even pigeons can do that. Much more effective is conducting analysis which provides real solutions."
In the early afternoon, His Holiness drove to the Maison des Avocats where M Frédéric Sicard President of the Bar Council, welcomed him before an audience of 350. He presented His Holiness with a medal commemorating his three visits in 1982, 1985 and today and his contribution to a universal responsibility in relation to rights and the environment. In commending the Bar Council's support for universal responsibility Mme Sofia Stril-Rever compared their work to that done during the French Revolution when lawyers played a prominent role.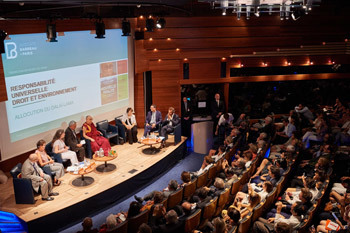 His Holiness the Dalai Lama speaking at the Maison des Avocats in Paris, France on September 14, 2016. Photo/Olivier Adam
His Holiness opened his remarks as he customarily does:
"Respected elder brothers and sisters and younger brothers and sisters, I always begin this way because so many of the problems we face today arise because we give too much attention to the secondary differences between us and overlook how we are fundamentally the same as human beings. We're born the same way and we die the same way, with no formality. We all want to lead a happy life and have a right to do so. If we could only recognise that, it would put a stop to much bullying, cheating and exploitation. What concerns me as a Buddhist is what Buddhists can contribute to the good of humanity.
"Like Jains and a part of the Samkhya tradition, Buddhists believe that we are responsible for our own situation; what happens to us is in our hands. If we do good we benefit; if we do harm, we reap the consequences. One thing from which I draw great hope is recent scientific findings, derived from experiments with infants when they are still too young to talk, that basic human nature is compassionate.
"Reflecting on the general well-being of humanity impels us to think of the environment that is our home, automatically prompting us to take better care of this small planet."
Frédéric Sicard concluded the meeting thanking His Holiness for coming and expressing gratitude to the Ven Matthieu Ricard for adeptly interpreting between French, Tibetan and English.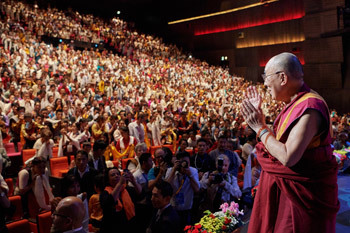 His Holiness the Dalai Lama greeting over 3100 members of the Tibetan community on his arrival at the Palais du Congress in Paris, France on September 14, 2016. Photo/Olivier Adam
At the Palais du Congres 3100 Tibetans, many of them young, assembled to listen to His Holiness. They gave him a traditional welcome on arrival, young men performing the Tashi Sholpa dance and young women singing as they accompanied him into the hall. After the President of the Tibetan Association, Ngawang Tenpa, read a report of the Association's achievements, which included Sunday classes in Tibetan, His Holiness spoke.
"Due to karma and prayers in the past we've been born as Tibetans and have the opportunity to meet together today. I'm glad. Our history is more than 1000 years old and our religion and culture are profound. In Tibet today, even if people have a fire inside they are unable to even release the smoke. Therefore, it is up to those of us in free countries to make the situation in our homeland clear.
"We've been in exile 57 years and it is crucial we keep our identity and culture alive not simply out of attachment, but because aspects of our culture can benefit the world. Due to the kindness of Songtsen Gampo and Trisong Detsen, with the help of Shantarakshita, the Buddhist traditions of Nalanda University were established in Tibet. Among them the traditional logic and epistemology from India that is preserved nowhere else. Our tradition is distinguished by rigorous study and analysis, so while Buddhists in China, Japan and Vietnam recite the 'Heart Sutra' as we do, they have little appreciation of its actual meaning whereas we are readily able to explain it.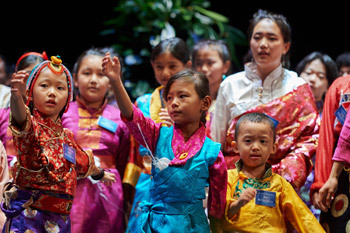 Young Tibetans preforming for His Holiness the Dalai Lama during his meeting with members of the Tibetan community at the Palais du Congress in Paris, France on September 14, 2016. Photo/Olivier Adam
"Study is important. Since coming into exile I've encouraged institutions like Namgyal Monastery and our nunneries to study the classic texts. One result is that later this year successful candidates among the first group of nuns to complete their studies will be awarded Geshe-ma degrees.
"As part of a campaign to encourage people to become 21st century Buddhists, actually acquiring understanding of what Buddhism is about, we have divided the scriptural collections, the Kangyur and Tengyur, under three headings—science, philosophy and religion. Volumes dealing with science and philosophy have been compiled and published in Tibetan and other language editions will soon be out. The key then will be to study them."
His Holiness stood up from his chair and walked the width of the stage, looking out into the crowd and waving to people he recognised. He shook many of the hands stretched up to him from the front of the stage, left the hall and drove back to his hotel