Ulaanbaatar, Mongolia – Before leaving for the airport this morning, His Holiness the Dalai Lama met with about 50 members of the media at his guest house. He told them he was happy with the way his ninth visit to Mongolia had gone, and that he considered it to have been a meaningful success.
"Wherever I go," he remarked, "I always stress that I am just one among the seven billion human beings on this planet. We all seek happiness and do not want suffering. I consider it part of my responsibility to try and promote the human values that are a true source of happiness, keeping in mind the oneness of humanity.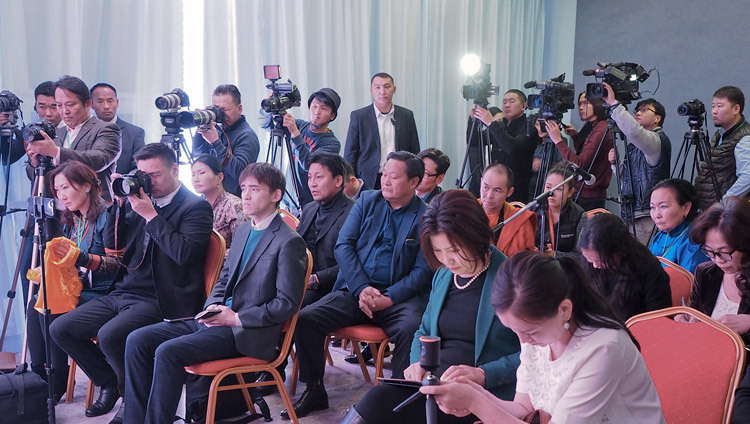 "As for Tibet and Mongolia, we have had close relations for well over 1000 years—even before Buddhism was introduced in our two countries, I am sure we responded to each other like neighbours. The Tibetan and Mongolian peoples are like twin brothers and sisters. We have the blue birthmark on our behinds in common.
"Both peoples uphold the practice of Buddhism as taught by the great Nalanda masters. In my various meetings and talks over the past four days, I have stressed that since Mongolia has many monasteries and temples it is very important for monks, and lay people too, to study what the Buddha taught.
"These days there are several hundred Mongolian monk students studying in the Tibetan monasteries that have been re-established in India. Some have already been studying for 15 to 20 years and are preparing to obtain their Geshe degrees. I am confident these monks will be well able to serve the Buddhadharma here in Mongolia".
Concerning the reincarnation of the 9th Jetsun Dhampa, His Holiness told the reporters,
"Previous Jetsun Dhampas have been close to the Dalai Lamas in the past. I knew the 9th Jetsun Dhampa from childhood. As the time of his death approached, he asked me where and when he should pass away, which surprised me a little. However, during our last meeting, when he was already in poor health, I told him that it was important for him to be reborn in Mongolia. Considering the significance of his reincarnation and bearing in mind that he is a personal friend, I feel I have a responsibility to look after his reincarnation.
"I am convinced that his reincarnation has been born in Mongolia. However, the boy is very young right now, so there is no need for haste in making an announcement. When he is 3, 4 or 5 years old, we'll see how things are. Placing a small child on a high throne is not what's important. What is much more important is that he is able to study and become learned so he will be able to contribute to the flourishing of the Buddhadharma."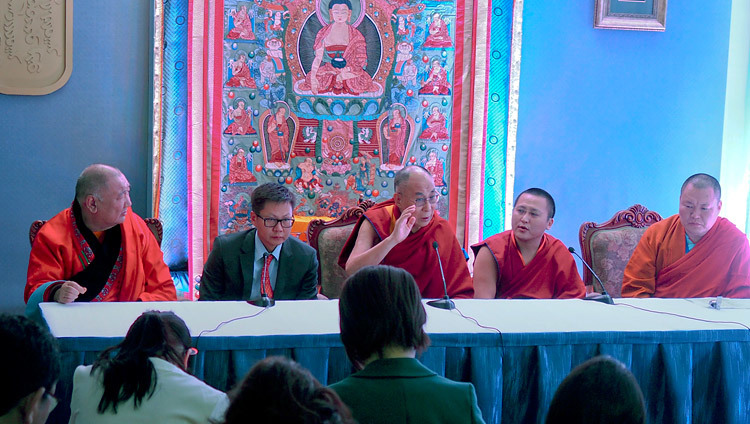 Finally, His Holiness expressed his gratitude to the concerned officials who had permitted and supported his visit and to Gandan Tegchenling Monastery for organizing it.
Asked about the election of Donald Trump as President of the United States, His Holiness replied that he had long considered America to be the leading nation of the free world. He said that no matter what complicated issues had been raised during the election, the people had made their choice. He added that while they are campaigning, candidates are free to say what they like. However, once the election is over the winner needs to work within the actual reality in which he or she finds themselves, so he said he wasn't worried about it. Finally, he remarked that he expects to be visiting the United States next year and looks forward to having the opportunity to call upon the new President.
Regarding Chinese government complaints about His Holiness visiting Mongolia and other countries, he retorted,
"This is just the usual Chinese government routine. Japan and Mongolia are the only two Buddhist countries I am able to visit. There are more than 400 million Buddhists in China. Many of them ask me to visit them there. Meanwhile, Chinese government propaganda accuses me of being a separatist. The reality is that since 1974 I have not sought independence, but what I am looking for is genuine autonomy. Many Chinese and many more in the wider world know this. There are even some Tibetans who criticise me for not seeking independence. But right from the start I have been concerned that we should not be striving for the victory of one side and the complete defeat of the other. We need to find a mutually beneficial solution, acceptable to both sides."
His Holiness took time to make his way through the large crowd of Mongolians clamouring for his blessings as he left the guest house to drive to Chinggis Khaan International Airport. At the airport, he bade farewell to Khambo Lama Choi Gyamtso and other senior monks of Gandan Tegchenling Monastery before boarding the plane for Tokyo.
His Holiness will rest for the next two days before giving a public talk in Saitama, Japan, on 26th November. The following day he will return to India