Brussels, Belgium, 11 September 2016 - Interviewed by Stefaan Meerbergen for VRT - Flemish TV News this morning, the first question was whether he was enjoying his visit to Belgium and Europe. His Holiness the Dalai Lama replied that he was and recalled telling the BBC's Mark Tully in 1973 as he embarked on his first visit to the West that he was going because he considered himself a citizen of the world. He confirmed that he is an optimist, convinced that if the proper efforts are made to improve education, to make it more holistic and inclusive of universal values, the world will become a happier more peaceful place later in this century.
Brussels' Sunday morning streets were quiet and the sky was overcast as he drove again to the Bozar Centre for Fine Arts to attend the third day of the Mind & Life Europe conference.
Theo Sowa was moderator for the fifth and final session. She invited artist Olafur Eliasson to talk about his work. He drew attention to the geometrical light sculpture in the ceiling of the hall which he explained was powered by a solar panel on the roof. The artwork served as a shared point of reference for speakers and listeners alive. He talked about rainbows in the play of light and water and the participation of our perception in their appearance. He also described a project he is involved with manufacturing small portable solar lamps that bring light to those who have no other access to it.
Scilla Elsworthy, a long term peace activist and mover for social change explained that for years she has talked to people participating in nuclear weapons programs at every stage. She said she'd also talked to people who put themselves at risk to protect others, people who know how to prevent war. She pointed out that our weaponry is defunct. The major threats humanity faces today such as climate change and the gap between rich and poor do not respond to either our possession or use of weapons.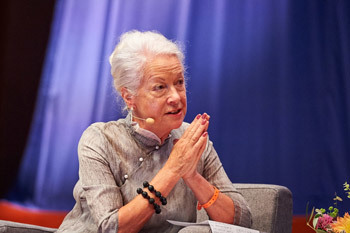 Scilla Elsworthy speaking on the final day of the Mind & Life Dialogue in Brussels, Belgium on September 11, 2016. Photo/Olivier Adam
"I'm putting together a plan," she said, "for what people can do to really prevent war."
She described how over 25 years she has organised dialogues and brought together decision makers and their informed critics. Five years into this program she invited meditators to sit in the room next to or below the room in which the conversations were going on. She recalled an occasion when a member of the US State Department insisted to her that there was something singularly special about the room they were meeting in. She revealed the meditators to him.
Taking another approach to securing peace Dr Elsworthy has been putting together a costed business plan which sets the cost of peace against the cost of war. The result is that for every dollar that it would cost to secure peace, more than $1800 are spent on war. Where there is a world willingness to devote $13 trillion to war, peace could be achieved for $1.7 trillion. Among steps that ordinary people can take towards ensuring peace on earth is the suggestion that ordinary parents insist their children are taught to meditate at school.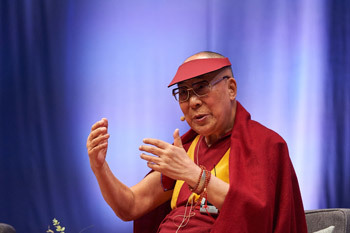 His Holiness the Dalai Lama offering his comments of the Mind & Life Dialogue in at the Bozar Centre for the Fine Arts in Brussels, Belgium on September 11, 2016. Photo/Olivier Adam
Responding to this presentation His Holiness described attending a meeting of Nobel Peace Laureates shifted from Cape Town to Rome in late 2014. At the meeting a representative of the International Physicians for the Prevention of Nuclear War (IPPNW) held the audience spell-bound as he described the horrific consequences should a major nuclear exchange take place today. Consequently the meeting agreed to set a timetable for the reduction and elimination of nuclear weapons and to hold the nuclear powers to it. So far nothing has happened. He observed that Japan is staunchly opposed to nuclear weapons and could be invited to lead a movement for their elimination.
"What people need to do," he said, "is to make it impossible for politicians not to act. And once nuclear weapons are gone, we can pay attention to the elimination of offensive conventional arms. Human beings have common sense and their basic nature is compassionate. I believe we can achieve a demilitarized world through education and increased awareness."
The audience signalled its enthusiastic approval of both Dr Scilla Elsworthy's presentation and His Holiness's subsequent remarks with rousing applause.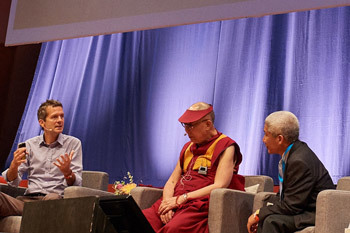 Frédéric Laloux delivering his presentation on the final day of the Mind & Life Dialogue in Brussels, Belgium on September 11, 2016. Photo/Olivier Adam
Talking next about power and care in organisations, Frédéric Laloux suggested that since so many people, particularly in the West, were disillusioned with where they work, a new approach was needed. He said he has observed the importance of metaphor and noted that we tend to think of organisations as like a machine, much as we tend to view our own bodies instead of as the living organisms that they are. Breakthroughs in seeing an organisation as a living organism included changes in the power hierarchy. Gone is the pyramid with a boss at the top. A sense of safety replaces fear and because the organisation is not a lifeless machine to be programmed, its purpose and perspective on the future is different.
Theo Sowa invited Laloux to give an example of a new style working organisation. He cited the case of a health care organisation in the Netherlands that had been strictly assessed as a machine. Nurses' activities had been subject to time and motion assessment and assigned value. The result was inefficiency and deep dissatisfaction among the nurses and their patients. When a nurse launched an organisation along new lines he began with four nurses. This has rapidly grown to 14,000 and a 75% market share, with greatly increased employee and patient satisfaction.
His Holiness's response again was that he was really impressed. He said such an approach made sense because everything is interdependent. What is important is to try to bring about real change.
His Holiness the Dalai Lama with all of the presenters at the conclusion of the Mind & Life Dialogue in Brussels, Belgium on September 11, 2016. Photo/Olivier Adam
Answering Theo's request that they think about what they're taking away from the meeting, Frédéric replied, "We're here because we have a different view—what will it take to act on it?" Scilla spoke of the evident power of the feminine in men as well as women, asking His Holiness how to bring masculine and feminine elements back into balance. He responded:
"Love and compassion are always key factors," he replied, "Not love and compassion mixed with attachment, but genuine concern for others' well-being. That's the kind of compassion that can eventually become effortless. We are dependent on others, so it's in our interest to pay heed to their welfare."
His Holiness also remarked on the alertness and attentiveness of the audience, adding that each of us has a contribution to make to the creation of a more peaceful world. Tania Singer summarized what had been discussed and learned over the three days. She thanked everyone who had participated and attended, including the Tibetans who had taken part in security roles.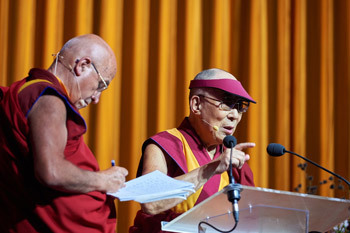 French interpreter Ven Matthieu Ricard takes notes during His Holiness the Dalai Lama's talk at the Brussels Expo in Brussels, Belgium on September 11, 2016. Photo/Olivier Adam
After lunch, His Holiness drove out to the Brussels Expo on the edge of the city, where 10,000 people gathered to hear him speak about 'Individual Commitment and Global Responsibility.' Mind & Life Europe Managing Director Sander Tideman welcomed him to the stage and requested two distinguished guests, Speaker of the Parliament of the Brussels-Capital Region, Charles Picqué and Speaker of the Flemish Parliament, Jan Peumans to introduce the event. Once they had done so, His Holiness called for chairs to be set next to his own so they could sit with him on the stage.
"When I meet people," he said, beginning his talk, "I think of them as equally human beings. The way we're born and the way we die is the same. We are brothers and sisters. Many of the problems we face today arise because we give too much attention to the secondary differences between us, instead of thinking of how we are all equally human beings. It was clinging too tightly to the idea of 'my nation' and 'their nation' to a sense of 'us' and 'them' that provoked the conflict and violence of the 20th century resulting in two World Wars. Today, in addition to climate change and the increasing frequency of natural disasters are problems that are our own creation.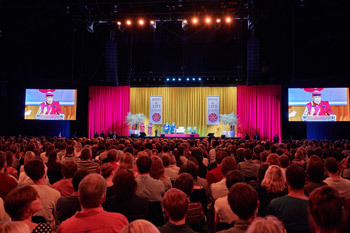 A view of the stage at the Brussels Expo during His Holiness the Dalai Lama's talk in Brussels, Belgium on September 11, 2016. Photo/Olivier Adam
"Sometimes people consider the practice of compassion as a sign of weakness—wrong. It's anger that is a sign of weakness, while affection is a sign of strength. Similarly, some people suspect that compassion only results in others' benefit—wrong. We are the first to benefit from developing warm-heartedness and compassion. It brings peace of mind, which gives rise to self-confidence. This enables us to do what we do transparently, and brings us more friends. Friendship depends on trust and trust blooms when we show real interest in the well-being of others.
"Modern education is inadequate because it is oriented towards material goals leading to a neglect of inner values, basic universal values. If we employ our intelligence we can strengthen such values, so my first commitment is to promoting human happiness by such means."
He told the large, young audience that his second commitment, as a Buddhist monk and student of the Nalanda tradition, is to encouraging inter-religious harmony. He said that India, where all the world's major religious traditions have lived peaceably side by side for centuries is a living example that such harmony is possible. His third commitment concerns his being a Tibetan and someone in whom Tibetans both inside and outside Tibet have placed their hopes.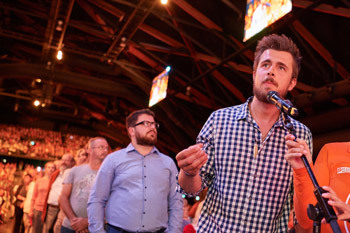 Members of the audience lined up to ask His Holiness the Dalai Lama a question during his talk at the Brussels Expo in Brussels, Belgium on September 11, 2016. Photo/Olivier Adam
He answered several questions from the audience, speaking English that was translated into French by Ven Matthieu Ricard and into Flemish in running sub-titles on the large video displays. He explained that he had engaged in a long-running series of dialogues with natural scientists during events organized by the Mind & Life Institute. His reasons for this involve the mutual benefit that scientists and Buddhists have derived from the interchange and the possibility of grounding universal values in an empirical scientific context.
Subsequently addressing more than 3,500 Tibetans from the Brussels and nearby regions he declared that during their 57 years in exile they had preserved their Tibetan identity and are acknowledged as a distinct people. He reminded his listeners that many who helped and employed Tibetans did so recognising their high moral standards. His Holiness remarked that on occasion these have begun to slip and counselled them all to make an effort to sustain their good reputation.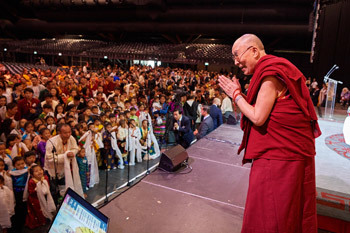 His Holiness the Dalai Lama greeting the over 3,500 members of the Tibetan community gathered to hear him speak in Brussels, Belgium on September 11, 2016. Photo/Olivier Adam

He alluded to the importance of being 21st century Buddhists, people who understand what Buddhism is about. He was clear that this entailed study not mere recitation of mantras and rituals. However, he pointed out that something to be proud of is that the most complete collection of the Buddha's teachings is available in Tibetan. He also noted that it is this religious culture and the Tibetan language that have been unifying factors for the Tibetan people since the political fragmentation of the country that followed the murder of Tri Ralpachen.
Leaving the stage at the end of a long day, His Holiness responded to the small children at the front of the audience's calling "Bye Bye" after him with his own wave and "Bye Bye" to them.