Westminster, CA, USA, 19 June 2016 - On a second day of weather forecast warnings about hot weather, His Holiness the Dalai Lama started the day by meeting 400 members of the Tibetan Association of Southern California in the cool of his hotel. He said:
"We're passing through the most difficult period in the last 2000 years of our recorded history. We used only to quarrel among ourselves to the detriment of the entire three provinces of Tibet, but now we're facing a life or death struggle for our culture and identity. This may be the fruit of our karma, yet among Tibetans in exile as well as those in Tibet, our spirit remains strong. Amongst other exiles we stand out due to the courage and dedication of our people. The report says you are teaching your children Tibetan. That's good and it's good to teach them about our religion too.
"From an archaeological point of view, Tibetans are an ancient people. Stone Age tools found in Amdo are estimated to be 30,000 years old; artefacts in Chamdo are 7000 years old, while others found in Ngari are 10,000 years old. What matters now is that for more than 1000 years we've had our own writing. Today, it is the best vehicle for conveying the thoughts of the masters of Nalanda—something to be proud of.
"Trisong Detsen had a Chinese mother, so he could have brought Buddhism to Tibet from China. Instead he chose to go to the original source and invited Shantarakshita to come from India to Tibet. Despite his age, with the help of Guru Padmasambhava, who overcame inner and outer obstacles, he established Samye. The Chinese Hoshangs suggested that there was no need to study, but Kamalashila made clear the importance of study, reflection and meditation, an approach we've adopted for the last 1000 years.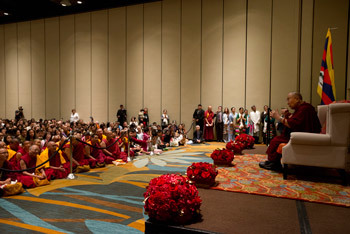 His Holiness the Dalai Lama speaking to members of the Tibetan community during their meeting at his hotel in Anaheim, California on June 19, 2016. Photo/Don Farber
"This is why we shouldn't just keep the Kangyur and Tengyur on the altar out of respect. There also used to be a custom of carrying the volumes on our shoulders round in procession around the fields to protect the harvest from calamity. But books are to be studied and read. I've been urging nunneries and ritual monasteries to engage in study of the classics for 40 years and this year we're going to award fully qualified nuns the Geshe degree. I visited one of the settlements in Bhandara, Madhya Pradesh, where school children debated before me. They were good and I asked who had taught them. It turned out their teacher was a nun. She'd trained them well. So nuns will become Geshe-ma, but there is still work to do on the Gelongma question. Some Western feminists seem to think it is something I can decide, but it's beyond my authority. Matters of Vinaya can only be decided by scholars within the monastic community.
"In Dharamsala and Ladakh there are now Dharma study groups among lay-people. Earlier this year after my medical treatment in Rochester, I visited Deer Park in Madison. I recommended that it becomes a more broadly based centre of learning, where the knowledge of the workings of the mind and emotions that we have in our tradition can be combined with the work on emotions of people like Paul Ekman and his daughter to the wider benefit."
His Holiness ended by suggesting that change in China is inevitable. He introduced the former speaker of the Assembly of Tibetan People's Deputies, Penpa Tsering, as his next representative in North America. He encouraged his listeners to be happy.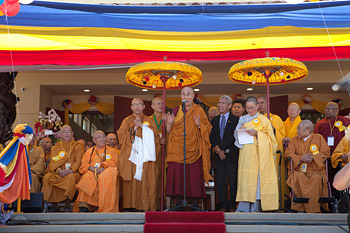 His Holiness the Dalai Lama speaking at the Grand Opening Ceremony of the Dieu Ngu Buddhist Temple in Westminster, California on June 19, 2016. Photo/Barbara Doux
His Holiness was welcomed on arrival at Dieu Ngu Buddhist Temple with traditional umbrellas and music. Everyone stood for the playing of the Tibetan, Vietnamese, American and Buddhist anthems, followed by a minute's silent meditation. In his speech the Abbot Ven Thich Vien Ly voiced the hope that the temple would contribute to peace and happiness in the world. He expressed gratitude to Ven Tenzin Dhonden for making His Holiness's visit possible. Mayor Tri Ta mentioned that at his suggestion the city of Westminster had become a city of kindness. Congressman Alan Lowenthal said that it was a joy for him to be part of the Grand Opening Ceremony, while Sen. Janet Nguyen looked forward to the Temple being a refuge of compassion and kindness.
His Holiness was invited to give the keynote address:
"Respected fellow monks and nuns, brothers and sisters, once more we are gathered together under the hot sun. I am just a student of Buddha Shakyamuni's teachings, particularly those of the Nalanda tradition. I am happy that you have been able to construct this temple. Some of you are refugees like me. I admire the way you Vietnamese keep up your culture and traditions. I've seen this in other parts of the world too and I appreciate it. The US is the leading nation of the free world and you've come here in search of a better life. The US government and local people have extended their hands to help you.
"However, the only way to preserve the scripture and realization of the Buddhadharma is through study and practice. We need to read and study the scriptures and apply the Three Trainings in practice. There is no other way. We have to pay attention to what the Buddha has already taught. I am nearly 81 years old, but I still consider myself a student. The ancient Indian traditions that cultivated the practices of shamatha and vipashyana developed a profound understanding of the workings of the mind and emotions. How to tackle the destructive emotions and cultivate those that are positive is something we can share with the world today. Therefore, I suggest you consider making this temple a centre where anyone can learn about the mind and emotions and where members of other spiritual traditions can meet and get to know one another."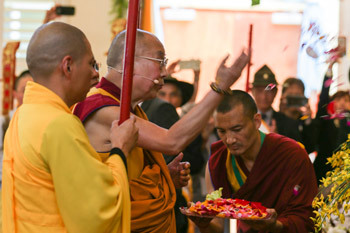 His Holiness the Dalai Lama reciting auspicious verses inside the temple as part of the Grand Opening Ceremony of the Dieu Ngu Buddhist Temple in Westminster, California on June 19, 2016. Photo/Anh Cao
Within the temple His Holiness recited auspicious verses while tossing handfuls of flower petals into the air. There was resonant chanting in Vietnamese. The Tibetan monks present recited the LamRim prayer and the Heart Sutra, followed by the Mangala Sutta in Pali and further recitations in Korean.
His Holiness began a short talk with a verse of homage to Buddha Shakyamuni. He mentioned how pleased he was to see so many brothers and sisters from other Buddhist traditions present. Holding up a Tibetan bell in the Vietnamese chant-master's possession, His Holiness remarked that it should be accompanied by a vajra that symbolizes compassion, while the bell represents wisdom. He pointed out that the sound of the bell is made neither by the clapper nor the rim alone. The bell only rings when they come together.
"We recited the Heart Sutra," he said, "which is a concise rendering of the Perfection of Wisdom teachings that explain emptiness. The Sutra says that the five aggregates are also empty of inherent existence, a declaration of the selflessness of phenomena in addition to the selflessness of persons. The essence of the Heart Sutra is that 'all the Buddhas who perfectly reside in the three times, relying upon the perfection of wisdom, become manifest and complete Buddhas in the state of unsurpassed, perfect and complete enlightenment.' Realization of emptiness directly complemented by the awakening mind of bodhichitta is the basis of the perfection of wisdom.
"What is emptiness? 'Form is empty; emptiness is form.' If we investigate and analyze form, we won't find anything inherently existent. It exists in dependence on other factors. Appearance and emptiness complement each other. During the first Turning of the Wheel of Dharma the selflessness of persons was taught, but during the second Turning the selflessness of phenomena, the five psycho-physical aggregates that are the basis of the person, was also revealed."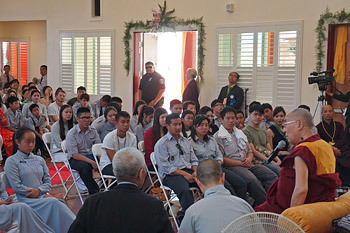 His Holiness the Dalai Lama speaking to a gathering of Vietnamese youth at Dieu Ngu Buddhist Temple in Westminster, California on June 19, 2016. Photo/Jeremy Russell/OHHDL
His Holiness answered questions from the audience and after lunch spoke to a gathering of Vietnamese youth about using their intelligence, cultivating warm-heartedness and the benefits to themselves of developing compassion. He stressed the need for self-confidence, but that it should be wise not blind. He added that trust is the basis for friendship and trust grows when you act out of concern for others. He said:
"We are all the same as human beings. I am nothing special. I am a student of Buddhist philosophy and for people who know nothing I can be a teacher, but among top scholars I am a student. The purpose of the Perfection of Wisdom teachings is to put an end to destructive emotions such as anger. It's effective to seek the basis of anger and investigate whether anger has any benefit. Destructive emotions are rooted in ignorance that is a distortion of reality and only understanding of emptiness can counter it."
Asked what youth can do to stand against violence in the world, His Holiness spoke of the young people from countries torn by conflict who he had recently met in Dharamsala and how their determination to take action had impressed him. A young man who admitted he'd been to jail for trespass told His Holiness how much he had learned from his teachings and how pleased he was to meet him. His Holiness told a young woman who asked if he would be the last Dalai Lama and wouldn't that leave a spiritual gap to fill that the Buddha's teachings have flourished for 2600 years without a reincarnation of the Buddha.
Finally, a small boy asked what His Holiness had wanted to be when he grew up and his little sister wanted to know how he'd become famous. His Holiness replied that he'd been chosen as the Dalai Lama when he was four years old and he'd had no choice. But later he'd found that having the name Dalai Lama could be useful in trying to help other people, so that's what he tries to do.
At the Geden Shoeling Center nearby, His Holiness said he'd known the founder, Khensur Rinpoche, Lobsang Jamyang for many years and was happy to come to his center. He said that Buddhism remains relevant today and that the Nalanda Tradition in particular encourages the use of reason and intelligence. He recommended that the center become somewhere that people who are not necessarily Buddhist could come to learn. He suggested that another project that the center could take on would be the translation of key volumes of the Kangyur and Tengyur into Vietnamese.
After several days in the vicinity of Los Angeles, tomorrow His Holiness will visit the California state capital on the way to Salt Lake City.