Koyasan, Japan - Koyasan, Japan's charged mountain of temples, was all heavy mists, thick silence, rusting trees when His Holiness left the main temple, Kongobuji, where he had been staying, early in the morning, to deliver a public talk on "The Mission of Buddhists in the 21st Century."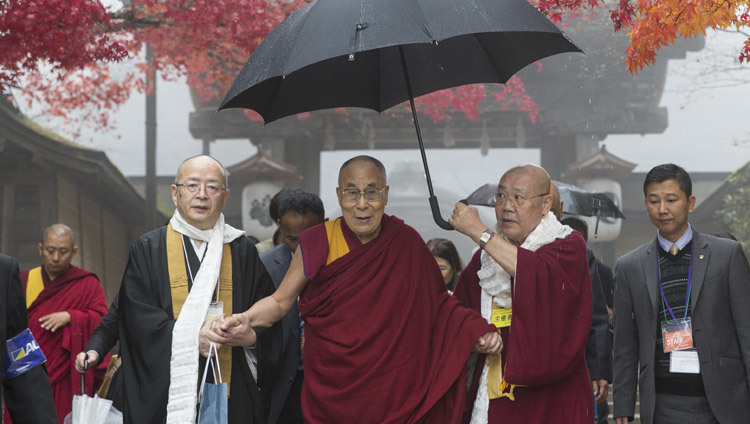 Arriving more than twenty minutes early, while people were still filing in, and bursting with energy, eager to get started, he offered to take questions from the floor. Almost immediately, a line of nineteen people formed, stretching along one aisle of the theater. As one questioner after another, mostly Japanese women, asked him about what advice he'd give to young monks, and the gap between rich and poor, His Holiness listened closely and began to speak.
He stressed how Christian monks and nuns are very good at offering help to others, a model for us all; and he said that although karma may play a part in determining individual richness or poverty, the rich need to help the poor more, not in a condescending way, but in a spirit of fellow humanity. And perhaps the poor, he said, can develop some sense of confidence and determination, the feeling that "I can do it!" When asked about helping those in pain, he stressed that mental suffering is worse than physical, even if less visible, so that is where attention must be paid. And when invited to clarify the meaning of refuge, he stressed how much we can do ourselves.

"The Buddha doesn't wash away our sins," he said. "The Buddha doesn't give us liberation. He shows us the way by which we can liberate ourselves."
By then His Holiness had invited three Japanese priests to join him on chairs at the front of the stage, and was ever more full-bodied and vigorous in his responses, as one young man from the People's Republic of China, and then another, asked him questions about helping others. "Death is part of our life," he said. "So long as you understand that, it won't be such a shock.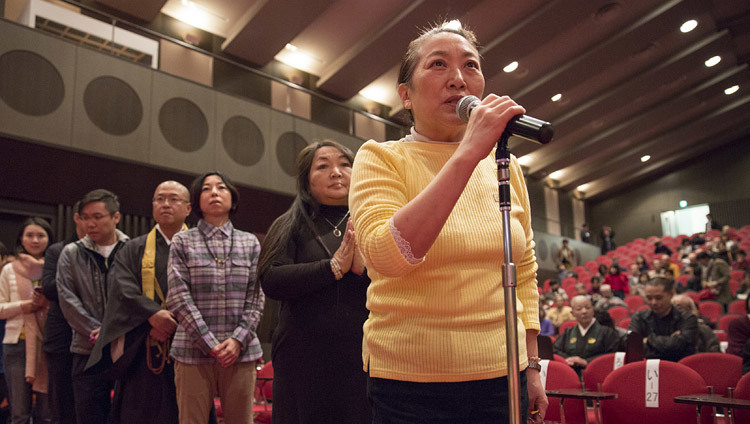 "When I lost my senior tutor, Ling Rinpoche, I was very sad. He seemed as essential to me as a support on my neck. But then I thought, "This sadness isn't helping anything! Better use the sadness to advantage, and find in it an incentive to do what my teacher advised me to do. We can turn sadness to powerful advantage for others." There is today, he stated, "too much emphasis on `'My country, my nation.' That kind of ancient thinking is outdated. Global warming, the environment, don't make a distinction between this country and that country." They're the concern of us all. We're all in it together.
"Any unrealistic effort," he emphasized, "fails to bring what you want. We must act according to reality. And in order to know the reality, our minds must be open and we should have a wider perspective."
Then, having answered questions for more than an hour, His Holiness turned to his main address. He began by saying how in Buddhism, especially the Nalanda tradition, the emphasis is always on investigation, experimentation, not on faith. Some ancient Nalanda masters even rejected some of the Buddha's teachings, on the evidence.
"So logic, investigation are essential. Buddhism in the Nalanda tradition is very close to the scientific progress. It's not just chanting, chanting." For thirty years, therefore, he explained, he had been investigating the convergences between Buddhist thought and science: in cosmology—the Big Bang theory, for example, is mentioned in Buddhist literature; in neurobiology, and thoughts about the mind and brain; in physics, especially quantum physics, which are mentioned in old Buddhist texts and the writings of Nagarjuna; and in psychology, since ancient Indian psychology was very advanced.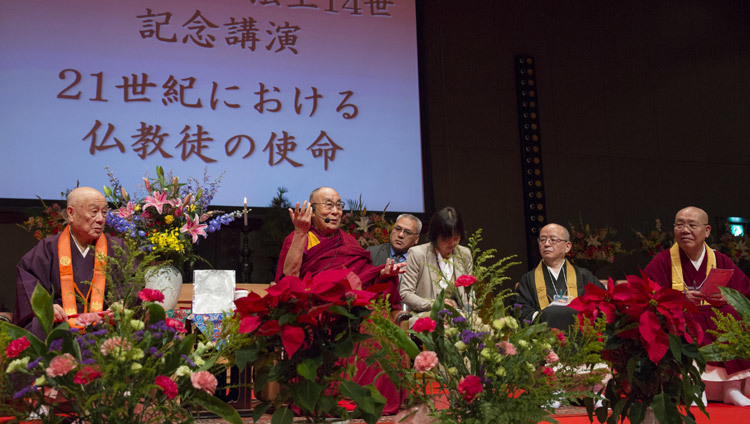 The main emphasis, he said, should be on what we can contribute. We talk so much of the hygiene of the body, but what about emotional hygiene? How can we develop a healthy mind, and get rid of raw, negative emotions—anger, hatred, fear? That's one reason why he had made modern science an integral part of the curriculum for 10,000 monks and many nuns in major institutions across southern India.
"All we must do," His Holiness stated in conclusion, "is think what it is we can contribute to the well-being of humanity as a whole. So in the future, I'm hoping we can carry on talks with Japanese institutions, universities, even monasteries. That's one way we can help modern science, with the richness of our traditions and teachings. More study, more co-operation: that is my hope!"
Playfully making a gesture showing a plane taking off, he took his goodbyes—he had a flight to catch—and then drove down into the sunshine and flaring colors of the plain and flew from Osaka to Tokyo to await his next day's duties.