Madison, WI, USA, 9 March 2016 - It was a bright morning with a sense of spring in the air as His Holiness the Dalai Lama drove into Madison before most shops and offices had opened. The Capitol building stood out against the sky as he approached the city and was a towering benign presence as his car turned into the Overture Center for the Arts. Richie Davidson met him and accompanied him to the Promenade Hall.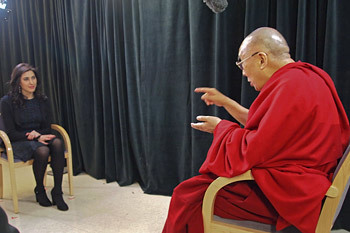 His Holiness the Dalai Lama being interviewed by Julia Fisher Farbman for the Center for Healthy Minds in Madison, WI, USA on March 9, 2016. Photo/Jeremy Russell/OHHDL
He gave three interviews before the morning's main events. He told Julia Fisher Farbman of the Center for Healthy Minds that because of their marvellous brains human beings have a unique ability including the use of language. Science has also shown that basic human nature is affectionate. Therefore, there are strong prospects for improvement through education.
He said that creating a happier world is in everyone's interest. However, modern education tends to be oriented towards external values and material development. What's more, since many of the problems we face are of our own making, we need a renewed sense of ethics or inner values. He also advised that while disturbing emotions destroy our inner peace, training the mind restores it.
Before they talked, Gary Nell of National Geographic gave His Holiness several original photographs of Tibet from the magazine's archive. Nell asked His Holiness how to achieve a balance between human behaviour and protecting the natural world. He replied:
"It's complicated. Since the world's population is still growing, simply limiting development is no solution. However, natural resources are diminishing and climate change is warning us that we may soon be short of water. I've wondered for sometime about setting up solar panels in the Sahara desert. The power generated could be dedicated to running desalination plants. The water produced could be used for greening the desert. It's also clear that money we now spend on weapons could be better used to relieve the poor."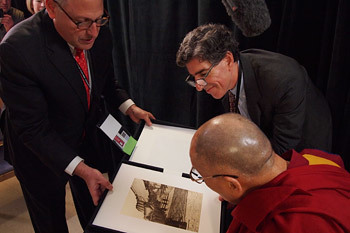 Gary Nell of National Geographic presenting His Holiness the Dalai Lama photographs of Tibet from the magazine's archive before their interview in Madison, WI, USA on March 9, 2016. Photo/Jeremy Russell/OHHDL
To a question about technology, considering that there are now as many mobile phones in the world as people, His Holiness said that whether its effect is good or bad depends on the user. The important thing is that we should not be slaves to technology; it should help us.
Nell wanted to know whose stories inspire His Holiness and he told him of his admiration for Mahatma Gandhi, Nelson Mandela and Martin Luther King, besides his friendship for Bishop Desmond Tutu. He remarked that we tend to neglect the deeper values each of these individuals extolled because our education system is oriented towards materialism.
Dan Harris, an anchor for ABC news, who has written a book about his experience of meditation called '10% happier', asked how a religious leader like His Holiness came to be interested in science. He explained that he has been naturally curious since childhood and has observed the benefits science has brought humanity. However, he has also noted that not enough attention has been paid to mind or consciousness.
"This is important," he said, "because physical comfort does not bring inner peace. We create inner peace within the mind. When we experience stress and anxiety, we should deal with it by training the mind. There are different kinds of meditation, analytical and single-pointed meditation. It's not just a matter of closing your eyes and cultivating thoughtlessness. Not only can we not live like that, but one of our greatest gifts is our intelligence, so we should use it."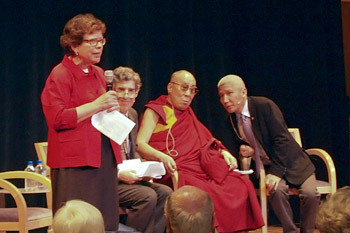 University of Wisconsin Chancellor Rebecca Blank introducing the discussion "The World We Make" at the Overture Center for the Arts in Madison, WI, USA on March 9, 2016.
Photo/Jeremy Russell/OHHDL
Gathered in the Promenade Hall once more, University of Wisconsin Chancellor Rebecca Blank, former United States Secretary of Commerce in the Obama administration, introduced the session. She expressed pride that the Center for Healthy Minds was part of the University, noting that the campus lent itself to its interdisciplinary approach. She looked forward to seeing the scientific research translated into real life. Richie Davidson explained that five scientists working at the Center would make presentations about their research.
Regina Lapate explained how she was evaluating the role of conscious awareness in emotional processing. She found that awareness enhances the emotional regulatory circuitry. When asked about awareness, His Holiness acknowledged its importance, remarking that without it we couldn't even walk. Cortland Dahl presented work he's doing on Human Flourishing and asked what kind of analytical meditation is best suited to a secular context. His Holiness reiterated that the two kinds of meditation, concentrative and analytical are not differentiated by their object, but by the way mediation is applied. He likened rigorous scientific research to analytical meditation.
When Matt Hirschberg presented his work on Reorienting School he remarked that well-being is a basic quality of the mind. Melissa Rosenkranz described her research into inflammation and stress and the role of mindfulness in regulating it. She mentioned that inflammation plays a role in both asthma and Alzheimer's Syndrome. Being able to regulate inflammation would have public health consequences.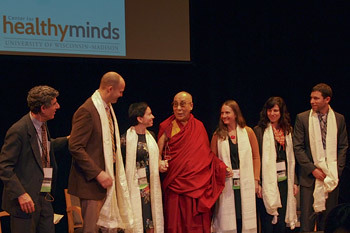 His Holiness the Dalai Lama with the presenters of the morning session of the discussion "The World We Make" in Madison, WI, USA on March 9, 2016. Photo/Jeremy Russell/OHHDL
Finally, Pelin Kesebir reported examining Moral Excellence in 20th Century American Culture. Using Google Books Ngram Viewer she was able to track a drop in the frequency of use of words with an ethical component. She noted rises in the use of 'Dalai Lama'. She also noted a marked increase in the use of the word 'compassion', which corresponded to the growth of interest in Buddhism at a time when similar ethical words were in decline.
His Holiness remarked that when people experience too much stress, anger and frustration they need to investigate what causes their stress, and think about what gives rise to a calm mind. With proper training even an angry person can become someone calm and compassionate. He expressed great appreciation and approval of the work that is going on to support such training.
During a lunch hosted by the Center for Healthy Minds Barbara Mathison acknowledged His Holiness's contribution to the Center's work and described Richie Davidson's special qualities as someone operating at the intersection of the humanities and sciences. She noted a valuable synergy between them.
Author Dan Goleman, recalled when he and Richie Davidson were psychology graduates together in Cambridge in the 1970s. Later, once the Mind & Life meetings had begun, His Holiness told them, "We have many methods in our tradition for dealing with destructive emotions. Why don't you test them in your laboratories and if they prove effective, share them. Make them accessible to others." Although it meant going against the current of contemporary psychology research, Richie Davidson took up His Holiness's suggestion and now he and the Center for Healthy Minds are finding ways to make these methods more widely available.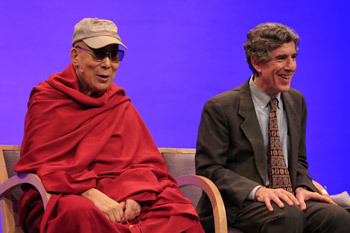 His Holiness the Dalai Lama and Richard Davidson at the start of the afternoon session of the discussion "The World We Make" in Madison, WI, USA on March 9, 2016. Photo/Darren Hauck
The afternoon session of The World We Make began with tributes from several supporters, PwC, Gary Nell of National Geographic and Susan Bauer-Wu of Mind & Life. These were followed by a brief musical interlude by Aaron Stern and the Academy for the Love of Learning. Richie Davidson offered His Holiness a cap inscribed with the words 'Change your mind, Change the world' to shade his eyes and invited moderator Dan Harris of ABC to open the discussions. He spoke of having taken up meditation because he'd been impressed by the scientific evidence of its effectiveness in "making a difference to your life."
Richie Davidson asserted that well-being is something that can be learned and mentioned four constituents he has identified that contribute to the process. First is resilience, which refers to the rapidity with which you recover from adversity. Second is a positive outlook. Turning to His Holiness he said he had learned about this from him, noting that whoever he meets it's their basic goodness he sees. Noting that the third constituent is attention, he remarked that a wandering mind is an unhappy mind. Fourth is generosity. Davidson concluded that on the basis of these four constituents he hopes to encourage people to understand that well-being is a skill that can be learned.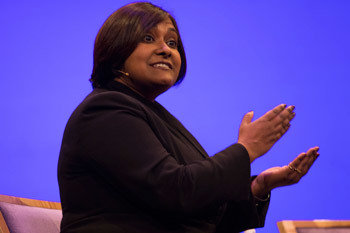 Soma Stout during her presentation at the the afternoon session of the discussion "The World We Make" in Madison, WI, USA on March 9, 2016. Photo/Darren Hauck
Psychologist Sona Dimidjian also affirmed that if we are to have peace in the world, we require peace of mind, a sense of inner peace. She said that her research examines how to train people to develop well-being. She works to prevent and treat depression in women during and after pregnancy, employing mindfulness and cognitive therapy. Soma Stout of 100 Million Healthier Lives at Harvard Medical School discussed how to improve lives across the world through the lens of well-being and equity.
His Holiness took up these themes:
"We are social animals; it's natural for us to work together. Each individual's survival depends on the rest of the community. We are heavily interdependent. At the same time this slogan 'Change your mind, Change the world' reminds us that change must start with the individual. Building on inner strength and self-confidence we can develop the warm-heartedness that fosters concern for the welfare of others. Of course we have self-interest, but we should pursue our self-interest wisely by thinking of others, not foolishly and narrowly concerned only for ourselves."
Dan Harris reported that there have been criticisms that talk about mindfulness and meditation involves introducing Buddhism by stealth and asked His Holiness to comment. He replied that all major religious traditions belong to human beings. In emphasizing the practice of love and compassion, they all advise tolerance, forgiveness and self-discipline. They share a common goal even if they take different approaches to reaching it.
His Holiness the Dala Lama speaking during the afternoon session of the discussion "The World We Make" in Madison, WI, USA on March 9, 2016. Photo/Darren Hauck
He spoke of meeting a Christian monk in Montserrat, Spain who had spent five years as a hermit in the mountains. When His Holiness asked him about his practice he told him he had been meditating on love. As he said this, His Holiness noticed the sparkle of true happiness in his eyes. A Tibetan monk who spent 18 years in Chinese prisons in Tibet told him that he had faced danger several times. His Holiness thought he meant a danger to his life and asked him about it and was surprised to hear he meant a danger of losing compassion for his captors. His Holiness concluded that whatever practice we follow, like these two monks, we need to be serious about it.
As the meeting drew to an end Dan Harris put one question to His Holiness asking whether, for example, in the context of ISIS's atrocities, the use of violence could ever be justified. He answered:
"It's difficult to say. Giving a harsh response out of a sense of concern may sometimes be useful, but in general it's better to avoid the use of violence. Whatever your original intention, there's always a risk of its running out of control. Looking for peace doesn't mean there will be no more conflict, we will always face problems, but we have to learn to deal with them through dialogue. This is important if this century is to avoid the bloodshed of the 20th century. We seem to have prayed for peace for hundreds of years without much effect. We have to act to achieve it.
"I sometimes jokingly suggest that if we were to meet with Jesus Christ or the Buddha today and plead with them for help to create peace in the world, they might ask who created the problems we face. The answer is we did and it's our responsibility to solve them. With a sincere motivation, intelligence and compassion, taking account of short and long term consequences, we need to be prepared to talk. That, I think, is a realistic approach."
Richie Davidson expressed gratitude to the Center's friends and supporters. He thanked His Holiness especially for coming and requested him to come again and again. The meeting came to an end and His Holiness drove to Madison airport to begin his journey back to India.