New Delhi, India, 10 April 2016 - On a warm afternoon today, His Holiness the Dalai Lama drove to the All India Fine Arts & Crafts Society near Parliament House to visit an exhibition of photographs entitled 'Thank You Dalai Lama'. The photographs are the work of Vijay Kranti, photographer, journalist and a friend of Tibetans for more than 40 years. Kranti received His Holiness on the steps of the gallery as he stepped out of his car. He describes the exhibition as "An Indian photographer's artistic tribute to the success story of a peaceful and brave refugee community, its monk leader the Dalai Lama and their magnanimous hosts — the people and Government of India."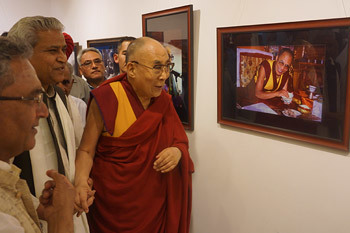 His Holiness the Dalai Lama looking at an exhibition of photos by Vijay Kranti at the All India Fine Arts & Crafts Society in New Delhi, India on April 10, 2016. Photo/Jeremy Russell/OHHDL
Vijay Kranti escorted His Holiness around the exhibition recalling the circumstances under which the various photographs were taken. They were accompanied by BJP General Secretary Ram Lal and columnist and BJP Rajya Sabha Member Balbir Punj. Kranti also introduced his wife, his elderly parents and other members of his family to His Holiness.

Additional attractions as part of the exhibition were a butter sculpture executed by monks of Nechung Monastery and a Chenresig sand mandala being created by monks of Namgyal Monastery. There were also examples of painted and appliqué thangkas on display, as well as a painter from Norbulingka Institute working on a thangka.

His Holiness took an interest in the photographs, noting how much younger some of the other people in them looked. Tomorrow he is due to return to Dharamsala.