Leh, Ladakh, J&K, India, 17 August 2016 - His Holiness the Dalai Lama's first public engagement today was to visit the Islamic Public High School in Leh where he was received by the school's Chairman Mr Abdul Qayuum and the Principal, Mrs Renu Kapur.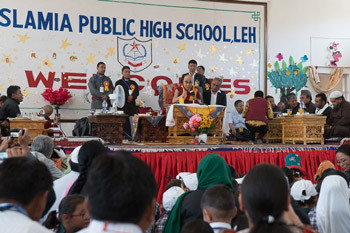 His Holiness the Dalai Lama speaking at Isalamia Public High School in Leh, Ladakh, J&K, India on August 17, 2016. Photo/Tenzin Choejor/OHHDL
Once everyone in the hall was seated one of the boy students gave a recitation from the Quran and one of the girl students recited what he had said in English. Mr Abdul Qayuum thanked His Holiness for coming to visit. He explained that the school takes a multi-lingual approach to education and is concerned to impart social values to its students. He thanked His Holiness for providing a scholarship through the Dalai Lama Trust to three students, who are now pursuing higher education in Jordan and expressed a hope to send more students in the future.
His Holiness was presented with a digital Quran that can play the scripture either Arabic or English.
Addressing the gathering as "Respected elder brothers and sisters and young brothers and sisters" His Holiness said, "If we truly consider ourselves 'Brothers and Sisters' we immediately feel closer to one another whereas greater formality creates distance between us".
From the Islamia School, His Holiness went to the Nunnery of the Ladakh Nun's Association at Kalsang Ling. At Chuchot Yokma he spoke briefly to people who had gathered at a roadside prayer wheel about the importance of education. At Imam Bargah Mosque he was received by both Shia and Sunni clerics while the public gathered in their thousands to witness the occasion.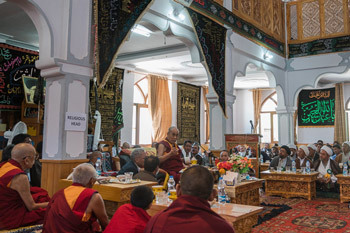 His Holiness the Dalai Lama speaking at the Imam Bargah Mosque in Leh, Ladakh, J&K, India on August 17, 2016. Photo/Tenzin Choejor/OHHDL
His Holiness was told that the mosque is over 500 years old and that harmony has long thrived between Buddhists and Muslims in Ladakh. One of the Shia clerics lamented that, despite late Mohammed Ali having stated that Islam means peace, today Islam is often misrepresented in the world at large. Sheikh Sayiuddin, a Sunni from the Muslim Coordination Committee of Leh, declared, "His Holiness has strengthened the harmony between the Muslim and Buddhist communities in Ladakh".
His Holiness spoke of how a century ago citizens readily and unquestioningly joined the fight when their governments declared war. Since the Vietnam War, however, when Mohammed Ali refused to join the US army, and since prior to the Iraq War when people in hundreds of thousands marched in the streets around the world to oppose the invasion, there has been a change in attitude. This positive change, people's desire for peace not violence, is a sign of hope.
He said there is another such sign in contemporary scientific findings which show that basic human nature is compassionate. Therefore, he said:
"We must work to educate people and nurture human compassion and love to create a more peaceful and harmonious society based on these principles."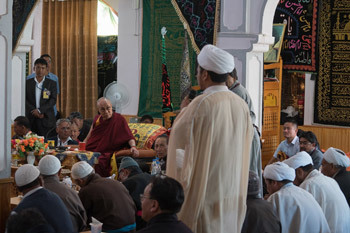 A member of the Muslim community asking His Holiness the Dalai Lama a question during his visit to the Imam Bargah Mosque in Leh, Ladakh, J&K, India on August 17, 2016. Photo/Tenzin Choejor/OHHDL
During a question and answer exchange His Holiness was asked about factors for good and bad in people. He replied that having a warm-heart is the key factor for good, while selfishness and a self-centred attitude are contrary to basic human goodness.
Another questioner raised the issue that the sale and provision of meat is restricted in Ladakh on the 8th and 15th days of the lunar calendar. His Holiness clarified that since it is a Buddhist practice it doesn't strictly concern Muslim brothers and sisters. However, he suggested that they might respect it as an aspect of Buddhist culture as Buddhists do when Muslims broadcast prayers in the middle of the night during festivals. His Holiness recommended that any misgivings about such things can be raised in meetings and discussions between the two communities.
With regard to eating meat, His Holiness explained that in the Vinaya, the rules of monastic discipline, the Buddha did not prohibit monks from eating meat. He quoted a discussion he had held with Sri Lankan monks who told him that the Buddhist monks are neither vegetarian nor non-vegetarian since they must accept whatever they are offered when they beg for alms.
Finally, His Holiness thanked his hosts and all the members of the community for inviting him to lunch, telling them how much he appreciated the camaraderie of the occasion.