Tawang, Arunachal Pradesh, India - Last night's heavy rain left the morning sky clear and the early morning sun shone on the mist wreathed hills as His Holiness the Dalai Lama travelled again to the Yiga Choezin teaching ground. In the yard of Tawang Monastery, on the road down and lining his path to the throne, people waited eagerly to greet him. From the throne he addressed them.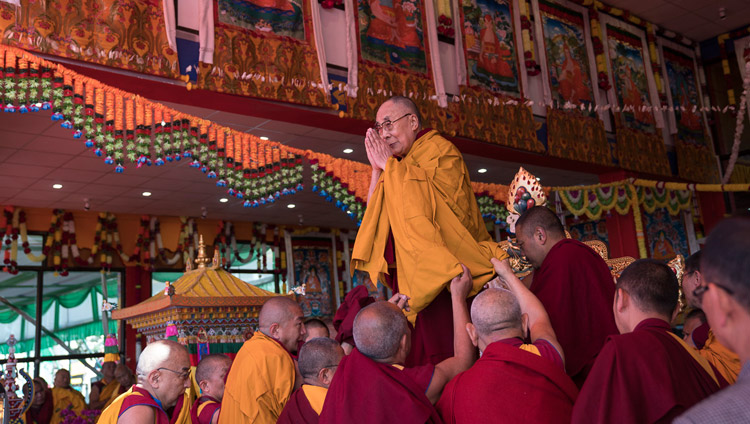 "This is the third day of these public teachings. On the first I gave an introduction to the Buddha's teachings and read the 'Stages of Meditation' to you. The traditional approach begins by explaining death and impermanence and so on, but I don't find that so appropriate. I prefer to follow the pattern of Maitreya's 'Ornament for Clear Realization' that begins with the Two Truths, conventional and ultimate, and goes on to examine the Four Noble Truths as well as taking refuge in the Three Jewels.
"Starting with the Two Truths means introducing emptiness at the outset, which can be done in terms of dependent arising. It's an approach that can have a universal appeal. Just as other religions present a saviour, Buddhists have the Buddha, Dharma and Sangha, which Chandrakirti describes as the refuge of those who aspire to liberation. I referred to this approach in a verse towards the end of the Praise to the 17 Nalanda Masters.
By understanding the meaning of the two truths, the way things exist,
We ascertain through the four truths how we arrive in and how we leave the cycle of existence.
Engendered by valid cognition our faith in the three refuges will be firm.
May I be blessed to establish the root of the path to liberation.
"I received the Rigzin Dungdrub empowerment I am going to give today from Trulshik Rinpoche who, in addition to adopting a genuinely non-sectarian approach, was a truly great practitioner. This cycle of teachings was revealed by Rigzin Godemchen, a forerunner of the Chang-ter Northern Treasure tradition that was later maintained by Dorje Drak Monastery and in which the Fifth Dalai Lama participated."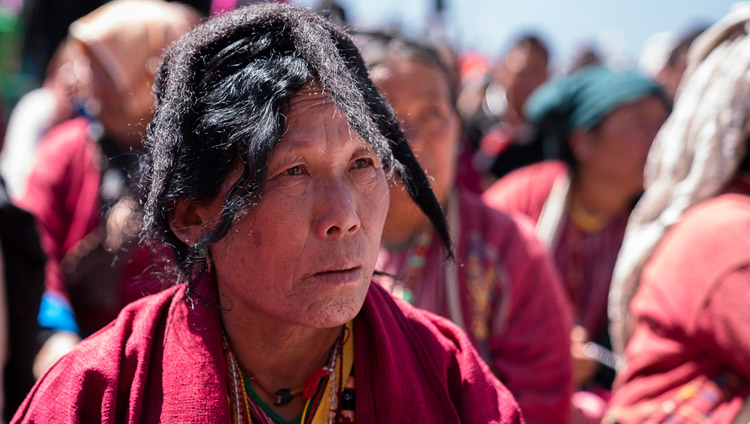 His Holiness explained that the empowerment and practice focuses on invoking Guru Padmasambhava who has a special commitment of care for the Tibetan people. This is expressed in a verse in the Yearning Song of Prayer, an invocation he wrote at the Kashag's request in 1980.
In particular, when King Trisong Detsen and his son, the prince,
Urged you to care for the land of Tibet with your compassion,
You gave them your word, your unfailing pledge, that you would always work for our benefit,
And so now we call upon you: care for us in your compassion.
His Holiness recommended that the audience recite the Seven Line Prayer to Guru Rinpoche and the Vajra Guru mantra while he conducted his preparations for the empowerment.
In his preamble to it His Holiness mentioned that although we experience the mind it is something many scientists have dismissed as a mere function of the brain. As mind has no form and cannot be measured, scientists have yet to investigate it thoroughly. In the Buddhist tradition, however, seeking where the mind comes from, where it abides and where it goes, we search for its nature as it is. Ordinarily sensory perceptions keep us busy and distracted, but they cease when we search for the ultimate reality of mind—which is mere clarity and awareness. He recommended reading what Longchenpa has written about this.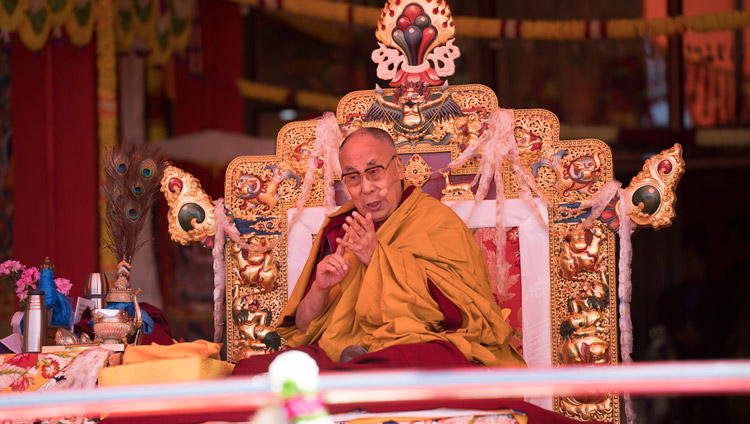 His Holiness remarked that the Perfection of Wisdom teachings that were the focus of the second Turning of the Wheel of Dharma provide a basis to establish emptiness. The third Turning of the Wheel introduced the mind of clear light. An understanding of both emptiness and the mind of clear light is a prerequisite to the practice of tantra. He mentioned that the early Dalai Lamas, the 2nd, 3rd, 4th and 5th were inclusive non-sectarian practitioners. Also, that after he met Terton Sogyal, Lerab Lingpa, the 13th Dalai Lama engaged in the practice of Vajrakilaya. In his own case, His Holiness said that several facets of Dzogchen have illuminated aspects of his other tantric practices.
With the completion of the empowerment, His Holiness announced that he'd come to the end of the three days of teachings. He pronounced himself happy to have been able to come and provide the people of Mönyul with some benefit. There followed the offering of Long-Life prayers to His Holiness based on White Tara the Wish-fulfilling Wheel. Towards the end, in addition to an elaborate gilded three dimensional mandala, he was offered silver statues of Nagarjuna and Shantarakshita.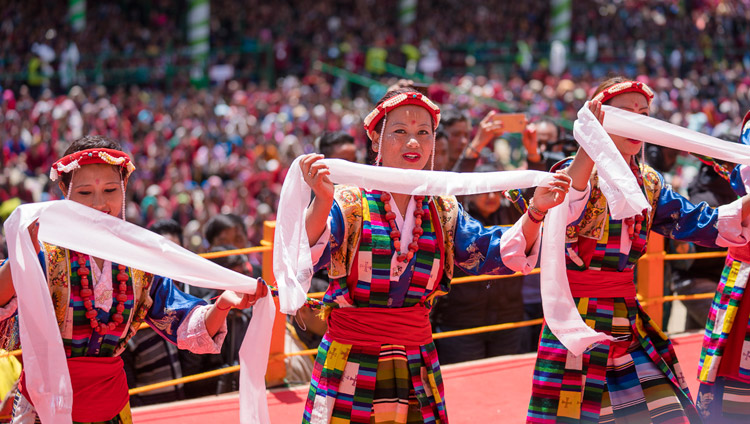 As part of the closing ceremony, His Holiness was invited to release the Tibetan edition of a book about his relations with the people of Arunachal Pradesh entitled 'Ocean and the Blue Mountain'. There followed a brief performance of songs and dance, including Yak and Snow Lion dances, to an accompaniment of drums, cymbals and flute that amused His Holiness.
MLA Jambey Tashi offered words of thanks, saying, "It fills my heart with joy on behalf of the people of this region to thank His Holiness for coming. This is your sixth visit since 1959. We promise to spread the message of compassion, non-violence and inter-religious harmony that you have given us."
"Everything has turned out well," His Holiness responded. "I enjoyed your cultural performances just now, especially the Yak whose head can turn all the way round. Today, the Yaks had a calf and the Snow Lions had cubs. The dancers in yellow reminded me of dancers from the Dö part of Tibet. I also appreciated the performers from Bhutan."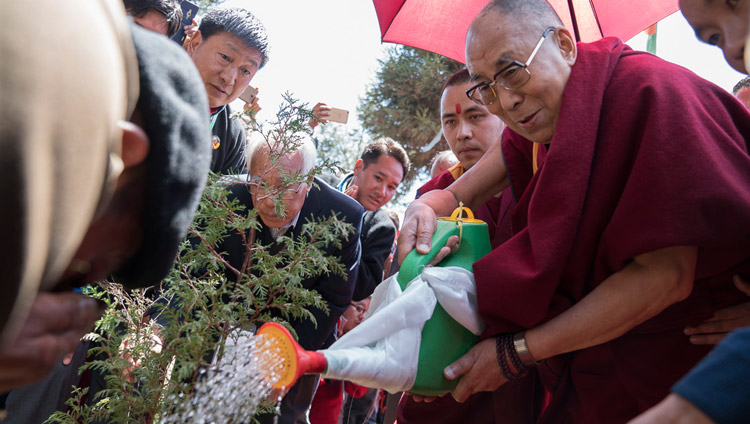 His Holiness was asked to give his blessings to a project to plant 100,000 saplings. He did so saying that he had learned to value caring for the environment. As he left Yiga Choezin, he and the Chief Minister planted their own saplings and it was clear that every family was taking a sapling away with them. His Holiness's closing words were,
"Everything has gone well because of your faith and devotion—thank you. Be happy and take it easy. Of course, it's in the nature of samara that things can go wrong, but when they do, look at them from a wider perspective and they won't seem so bad. We'll see each other again."
After lunch at Tawang Monastery, His Holiness drove first to the Buddha Park where he consecrated the colossal statue of the Buddha that dominates the town. From there he proceeded to the Kalawangpo Convention Centre where 1000 professionals waited to hear him speak.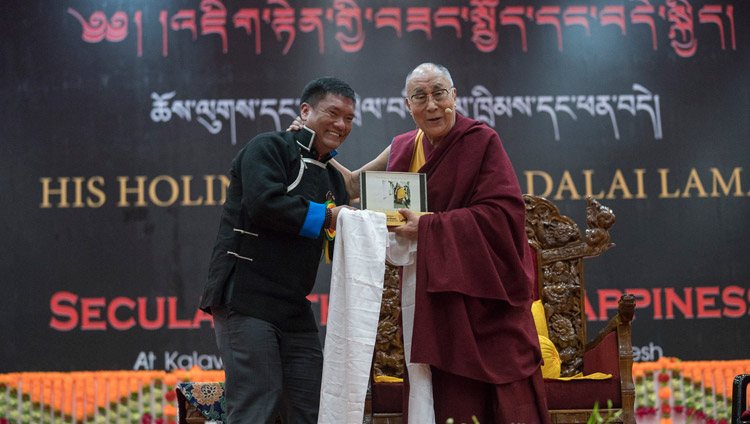 MLA Tsering Tashi introduced the occasion. His Holiness was invited to release the English edition of 'Ocean and the Blue Mountain' and a couple of other books. The Chief Minister presented him with a souvenir. His talk touched on world peace for which the essential provision is inner peace within individuals. He noted that there was little talk of peace after WW1, although there was after WW2. However, he suggested that the period of the Cold War may have avoided open conflict, but was not an era of genuine peace because it was based on fear.
Cultivating the inner peace he mentioned involves working with the mind—achieving peace of mind. This prompted him to discuss an unusual occurrence among people who have worked with the subtlest mind, the cases of people declared clinically dead, whose bodies remains fresh. Scientists, some of whom are taking an interest in this phenomenon, have no explanation as yet. Buddhists explain that the subtlest consciousness has not yet left the body, which begins to change when it does.
His Holiness believes that one route to inner peace is to cultivate what he calls inner values which he suggests are overlooked by modern education. He talked about a ten year project that is approaching fruition to design a curriculum to teach secular ethics, values and ethics that belong to no one religious tradition, but are found in common with them all.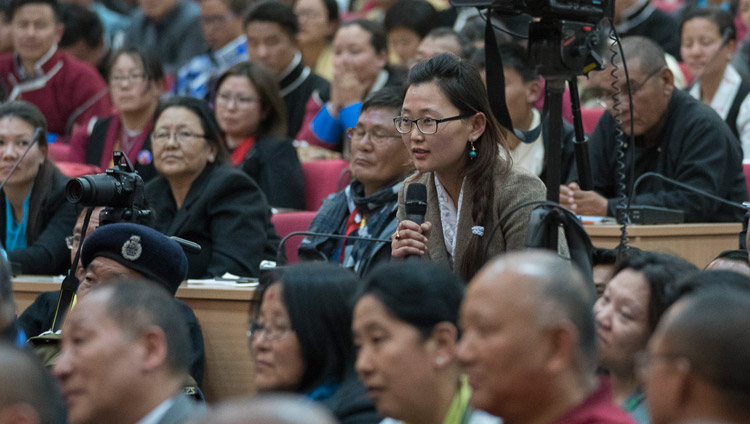 Taking questions from the audience he told someone who asked how to become a good person to become acquainted with a map of the emotions. Someone else asked if secular ethics were the solution to the impending clash of religions. He denied that such clash is imminent but drew a contrast between the ways Muslims in countries like India, Malaysia and to some extent Indonesia are familiar with living among people of other faiths, while Muslims in many of the Arab states are familiar only with Islam. His Holiness proposed that the notion of one truth, one religion is pertinent to an individual's personal practice, but in the wider community there are clearly several truths and several religions.
When asked if killing micro-organisms with the administration of antibiotics is non-virtuous, His Holiness acknowledged that micro-organisms may have life, but they are not conscious so eliminating them is not the same as killing a sentient being. He was also asked when consciousness appears in a foetus. He replied that he had asked doctors in the West whether in the case of a faultless sperm, ovum and womb if the three were to come together conception would take place. The answer is 'no', begging the question, what is the missing factor? Buddhists would say consciousness. which is without beginning or end.
District Commissioner Sang Phuntsok offered a word of thanks. He expressed appreciation to all the dignitaries and guests for coming, but thanked His Holiness especially. He said, "I believe he has come here under arduous circumstances because of his affection for the people of this region. I'm sure we'll all try to be better human beings as a result of listening to him. I'd like to thank everyone who has contributed to making this event a success and venture to express the hope that the day will not be far off when His Holiness will be able to return to Tibet by the route through this land that he took 58 years ago."
His Holiness will leave Tawang tomorrow on his way, via Guwahati and Delhi, back to Dharamsala.