Delhi, India- The courtyard of Tawang Monastery this morning was packed with people who had come to see His Holiness the Dalai Lama off. From the steps of the veranda he briefly spoke to them. First he asked those from Mön to raise their hands and then those from Bhutan.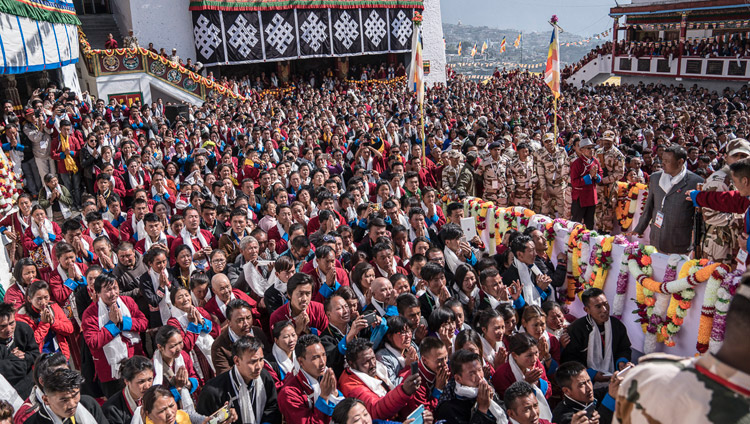 "I've been touched to see so many of you, your faith and devotion, over the last three days. The Lama's responsibility is to teach, which I have done, and the disciple's is to put what he or she has learned into effect, which I'm confident you will do. As I said yesterday I feel it's important to focus on understanding the Two Truths and taking refuge in the Three Jewels.
"In the Kangyur we have 100 volumes of what the Buddha taught. With regard the Perfection of Wisdom teachings, Nagarjuna and his followers elaborated on them extensively and their works can be found among the more than 200 volumes of the Tengyur. What's more, we have another 20,000 volumes of commentaries composed by Tibetan masters. I wholly agree with what Sakya Pandita said—'Even if you're going to die tomorrow, it's still worth studying and learning something today'. I read whenever I can, you should too.
"Many of you here today have come from Bhutan, one of the few independent Buddhist countries—my greetings to all of you. By and large Tibet and Bhutan have historically maintained good relations with each other. Thank you, Tashi Delek, see you again."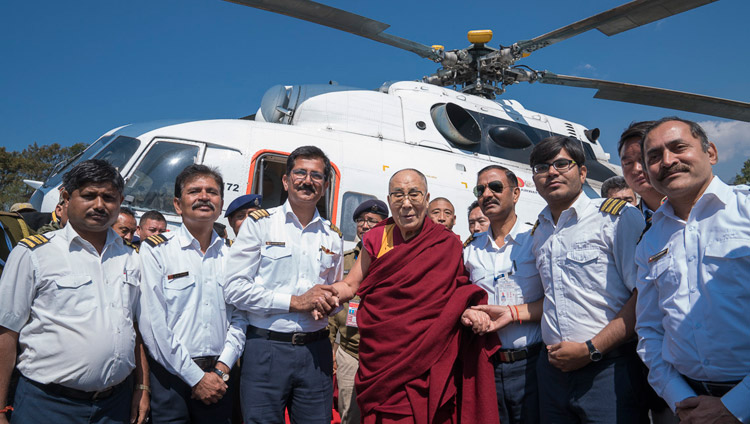 Devout people lined the road to see His Holiness off all the way down to the Tawang Helipad. From there he took off, the helicopter rising easily into a cloudless sky. To start with the pilot flew over Lumla, which had been on His Holiness's original programme, and flew round the huge new statue of Arya Tara before heading on down to Guwahati. He was received on arrival there by representatives of both the Assam and Arunachal governments. He had lunch in the airport before boarding a flight for Delhi, which he reached in the late afternoon.
Tomorrow morning, His Holiness will fly up to Dharamsala.