Bodhgaya, Bihar, India - Overnight rain in Bodhgaya laid the dust, leaving roads wet and muddy, but improving prospects for umbrella sellers. Before setting out for the Kalachakra Temple, His Holiness the Dalai Lama gave an interview to Australian former war correspondent Michael Ware for National Geographic Television. He began by putting him at ease: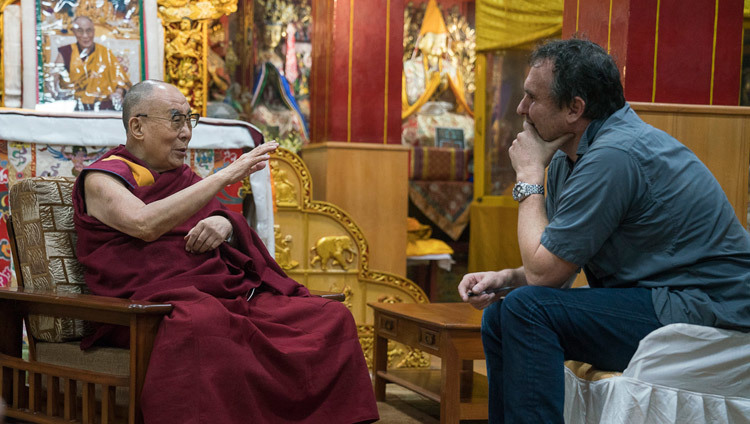 "Please think of me as just another human being. I'm quite familiar with National Geographic Magazine. When I was a child I found two or three copies in the 13th Dalai Lama's room, the room where he passed away."
Ware showed him a piece Heinrich Harrer had written for the magazine in the 1950s and His Holiness told him:
"He was the one who first told me about Europe. Later, he became one of Tibet's most reliable supporters. "
Ware told His Holiness that his experiences of war in Iraq and elsewhere have left him with a war inside himself. He asked what to do. His Holiness replied that as children we are open and full of joy. We appreciate whoever shows us affection with no question about where they are from, what they believe or how wealthy or well-placed they are. Later, as a result of the environment and the education system, we tend to neglect our inner values, like affection and compassion. He said,
"If you spend some time thinking about inner values, it will allay your restlessness. Our modern education system is oriented towards material goals, so even though human nature has been shown to be compassionate, we tend to think in terms of power and the use of force. To start with, what we need to do is to remember that other people are also human beings. I believe that an individual who has found inner peace will be happier and their family will be happier too."
When challenged to say if human beings were good or savage, His Holiness drew attention to the change that had taken place in popular attitudes during the 20th century. Early on, at the time of WWI and even WWII, when nations declared war, their citizens joined up proudly and unquestioningly. But by the time of the Vietnam War thousands resisted the draft and when the Iraq crisis occurred millions of people across the world marched to show they were fed up with violence and did not support another war. Similarly, His Holiness observed that the limited interest people showed in what he had to say about global responsibility when he first went to Europe in 1973 and to the US in 1979 has grown significantly today.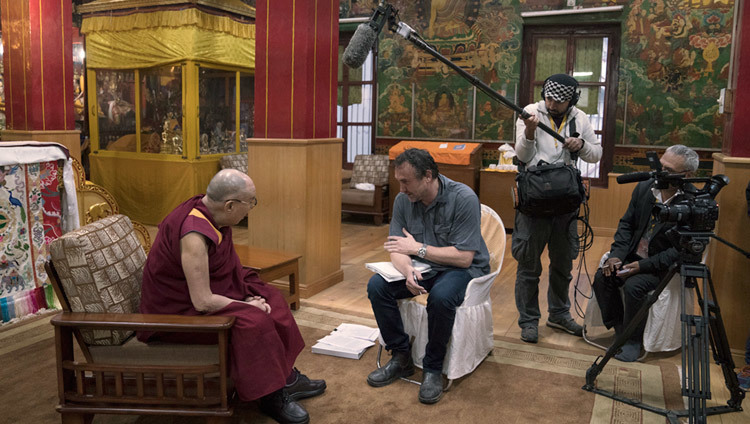 To the question of whether there is evil, His Holiness remarked that scientific findings suggest that basic human nature is compassionate. He said that violence arises from fear, suspicion and anger. Since, there's no room for common sense once anger has broken out, it would be better to find ways to soothe your opponent's fear and suspicion beforehand.
To many of His Holiness's replies, Ware sighed and said, "I wish I could believe you."
Since His Holiness had explained that due to 60 years' intense spiritual practice he had almost got over his sense of anger and attachment, Ware asked, "What about your homeland. Aren't you attached to that?" His Holiness answered, "I'm more concerned about the well-being of 6 million Tibetans." He resisted the suggestion that "Tibet is gone", especially in terms of a people and way of life. He pointed out that the Tibetan language is the best medium for accurately discussing Buddhist philosophy, so its preservation is of interest not just to 6 million Tibetans, but to 1 billion Buddhists too.
Ware continued to insist that politically and realistically "Tibet is gone". His Holiness reminded him that over the last 60 years China has been ruled by the same Communist party and yet distinct periods can be seen in a Mao era, a Deng Xiaoping era, a Hu Jintao era and now a Xi Jinping era. Over that time great changes have taken place and there is no reason to think that change will not continue.
When His Holiness informed him that he had to go, Ware and his camera team followed and documented his progress to the Kalachakra Ground, that, even before 8 o'clock was filling with people. His Holiness took his seat in the temple to engage in the necessary rites before the start of the day's procedures. After lunch, he returned to the temple stage earlier than announced and took time to come to the edge to look out for familiar faces and wave to the appreciative crowd.
The 'Heart Sutra' was recited first in Nepalese and then in Russian and was followed by the homage from the 'Ornament for Clear Realizations':
I prostrate to the Sublime Mother of Buddhas and of the assembly
of Hearers and Bodhisattvas
Who through the knower of bases leads Hearers seeking pacification
to complete peace;
Who through the knower of paths causes those benefiting migrators
to achieve the aims of the world;
And who through possession of (the omniscient mind) the Subduers
set forth the varieties having all aspects.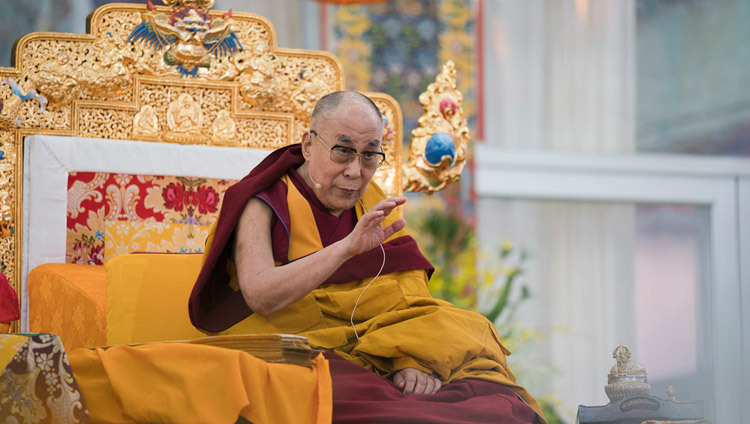 "Today, Bhagawan Shri Kalachakra will go through the preparatory procedures for the empowerment," His Holiness began. "Tomorrow, after the entry into the mandala, we'll see how many of the seven empowerments in the pattern of childhood we can do. After that there'll still be the higher empowerments. Kalachakra is secret in as much as it was given first neither in public nor to a great number of people. It was given at the request of the King and citizens of Shambhala. There is a custom of giving the empowerment to large groups. I received the empowerment from my Abbot, Ling Rinpoche, who had received it from Khangsar Dorje Chang and Serkong Dorje Chang.
"It is said that as a result of receiving this empowerment we may be born in Shambhala, but we don't know where it is. It's supposed to be on this earth, but seems only accessible to people with pure merit. Palden Yeshi, the 6th Panchen Rinpoche, is said to have gone there and to have composed a guide book, but we still don't know where it is. "
His Holiness mentioned that there are the Outer and Inner Kalachakras that refer to what is to be purified and the Other Kalachakra that refers to the methods for purifying them. He also noted that the combination of empty form and immutable bliss represent the union of method and wisdom.
The first stage in the preparation of students was His Holiness's giving the upasaka / upasaki lay-person's vows. These were followed by brief ceremonies first to cultivate the awakening mind of bodhichitta, and then to bestow the bodhisattva vows. Before actually granting the vows, His Holiness noted that to do so created a bond between the student and spiritual master.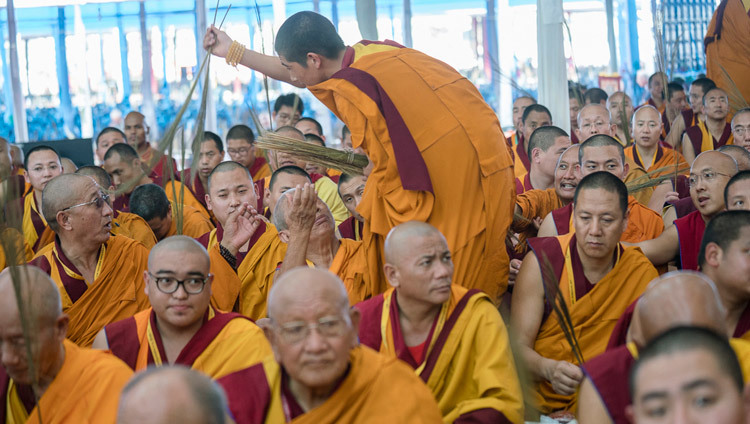 "Having undertaken a great deal of research," he declared, "I discovered that Dolgyal arose due to distorted prayers. The Fifth Dalai Lama described him as malevolent, saying that he harmed the Dharma and beings. If you want to propitiate Dolgyal, that's up to you. But if you want to make or keep up a relationship with me, please don't also maintain a relationship with Dolgyal."
Next was the dropping of the neem stick and distribution of blessed water. Speaker of the Tibetan Parliament, Khenpo Sonam Temphel did this on behalf of the monastics and Sikyong Dr Lobsang Sangay represented the lay-people. This was followed by distribution of long and short pieces of kusha grass and protection cords, while instructions were given about examining dreams. Then, announcing that what needed to be done had been done, His Holiness advised the crowd to disperse while he concluded the rituals and recitations.
Tomorrow will see the granting of the actual empowerments.