Bodhgaya, Bihar, India - His Holiness the Dalai Lama left Namgyal Monastery again just before 7 o'clock this morning for the Kalachakra Temple. During the morning he performed the self-generation of Kalachakra and engaged in preparatory rituals. Yesterday, in addition to the procedures for providing the disciples protection, rituals were begun in connection with the land on which the mandala is to be constructed and the empowerment bestowed. These included obtaining the land and permission to use it.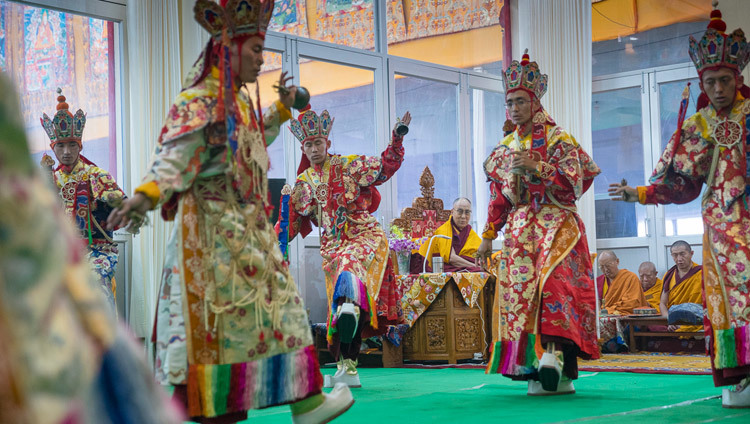 Today, there were rituals to remove any potential obstacles associated with ground on which the mandala is to be built. These culminated in the celebratory Earth Ritual Dance in the early afternoon by 15 monks from Namgyal Monastery. Dressed in elaborate brocade costumes, wearing five-leafed crowns and wielding vajra and bell, they chanted and danced for almost an hour and a half and subdued whatever interferences there may have been. Each dancer maintains the divine pride of being Vajra Vega, the fierce protective aspect of Kalachakra. Before the dance was over, His Holiness returned to the temple and resumed his seat.
In the course of the afternoon the first lines of outline of the mandala were drawn using blessed string dipped in chalk. The Vajra Master—and on this occasion His Holiness has deputed Abbot of Namgyal Monastery, Thamthog Rinpoche, to act on his behalf—plucked the chalk laden string held taught across the mandala base to create the initial lines. Thereafter, monks commenced the complex process of drawing the remaining lines with rulers and chalk. The work of executing this blueprint will continue into tomorrow, after which creation of the mandala out of coloured sand will begin.