Imphal, Manipur, India - When His Holiness the Dalai Lama arrived in Imphal yesterday morning, he was received by the Speaker of the Manipur Legislative Assembly, Y. Khemchand Singh, the Chief Minister, N. Biren Singh, as well as the Chief Secretary and the Director General of Police. At Raj Bhavan, His Holiness was invited to lunch by the Governor of Manipur, Najma Heptulla.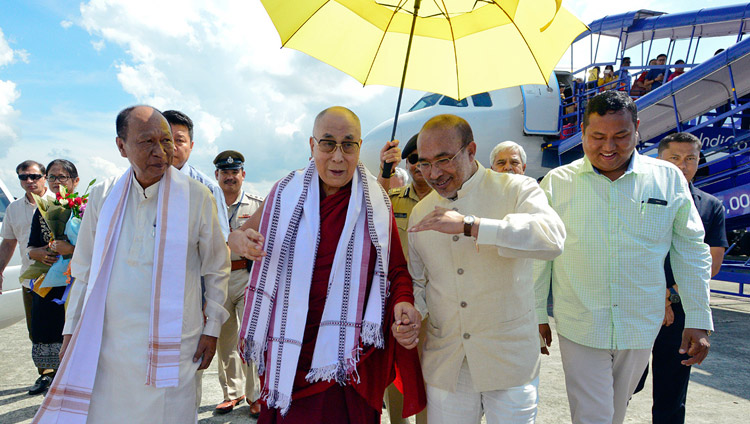 This morning at the City Convention Centre, His Holiness met first with members of the media.
"I've been aware of Manipur since I was a child," he told them in his introduction. "And now I am extremely happy to actually be here among you.
"Wherever I go, I always stress that as human beings we are all the same. We all want to live a happy life, which is our right, and the key to doing so is developing compassion for others.
"As a Buddhist monk, I believe all major religious traditions can help people find inner peace. They may employ different approaches and techniques, but each of them has the potential to help us become better human beings. Therefore, it's important that there is harmony and respect among them. India is a living example that this is possible. Indigenous religions as well as traditions from elsewhere have lived here for centuries side by side in harmony."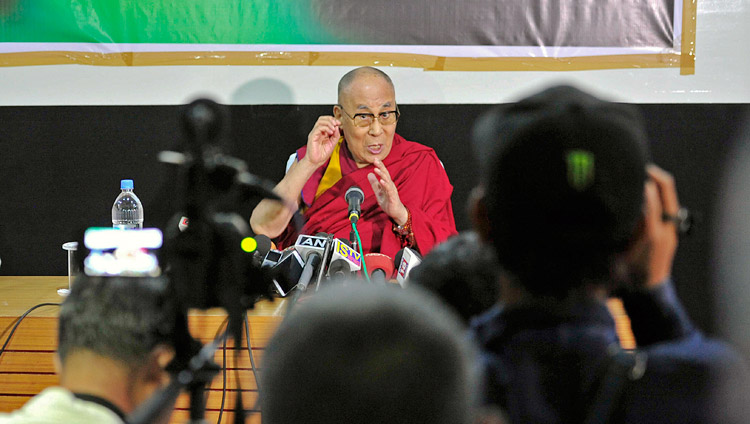 His Holiness also suggested to members of the media that they too have a responsibility to promote a positive outlook, not dwelling solely on negative stories.
He told them it is important to highlight corruption and abuse of power wherever it occurs. However, they should also help people understand that our basic human nature is compassionate and that affection is essential to our survival.
Asked whether there would be a 15th Dalai Lama, His Holiness replied,
"Whether a 15th Dalai Lama is recognised is not my business. As early as 1969 I made clear that whether the institution of the Dalai Lama continues after me will be up to the Tibetan people to decide. I've also made it clear that when I'm between 85 and 90, I will discuss the future of the succession with Tibet's other spiritual leaders.
"As far as political responsibility is concerned, I've been semi-retired since 2001 and completely retired since 2011, because we now have a democratically elected political leader. Not only that, I also proudly, voluntarily and happily put an end to the almost four centuries-old tradition of the Dalai Lamas being both the temporal and spiritual leaders of Tibet."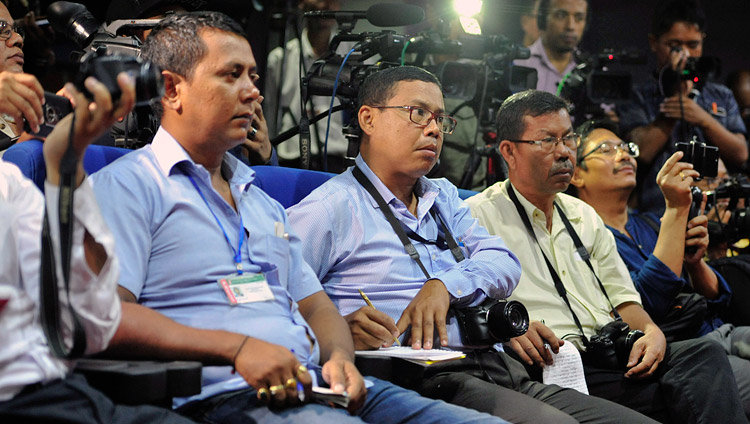 With regard to the question of religious conversion, His Holiness said that every religion has a right to survive, but that he does not approve of people of one religion seeking to convert people of another faith. In this connection he explained that he is careful not to propagate Buddhism in places that traditionally follow other traditions."
A capacity audience of more than 700 people stood to greet His Holiness when he entered the auditorium. Speaker Khemchand Singh welcomed him on behalf of the entire state of Manipur and invited him to address the gathering.
"Many of the problems we face today are of our own making," His Holiness began. "Why is this? Because we are subject to emotions without properly using our intelligence. Human beings are not fundamentally negative, but are prone to be swayed by anger and fear. We take such emotions for granted without realizing how destructive they can be."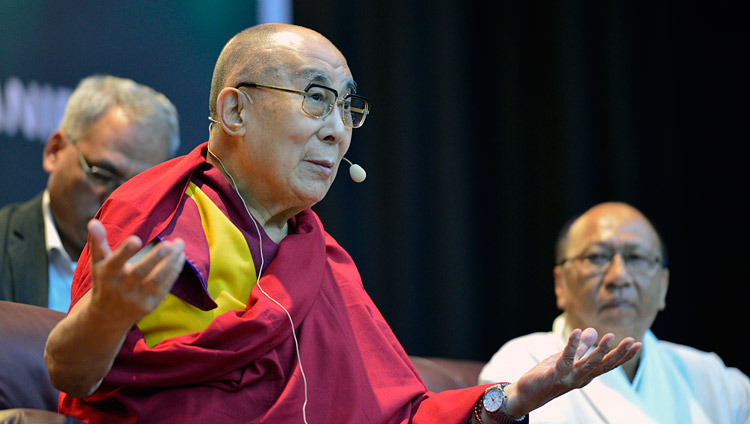 His Holiness observed that challenges like climate change affect us all and that in today's globalized world, communities and continents are interdependent. The idea of one side only securing victory, while the other suffers utter defeat is no longer realistic. Instead of seeking to solve problems by force, he said, we need to engage in dialogue.
His Holiness urged modern Indians to pay more attention to the ancient knowledge of the workings of the mind that is part of their heritage.
"Our existing education system focuses on material goals such as money and power. The ancient Indian understanding of mind and emotions shows us how to develop inner peace, which is very relevant in today's world. I believe India is the only nation that can combine this ancient knowledge with modern education and so make a significant contribution to world peace."
In answering questions from the audience, His Holiness expressed concern about the damage being done to the environment in Tibet. He noted that its high altitude made it especially delicate. Since the majority of Asia's major rivers rise in Tibet countries downstream have every right to show concern about the source of their water.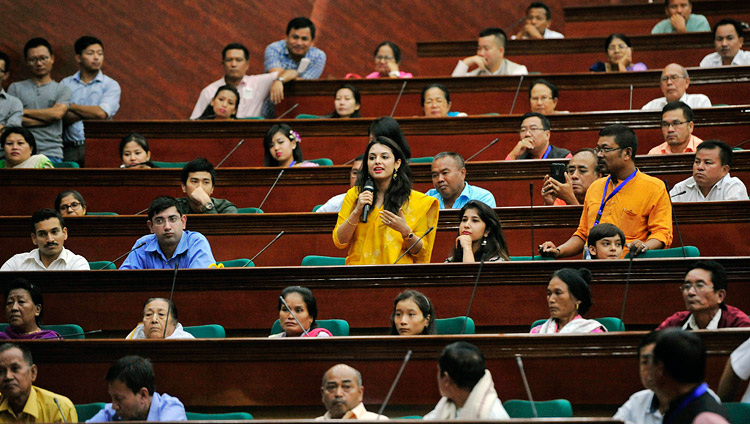 With regard to armed conflict in Manipur His Holiness remarked that he was an admirer of the spirit of the European Union, which has made the wider common interest more important than narrow national concerns. He suggested there is a need to be far-sighted. Since India is a democracy, he said, its citizens have every right to question the government.
The event concluded with the Chief Secretary offering words of thanks on behalf of the people and government of Manipur.
His Holiness had lunch with a group of political and religious leaders before returning to Raj Bhavan. He will leave Manipur tomorrow en route to Dharamsala.