Thekchen Chöling, Dharamsala, HP, India - His Holiness the Dalai Lama met 500 Tibetans from different parts of the world and 170 Tibetans from various settlements in India and Nepal in the yard of the Tsuglagkhang this morning. They had gathered in Dharamsala to participate in an International Conference on the Middle Way Approach.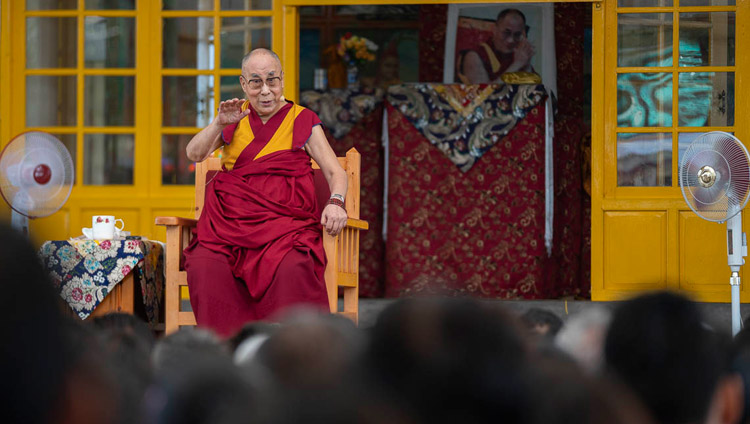 "Since I formulated the Middle Way Approach," His Holiness told them, "I feel I have a responsibility to explain it."
He recounted his initial experiences of dealing with the outside world, including China, beginning in the 1950s. Next, he recalled his introduction to Indian Prime Minister Jawaharlal Nehru
"I met him first in 1954 at Beijing, then again in 1956 when I was invited to attend the 2500th Buddha Jayanti Celebrations in India. By then, the Chinese communists had already begun their brutal crackdown in Tibet. Consequently, my ministers, as well as my brothers, were utterly opposed to my returning to Tibet. They sought to persuade me to stay in India. I discussed this with Nehru, who advised me to return to Tibet. He highlighted certain points in the Seventeen Point Agreement which he felt we could still negotiate with the Chinese. He recommended that I try to do that within Tibet.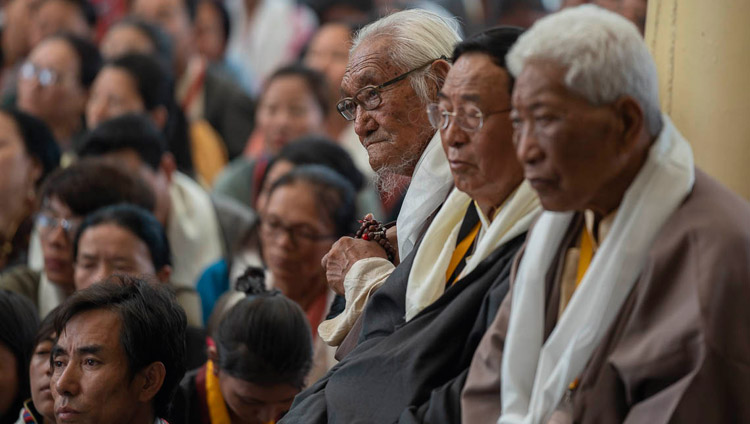 "However, once I had returned, the situation in our homeland continued to deteriorate, ultimately reaching a point where I had to escape. Nevertheless, one of the advantages of my having gone back to Tibet was that I was able to complete my Geshe Lharampa examinations there."
After narrating his fruitless attempts to negotiate with Chinese officials, His Holiness described Tibetans' life as refugees in India.
Once settled in the freedom and safety of India, His Holiness and his former ministers made every effort to raise the issue of Tibet at the United Nations.
"Although the resolutions passed by the UN brought no concrete results inside Tibet, the second resolution asserted the 'Tibetan people's right to self-determination'.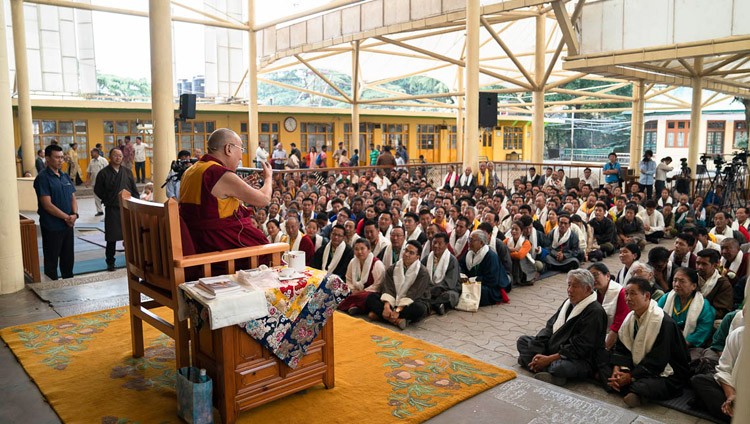 "Nehru advised that the Tibetan issue could be best resolved by engaging directly with China. He further recommended that the real way to keep the Tibetan issue alive was to educate our young people."
His Holiness explained that he had first begun to think about the Middle Way Approach in 1974, ideas that paved the way for his elder brother's eventual meeting with Deng Xiaoping.
"During a two hour meeting between Deng Xiaoping and my elder brother in 1978, Deng Xiaoping told him that apart from independence, everything else could be discussed. Because he'd heard that several thousand Tibetan children were receiving a modern education in India, he even asked that we send some of them to Tibet, where there was an urgent need for English translators."
His Holiness went on to emphasize the importance of keeping Tibetan Buddhist traditions alive because of their unique and scientific approach to reality. He added that maintaining a working knowledge of literary Tibetan was crucial to this.
Reiterating his commitment to promoting the idea of the oneness of humanity, His Holiness asked how it would be if this were not to include the Chinese people. He stressed the importance of building friendly relations with the Chinese, while at the same time upholding Tibetan unity.
"In the future, I believe our rich religious and cultural heritage can make a significant and beneficial contribution to the rest of the world. Therefore, we have to work together without being distracted by regional differences between us."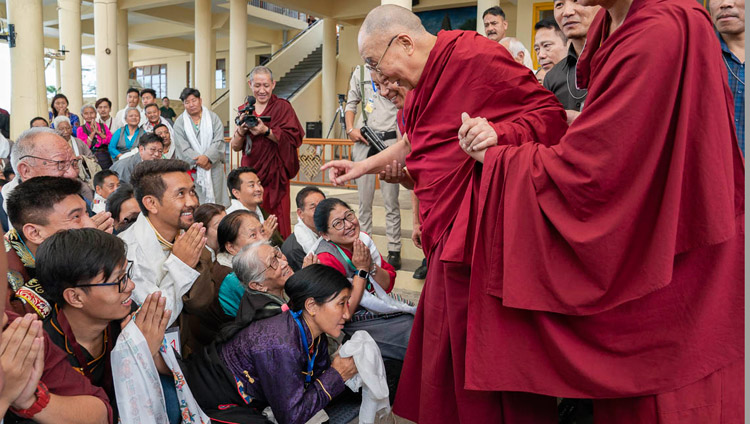 The meeting came to an end after almost an hour when His Holiness returned to his residence. The members of the audience dispersed with smiles on their faces and blessed pills and protection cords in their hands.