Thekchen Chöling, Dharamsala, HP, India - Aaron Stern was the moderator this morning for the final meeting of the 33rd Mind & Life dialogue. As soon as His Holiness the Dalai Lama had arrived and was settled in his seat, he introduced the day's two presenters—Sonia Lupien and Patricia Jennings, both of whom were to talk about problems in the classroom and solutions to them.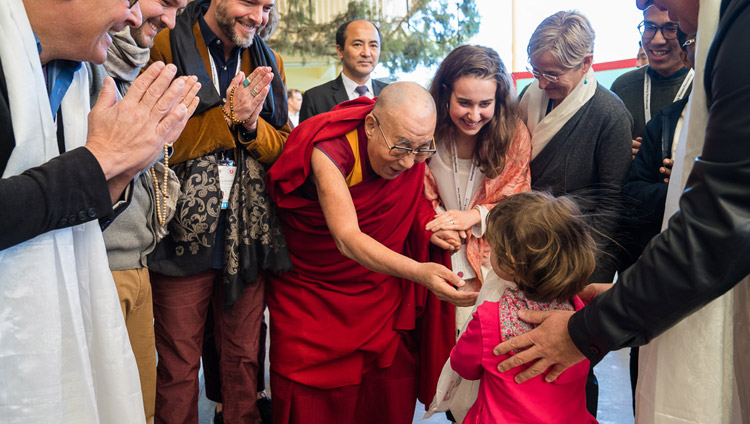 Sonia Lupien began by announcing that she was a teacher from Canada who has been trying to teach SEL and secular ethics for a long time. Over that time she has noticed that while many, perhaps most students, are well-adjusted to learning, others faced difficulties. She wondered why. She noted that this girl's parents were getting divorced, that boy was being bullied and another's sister was sick. It took 25 years to realise that each of these children was suffering from stress.
When she looked at the science she found that when the brain detects stress hormones are released. These feed back to the brain where they particularly affect selective attention, by which we distinguish what is relevant, and the general faculty for learning. His Holiness asked if this could not be treated with medication and Lupien explained that it had been tried and it was found that limiting some hormones affects others and so upsets the whole balance of health. She explained that stress can be absolute and relative. Absolute stress is prompted by a threat to survival. Relative stress is Novel, Unpredictable, a Threat to the sense of self and has a Sense of taking away control, which is referred to by the acronym NUTS.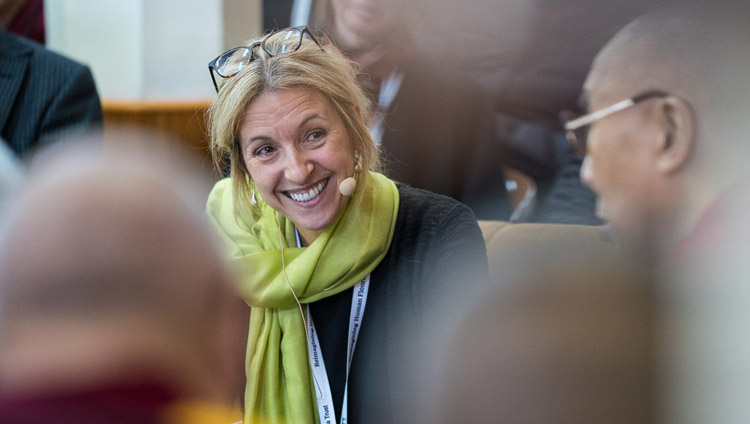 Once it was understood that children are subject to stress, and are affected by their parents' stress, means were designed to counter it. A program called DeStress for Success was developed that allows children and teenagers to learn what stress is, how to recognize it, and how to cope with it in their lives. The program builds on what the students already know and provides them with the knowledge to recognize the ways in which stress affects the brain and body. Where it has been introduced it has been successful in reducing anger, stress and depression. Lupien explained that so far 65,000 children have taken part in the program and she has taken heart from His Holiness's remark that a small action can become a seed that grows.
His Holiness asked several questions, confirming that stress is often a negative effect of anger. He wanted to know if DeStress for Success could be used by adults and heard that it has been fruitful, resulting in reduced stress and stress-related hormones. Lupien agreed that anger and stress can have a justifiable function in relation to survival, but none of us need too much of it. Richard Davidson remarked that some people may not recognise that they are stressed which limits their ability to regulate it.
Lupien asked His Holiness one question from his friends in Canada who wanted to know if he thought scientists working with artificial intelligence will eventually be able to produce artificial consciousness. He expressed some scepticism and Davidson observed that many scientists agree.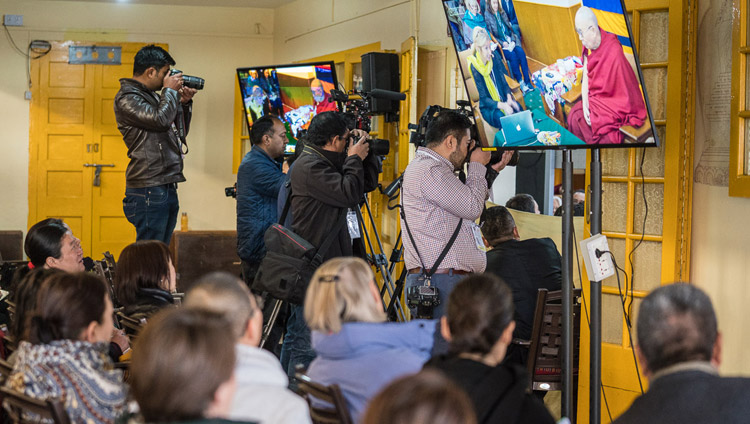 Patricia Jennings spoke about observing stress among teachers. She looked into why classrooms were a source of stress and found that some teachers are emotionally exhausted. She also noticed that everyone in a classroom is confined there. The remedy in this case is CARE—Cultivating Awareness and Resilience in Education—a program designed to help teachers reduce stress and enliven their teaching by promoting awareness, presence, compassion, reflection, and inspiration.
She noted that most teachers start their work with a strong sense of compassion. In CARE they are taught to monitor their attention, to notice when stress starts to rise and to take steps such as watching their breath to calm down and respond more effectively. Observed results include teachers' improved emotional regulation, improved classroom atmosphere and improved student outcomes. Jennings made the important point that in this approach teachers not only teach skills, they embody them. They are encouraged to tell their class, "I'm feeling stressed and I'm going take steps to calm down', so they also provide a model for students to follow.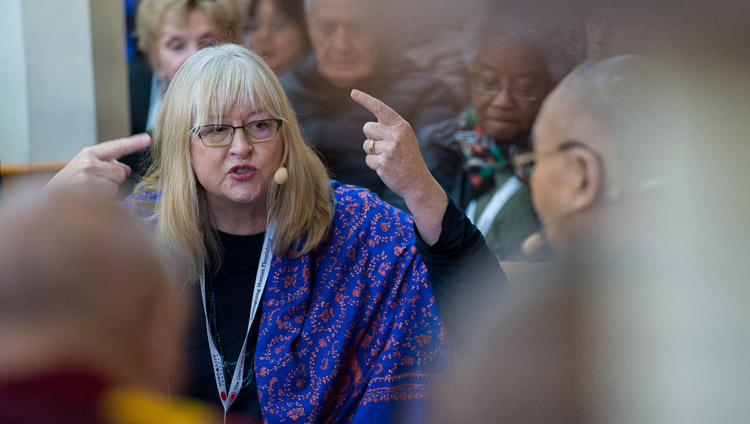 Jennings also mentioned that CARE has been successfully incorporated with SEL into the education system being developed in Louisville, the City of Compassion led by His Holiness's friend Mayor Fisher. Dan Goleman raised a note of caution with the information that in the UK SEL has been mandated by the government, but has been implemented poorly because teachers regard it as just another source of stress. Sona Dimidjian spoke of the importance of partnering with young people today to help them raise their voice as they become a powerful force for change.
Amishi Jha referred to members of the military who have taken part, fruitfully, in attention training, but who do not keep it up after the course is over. She asked His Holiness how to encourage people to make what they learn useful in their day to day lives.
"Suspicion, stress and fear are all related to anger," he replied. "And in turn that is related to having a self-centred attitude. This will not be changed in a few weeks or even in a few years. I'm 82 and I've been working on this for 70 years. Just reducing stress is useful, but superficial; we have to investigate its underlying causes. In Buddhist contemplative practice there are specific antidotes recommended for specific negative emotions, but their affect tends to be only temporary. To have a lasting overall affect what's necessary is develop a deeper understanding of reality.
"The Buddha emerged from a climate of concentrative calm abiding or shamatha practice and insight or vipashyana. These practices already existed. What he introduced was a fresh approach to insight, a new understanding of reality. To some extent it corresponds to what quantum physicists say today. The Buddha achieved a more sophisticated, deeper insight into the human condition, however as he observed, 'This nectar-like Dharma I have found is profound and peaceful, free from complexity, uncompounded clear light. Yet if I were to teach it, there is no one who would understand it, so I shall remain silent here in the forest.'
"At the time people practised shamatha, developed concentration and believed in the existence of an independent self—the Buddha denied that. His fresh understanding of reality, that there is no such independent self, led him to understand that suffering is rooted in ignorance and that since ignorance can be eliminated by understanding reality, it is possible to achieve the cessation of suffering.
"Later, Nagarjuna explained:
Through the elimination of karma and mental afflictions there is liberation;
Karma and mental afflictions come from conceptual thoughts;
These come from mental exaggeration;
Exaggeration ceases through [realizing] emptiness.
and
Desire, hatred and confusion
Arise completely from conceptualization, it is said.
They all arise in dependence on
The pleasant, the unpleasant, and errors.
"His disciple Aryadeva also indicated how important a clear understanding of reality can be:
As the tactile sense [pervades] the body
Confusion is present in all [disturbing emotions].
By overcoming confusion you will also
Overcome all disturbing emotions.
"To understand the reality that nothing exists independently combined with a sense of altruism is very powerful."
After a break for tea, Richard Davidson asked His Holiness, in the light of what he'd already talked about, how it might be possible to develop a secular approach to understanding emptiness. His Holiness replied that presented with such a question he feels a need to give some background.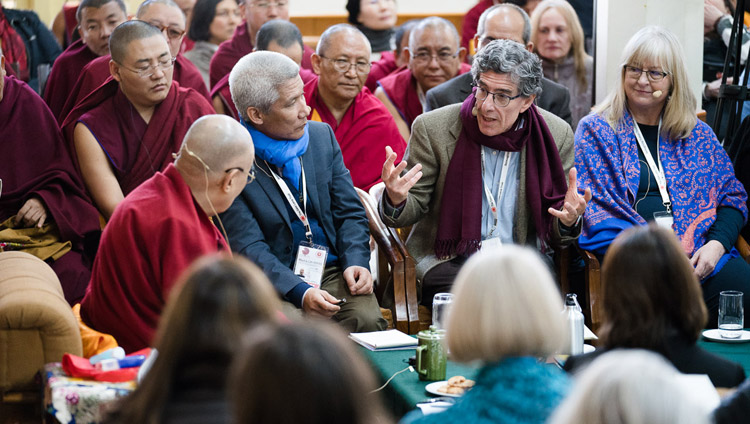 "I am one of the 7 billion human beings alive today. We each have a responsibility to think about humanity and the good of the world because it affects our own future. We weren't born on this planet at this time to create problems but to bring about some benefit. This is something I'm committed to, just as I also promote religious harmony and seek to keep Tibetan culture alive. This is because it is only in Tibet that the traditions of India's Nalanda University with its profound assessment of reality and deep understanding of the workings of the mind and emotions were preserved intact. We achieved this through rigorous study and the employment of logic and reason. I'm not interested in propagating Buddhism as such, I'm more concerned with making the relevant knowledge it conveys available. And for the interest that Mind & Life has taken in this goal I am grateful."
Davidson concluded his summary of the week's proceedings by conceding that scientists know something about the brain, but much less about the mind and are learning from their interaction with contemplative traditions. He expressed the wish that His Holiness live long and continue to inspire them.
President of the Mind & Life Institute Susan Bauer-Wu in her words of thanks acknowledged that it had been a remarkable week, not only for the people in the room, but also for the 500,000 a day who had followed what was going on through the webcast. She thanked Namgyal Monastery for their hospitality during the meetings. She also thanked the Guests, Faculty, the Mind & Life board and staff and the generous donors and supporters who have made the meeting possible. She reserved a special thanks for the Dalai Lama Trust, India, and their 'amazing team'. Finally, she expressed gratitude to His Holiness for his generous gift of his time.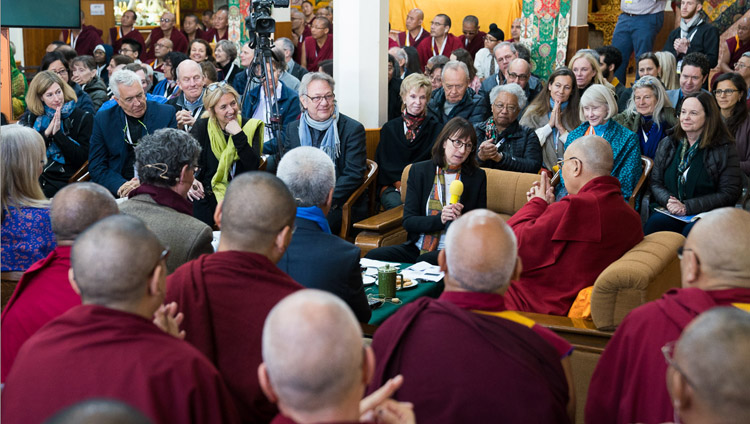 He replied that he considers it his duty and is motivated by another of Shantideva's verses:
Having mounted the horse of the awakening mind
That dispels all discouragement and weariness,
Who, when they know of this mind that proceeds from joy to joy,
Would ever lapse into despondency?
"I'm happy to have made a small contribution. Time rolls on. If we use it foolishly, we waste it, but if we can be of service it's worthwhile. Our fellow human beings, who are physically, mentally and emotionally the same as us, are the ones we can actually help. This is why a genuine offering to ensure the longevity of a teacher is to provide him or her with the opportunity to be effective.
"Physically we are now dispersing, but mentally we will remain together. See you next time."