Amritsar, Punjab, India - As part of celebrations of the 550th Anniversary of the Birth of Guru Nanak Dev-ji, the first Sikh Guru, the Punjab Government invited His Holiness the Dalai Lama to take part in an Inter-Faith Conclave at Guru Nanak Dev University. The theme of the meeting, Ik-Noor, represents harmony among different sections of society based on mutual respect and understanding.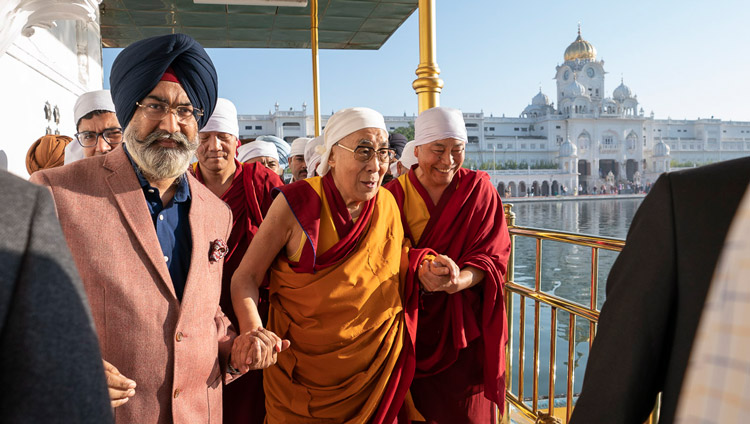 His Holiness travelled to Amritsar from Dharamsala yesterday afternoon. This morning, as the sun rose over the city, he drove to the Golden Temple, the Harmandir Sahib, the Sikhs' holiest place of worship. A welcome committee was ready to greet him and escort him to the Darbar Sahib, the shrine covered in gold foil at the centre of the 'sarovar', the tank of holy water. As he walked down the causeway to the temple, His Holiness greeted the hundreds of devotees lining up to enter the temple. Once inside, His Holiness, who had covered his head in deference to Sikh tradition, paid his respects and offered his own quiet prayers.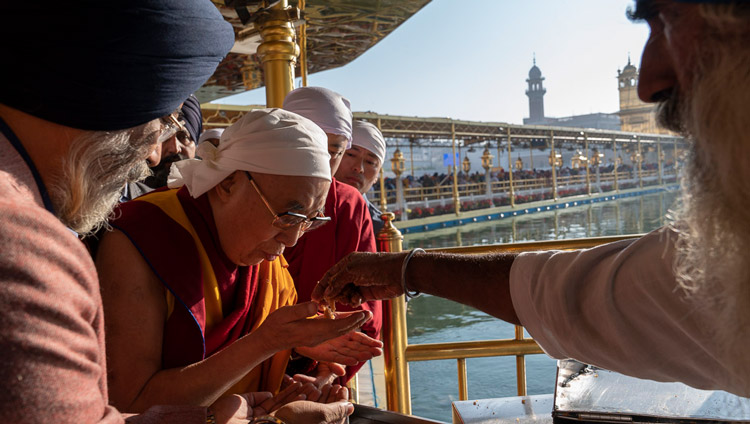 As he left the Darbar Sahib he partook of the 'prasad', blessed food, that is offered to each pilgrim. Leaving the Harmandir Sahib, His Holiness drove to Guru Nanak Dev University. The Vice Chancellor, Dr Jaspal Singh Sandhu, welcomed him and other participants in the conclave. He informed the gathering that His Holiness visited the University 25 years ago when he attended the convocation. He then introduced the other participants.
On behalf of the Government of Punjab, Finance Minister Manpreet Singh Badal welcomed all present to the Land of Five Rivers. Against great odds, he stated, Punjab survives as a guardian of India's ancient civilization. As the land of soldiers, built on courage, it defends the integrity of the country. It is the land of Guru Nanak, who preached the oneness of all humanity.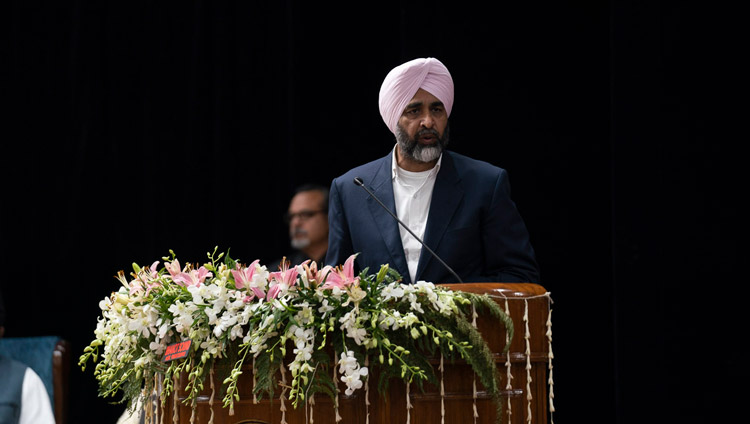 His Holiness was invited to address the panel and audience of about 900. "I always start by greeting my elder and younger brothers and sisters," he began. "I believe that fundamentally all 7 billion human beings are the same, we are truly brothers and sisters. The way we are born and the way we die is the same. We are the same in having two eyes, two ears, one nose, and so forth. Our brains are essentially the same. Mentally, emotionally and physically we are the same. This is the reality. Therefore, we need to develop a sense of the oneness of all human beings.
"As we grow up, we gradually begin to draw distinctions on the basis of faith, colour, nationality and so forth. This leads to a sense of 'us' and 'them'. Although such differences are actually secondary, putting too much emphasis on them leads to conflict and war. These days we even see people being killed in the name of religion.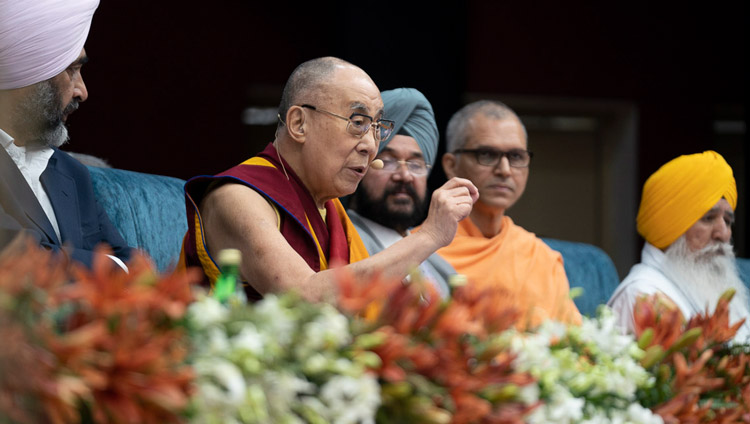 "Many of the problems we face today are created by human beings, therefore each and every one of us has a responsibility to work to create harmony. According to scientists, basic human nature is compassionate. Our survival depends on our community. I may be the Dalai Lama, but without community support I cannot survive on my own. Since these days, the whole of humanity is one community, we need to appreciate the oneness of all human beings.
"I don't think of myself as anything special, I am just another human being. We are social animals; we all have a seed of compassion. Yet modern education, introduced by the British, has no tradition of training the mind. In this country, for more than 3000 years, we have had methods for developing a calmly abiding mind and insight into reality. These days I feel it's important that India try to combine modern education with its ancient knowledge of the workings of the mind.
"'Karuna' or compassion is based on warm-heartedness. Insight into reality requires intelligence. Cultivating compassion with intelligence we can develop peace of mind. When individuals are at peace within themselves, they contribute to a more peaceful atmosphere on a family and community level. It's common to teach children about physical hygiene to preserve their health. These days I recommend that we also teach emotional hygiene, how to tackle the destructive emotions that disturb our peace of mind.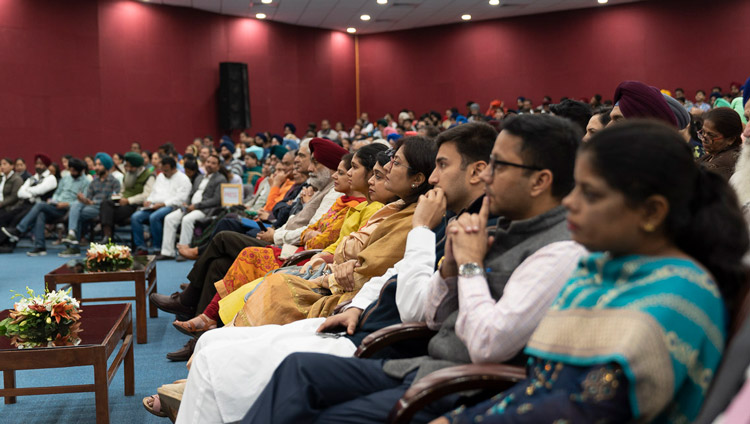 "I have long been student of Indian wisdom. Perhaps my mind is more Indian than many modern educated Indians. I have faced many difficulties in my life, but I have been able to keep my peace of mind as a result of adopting non-violence in my conduct and compassion in my motivation. I smile wherever I go.
"We are all the same in being human. Acknowledging this helps reduce suspicion. Whoever I meet, I feel is just another human brother or sister. This has been my practice for 70 years. I appeal to you who live in modern India not to neglect your ancient wisdom. Remember that materialistic development by itself will not bring inner peace."
His Holiness was effusive in his admiration for India's longstanding custom of religious harmony. He cited as an example, Guru Nanak's making a pilgrimage to Mecca. In so doing, he expressed his respect for all religions. He was also full of praise for the way Sikhs do not observe the caste system, which in this day and age is out of date. He voiced a wish that other religious leaders would also make this point.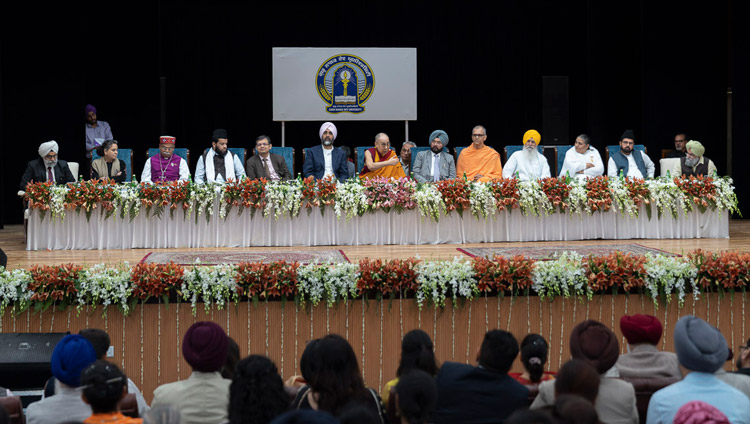 His Holiness declared that he is committed to promoting religious harmony, since all religions convey a common message about the importance of cultivating loving kindness. He repeated his appreciation of the practice of 'ahimsa', and the widespread observance of vegetarianism in this country. He added that the time has come for 'ahimsa' to be applied to protecting the environment and other forms of life like birds, fish and insects. He mentioned that his old friend Sunderlal Bahuguna had asked him to talk about the protection of trees whenever he has the opportunity, which he said he tries to do.
As a Tibetan he is committed to keeping Tibetan knowledge and culture alive and speaking up for the protection of Tibet's fragile ecology. He mentioned that he is also very keen to see a revival of appreciation of ancient Indian wisdom.
"Finally, I would like to say that I very much have enjoyed being here today with you, my spiritual brothers and sisters. I would like to make a promise to you all that for the rest of my life I will be focussed on preserving and sharing the ancient Indian wisdom in which I have trained."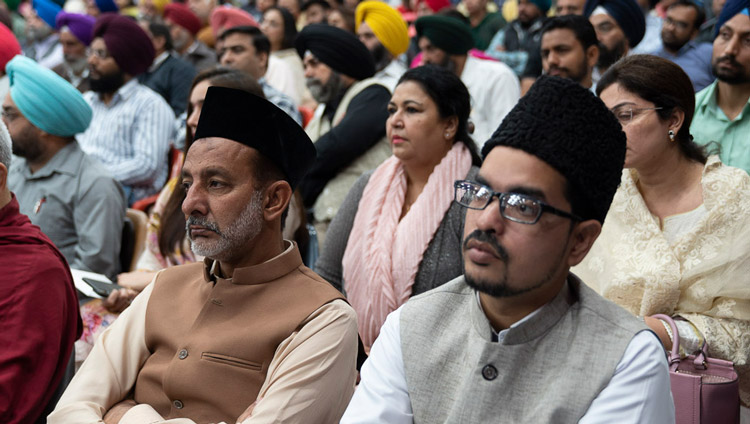 In his remarks, Swami Shuddhidananda of the Ramakrishna Mission asked his companions to remember one of India's really great spiritual teachers, Shri Guru Nanak-ji. He asked, what is the one thing that can unite the human race? The recognition that we all belong to one family.
Maulana Syed Athar Hussain Dehlavi, Founder Anjumana Minhaj-e-Rasool made his contribution in Urdu. Giani Joginder Singh Vedanti, former Jathedar Sri Akal Takht Sahib, spoke in Punjabi.
Rev. Bishop Samantha Roy of the Church of North India recalled that Guru Nanak emphasized oneness and equality. He spoke up for the poor and downtrodden. He defended the rights of women. He exemplified religious tolerance. Martin Luther, the father of the Protestant church, was born about 15 years after Guru Nanak. Both were reformers who wanted to bring about positive change in the societies in which they lived.
Sister B.K. Usha, representing the Brahma Kumaris, spoke in Hindi. Ahmed Khata Syed of Ahmadiya Mission spoke in Urdu. Dr. Monica Gupta of the Shri Aurobindo Mission sent a contribution in English, but was unable to attend.
The meeting ended with words of thanks. His Holiness then joined the other religious leaders and invited guests for lunch at the Vice Chancellor's Residence, following which he drove to the airport to return to Dharamsala.