Mundgod, Karnataka, India - The sky over the Tibetan Settlement at Mundgod was golden as the sun rose this morning. The yard around the Ganden Lachi and Ganden Shartsé Assembly Halls steadily filled with more than 10,000 people. His Holiness the Dalai Lama walked from Ganden Shartsé to the veranda at the top of the steps to Ganden Lachi, where a throne and comfortable chair had been arranged for him. The Ganden Throne-holder, Geluk Hierarchs and Abbots made him welcome. He lit lamps before paintings of the Buddha and Jé Tsongkhapa.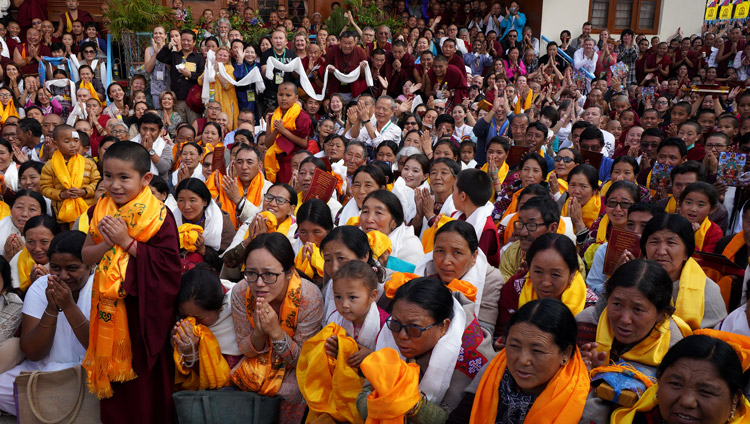 Geshé Ngawang Samten, moderator for the event, observed that this auspicious occasion, the 600th anniversary of Jé Tsongkhapa's passing away and enlightenment, was being celebrated in an auspicious place—Ganden Monastery, the institution he founded. Just as Shakyamuni Buddha gave teachings on impermanence and selflessness in Varanasi, causing a revolution in Indian spiritual practice, so Tsongkhapa left a legacy of change in Tibet. He came to be known as the 'crown ornament of scholars in the Land of Snows'.
Abbot of Ganden Shartsé Ven Jangchub Sangyé gave a thorough account of Tsongkhapa's life. He began by greeting the guests and thanking His Holiness for presiding over the gathering. He reported that Tsongkhapa was born in 1357 in Tsongkha. At the age of three he was given upasaka vows by Karmapa Rolpai Dorjé. On the instruction of his first teacher he went to Central Tibet when he was 17 and studied in the monasteries at Sangphu, Dewachen and Gungthang, then at Gadong, Kyormolung and Tsurphu. The topics he covered included the Perfection of Wisdom, upper and lower Abhidharma, Vinaya, Pramana and Madhyamaka.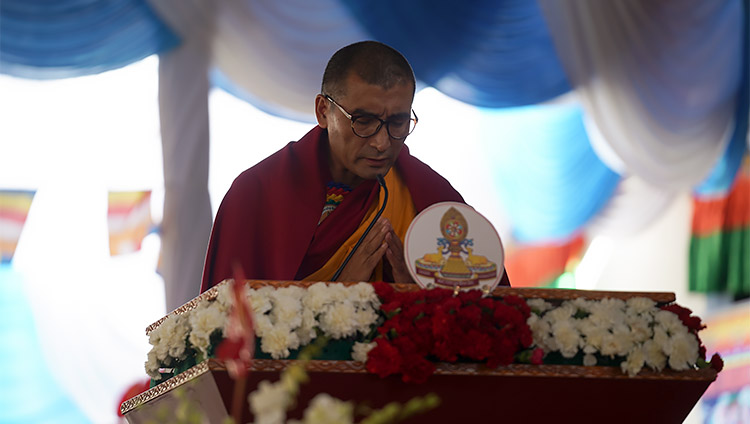 He went into retreat to study more deeply at Tsal Gungthang and read the Kangyur and Tengyur. At the age of 31, he composed his first significant work, the 'Golden Rosary'. A year later he was teaching 17 texts at once, which established his reputation for being learned.
The Abbot concluded his talk with a prayer that His Holiness live long and his wishes be fulfilled. He added a hope that His Holiness will visit Ganden again and again.
His Holiness was invited to release a number of books including a six-volume biography of Jé Tsongkhapa compiled by the Anniversary Organizing Committee. There was another biography of Tsongkhapa and his disciples and biographies of the Panchen and Dalai Lamas. These works were in Tibetan. In addition, His Holiness released the South Asian edition of Thupten Jinpa's recently published biography, 'Tsongkhapa - a Buddha in the Land of Snows' and a braille edition of His Holiness's 'Beyond Religion'. The various authors and compilers came up to meet His Holiness.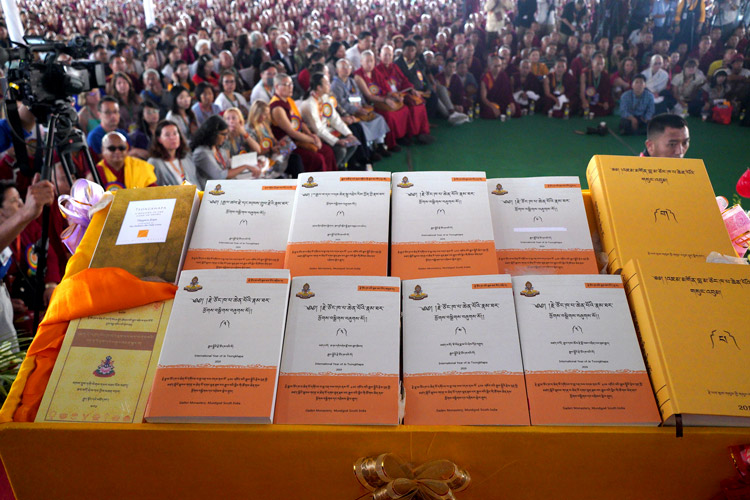 The Khambo Lama of Mongolia, Choijamtso gave a short talk in which he reminded the gathering that Tsongkhapa was prophesied by the Buddha. He reported that monastics and lay-people gathered recently in Mongolia to recite prayers in honour of Jé Rinpoché.
He recalled that His Holiness first visited Mongolia in 1979 when the Buddhist situation there was still restricted. After 1990, the country gained its freedom, with the result that they could invite him to visit again several times and Mongolian monks began to come to study at Drepung and Sera Monasteries.
A Jé Tsongkhapa scholarship program was announced that will provide six scholars with support for ten years while they conduct research.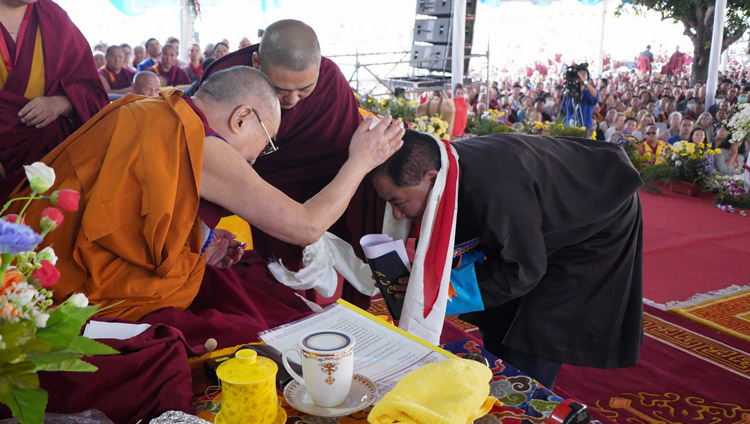 The Speaker of the Tibetan Parliament in Exile praised Tsongkhapa's vast deeds. He alluded to the lack of religious freedom in Tibet since 1959, but expressed satisfaction that due to His Holiness's kindness, it is possible to study and practice in the re-established monasteries and nunneries here in India. Tibetans in exile enjoy the freedom of democracy.
Books completing the series of works on Science and Philosophy in the Indian Buddhist Classics were released. Yangden Rinpoché referred to this project as one of His Holiness's great achievements. Nearly ten years ago he commissioned the Abbot of Namgyal Monastery, Thomtog Rinpoché, to organize the extraction and compiling of materials related to science and philosophy in the Kangyur and Tengyur.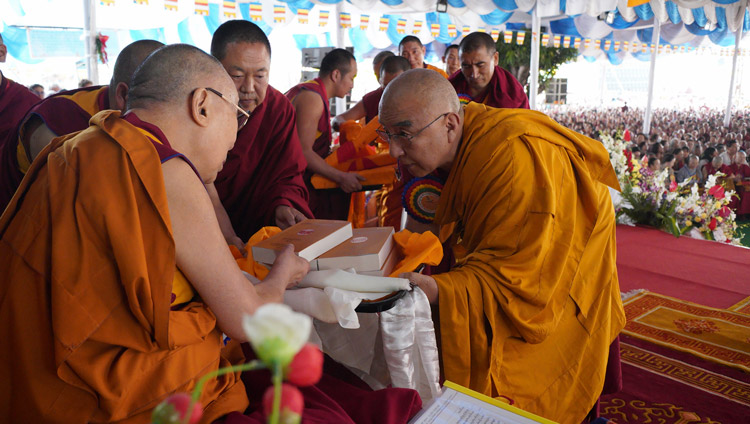 A large team began the work on the basis of a rough outline, but a group of four Geshés working with the Abbot, Dr Thupten Jinpa and Geshé Thupten Yarphel finalised the material. A number of translations into languages including English, Chinese and Hindi have already been completed. Thomtog Rinpoché presented the most recent publications to His Holiness.
Sikyong Dr Lobsang Sangay noted that Jé Rinpoché brought about change in the way people studied in Tibet. Since 1959, many monasteries there have been destroyed, but Jé Rinpoché's teachings remain vibrant here in the re-established Seats of Learning. This is important because the Nalanda Tradition preserved by Tibetans helps people find peace of mind.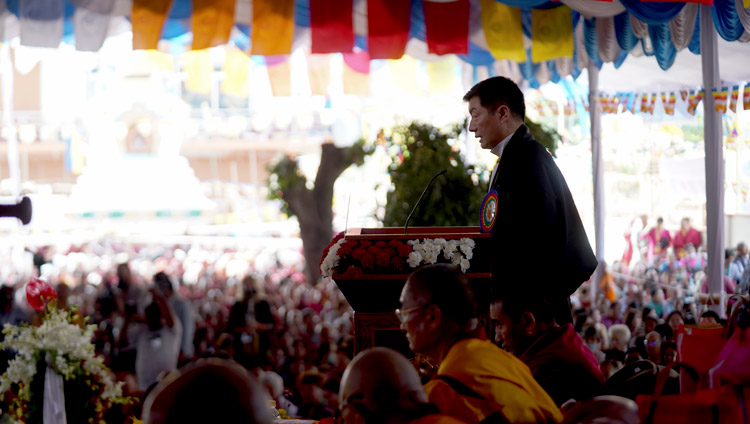 The Ganden Tripa quoted Tsongkhapa as noting that of all his deeds, the Buddha's giving teaching was the greatest. Jé Rinpoché was as one with Manjushri, but to common perception he undertook the study and practice of sutra and tantra. He integrated what he learned within himself and achieved spiritual attainments.
His written works, particularly 'Essence of True Eloquence', the 'Great Treatise on the Stages of the Path to Enlightenment' and the 'Clear Lamp for the Five Stages' are remarkable. We can best commemorate him by engaging, as he did, in study, reflection and meditation.
The Ganden Throne-holder then presented the Jé Tsongkhapa gratitude award to His Holiness. Geshé Ngawang Samten commented that Chinese hardliners have sought to obliterate Tibetan Buddhism in its homeland, but His Holiness has led the effort to keep it alive in exile. He requested His Holiness to address the gathering.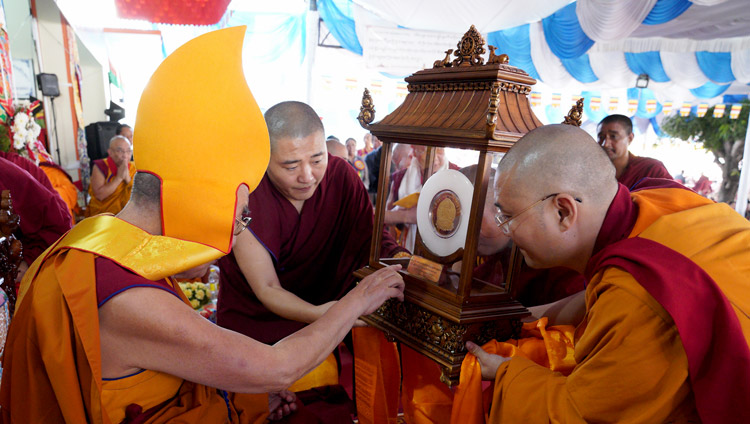 "So today," he began, "we're celebrating Ganden Ngamchö. All the previous speakers have praised Jé Tsongkhapa, his life and deeds. There are people here from many different parts of the world. The number of those taking an interest in Buddhism and Jé Rinpoché's instructions is increasing. I'd like to thank you all for coming.
"Traditionally in Tibet at this time, there used to be a long-life offering at Gyumé on the 24th of the month and again at Gyutö on the 25th, each performed in the colleges' inimitable style. We used to visit the reliquary of the Fifth Dalai Lama and others on Ganden Ngamchö and recite prayers. One of those, 'Song of the Eastern Snow Mountain', was written by the First Dalai Lama, Gendun Drup. The other, 'In the Centre of the Lotus at the Heart' was by the Seventh Dalai Lama, Kalsang Gyatso.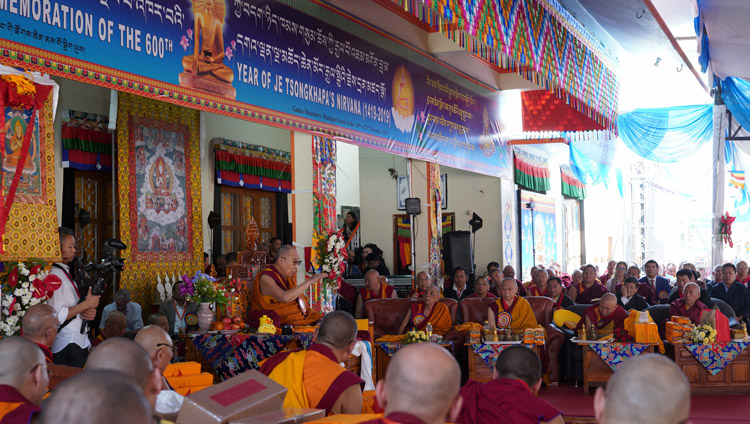 "I found it quite inspiring to recite these in the Avalokiteshvara Chapel before the statue of Chenrezig. I thought I might read some of them to you. The First Dalai Lama received many teachings from Tsongkhapa, who advised him to go into retreat at Riwo Gangchen in Tsang. I've been there and it was in that place that he wrote this song.
Above the peaks of the eastern snow mountains
White clouds float high in the sky.
There comes to me a vision of my teachers.
Again and again am I reminded of their kindness,
Again and again am I moved by faith.
To the east of the drifting white clouds
Lies the illustrious Ganden Monastery, Hermitage of Joy.
There dwelled three precious ones difficult to describe
My spiritual father Lobsang Drakpa, and his two chief disciples.
Vast are your teachings on the profound Dharma,
On the yogas of the path's two stages.
To fortunate practitioners in this land of Snows,
Your kindness, O masters, transcends thought.
That I, Gendun Drup, who tends to be lazy,
Now have a mind somewhat propelled by Dharma,
Is due solely to the great kindness of this holy teacher and his chief disciples.
O perfect masters, your compassion is indeed unsurpassed.
Although your kindness can never be repaid,
O masters, still I pray to preserve your lineages
At all times and with all my strength,
Never letting my thoughts fall prey
To either attachment or aversion.
"The First Dalai Lama prayed to Arya Tara to be able to persevere in the practice of the Dharma. Later in life, when he was growing old and thinking of the, his disciples told him he would surely go to the Pure Land of Sukhavati. He answered that he had no wish to do that. "I wish to be born among people who are suffering so I may be able to help them." This is a wish that always moves me.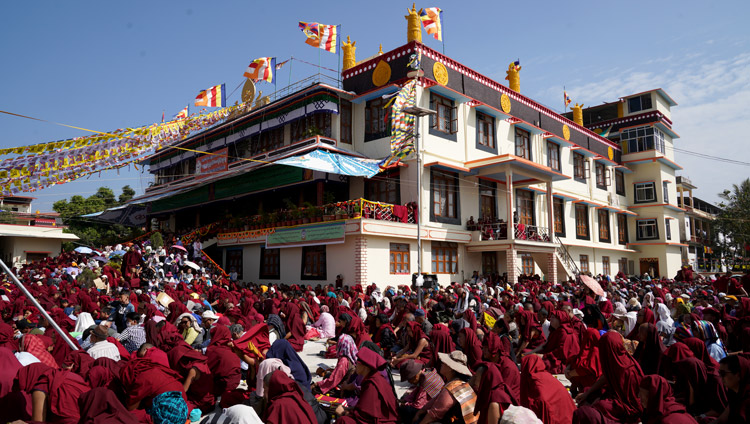 "In a biography of the Second Dalai Lama by Yangra Chöjé, he describes Gendun Gyatso as the non-sectarian Yellow Hat master. He explored other Buddhist traditions, even though he was a Gelukpa. The Fifth Dalai Lama too contributed to all the Buddhist traditions of Tibet. He wrote that some Gelukpas seemed unable to maintain Jé Rinpoché's tradition. Jé Rinpoché had said that those who are intelligent would do well to train their minds with logic. He added that if you gain certainty about the teaching, you'll not be led astray.
"Study of different systems of tenets is important, just as you judge the quality of a turquoise by comparing it with another. As you whip a horse to make it run faster, you train yourself in logic to find certainty about the teachings of the Buddha. It's important to study, but it's also crucial to think about the meaning and not just the words.
"Gendun Drup complained that people who claim to be followers of the Dharma consider others to be its enemy. He asks 'Are they not merely a cause for shame and embarrassment? Have not demons entered their hearts?' Not trying to overcome their destructive emotions, such people only engage in gossip and argument. The way they behave is like trying to avert obstacles in the East by offering the ritual cake in the West. On Ganden Ngamchö we used to recite this in front of the statue of Avalokiteshvara. I found this custom of reciting prayers in the Phagpa Chapel inspiring.
"The Seventh Dalai Lama's 'In the Centre of the Lotus at the Heart' refers to the subtle mind of clear light and begins with a homage to Jé Tsongkhapa. In Chapter 22 of 'Fundamental Wisdom', there's a verse about the Tathagata.
Neither the aggregates, nor different from the aggregates,
The aggregates are not in him, nor is he in the aggregates.
The Tathagata does not possess the aggregates.
What else is the Tathagata?
"This can also be read to refer to yourself.
I'm neither one with the aggregates, nor different from the aggregates,
The aggregates are not in me, nor am I in the aggregates.
I don't possess the aggregates.
What else am I?
"In this kind of analysis, you don't find things having some kind of objective independent existence, however much you search for it. You can't find a final identity. If things had such an objective existence, it would lead to fallacies. Conventional existents would withstand analysis. Ultimately birth and the arising of things would not be refuted.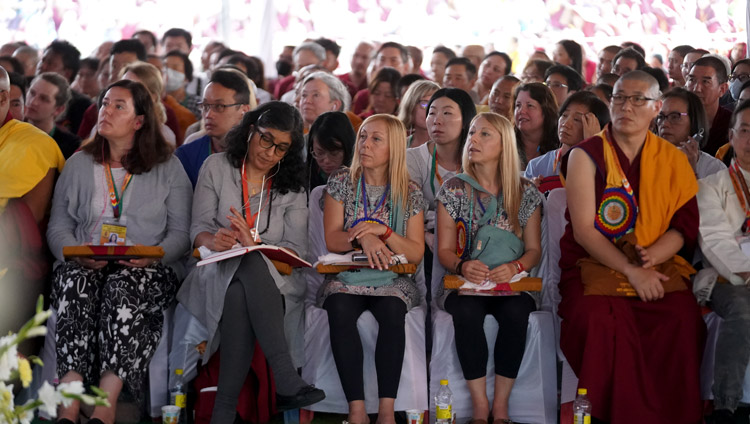 "You need to do analysis into the nature of things to find certainty that they have no objective independent existence. Body and mind are the basis for the designation of a person or being, but even the mind has no intrinsic existence. E ma ho, when you analyse how things exist you might have the impression that things have an objective, solid existence, but can't find anything.
"If you analyse your hand with its palm, thumbs and fingers, you can't find its identity as something separate from these parts. Things appear to have objective independent existence, but they don't.
"The Seventh Dalai Lama writes that just as clouds disperse in the autumn sky, when you analyse things and find they lack any objective independent existence, their appearance dissolves and fades away. Dependent arising was only taught by the Buddha and for that if nothing else he deserves the title 'Teacher'. We talk about the law of causality, that causes and conditions bring about a result.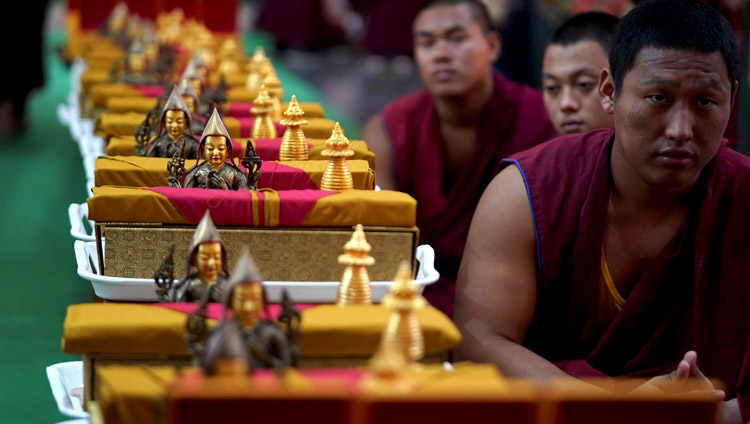 "Realists use the reasoning of dependent arising, but claim that things still have some degree of objective existence. Madhyamakas ask how this could be so. There is a logical contradiction about asserting a self-defined existence. In Jé Rinpoché's commentary on 'Fundamental Wisdom' he states that there are but two ways for things to exist. Either they exist as they appear, or they exist as designated by mind and language. The first is not true, so the second must be so. Since things have no true existence, they are like magical illusions.
"The union of emptiness and appearance convinces me of the infallibility of dependent arising, writes Kalsang Gyatso, due to the kindness of my qualified teacher, Trichen Ngawang Chokden. I have found conviction in the final nature of the way things exist. This is what we used to recite in the Avalokiteshvara Chapel.
"That's all. This celebration has been successful. Remember Jé Rinpoché and his three principles, the determination to be free, bodhichitta and the correct view of emptiness. These are explained in the 18 volumes of his writings, which reveal him to be a second Nagarjuna. To this we can add study of Shantideva's 'Guide to the Bodhisattva's Way of Life'"
Geshé Ngawang Samten thanked His Holiness for his talk and the Ganden Jangtsé Abbot offered words of thanks.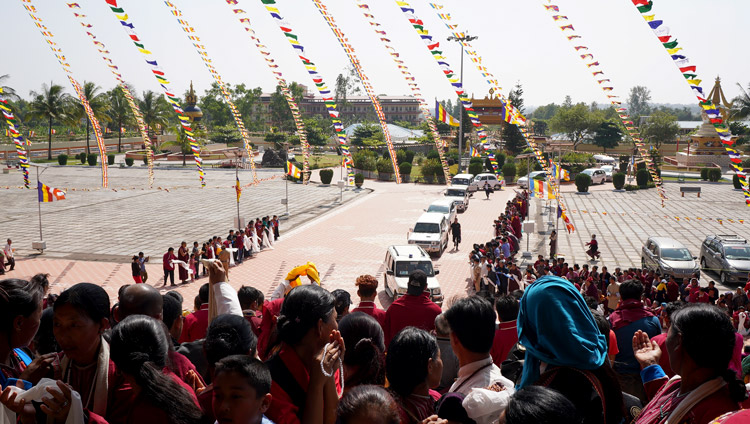 After lunch at Ganden Lachi, His Holiness drove the short distance to Ganden Jangtsé Monastery, where he will stay for the next three days. He received a traditional welcome and sat briefly in the assembly hall while the 'Praise to the 17 Masters of Nalanda' was recited.
"Ganden is one of the Three Seats of Learning and I'd like to say 'Tashi delek' to all of you here. There seem to be many people with Chinese roots in the audience. When we first came here, we had no grand facilities. Due to the kindness of the Government of India, land was made available to us. We built these monasteries, but even now maintaining them requires resources. I'd like to thank all those of you who are offering support here.
"Tomorrow there'll be a Long-Life Offering, so we'll meet again then. Today, I'd like to rest."