Chandigarh, India - When His Holiness the Dalai Lama arrived at Chandigarh University this morning after a half hour drive out of the city, he was received by a welcome committee that included the Chancellor and Vice Chancellor. Tibetan students offered the 'chema changpu' traditional welcome on the steps, while on the threshold of the building he was presented a traditional Indian welcome. He was first escorted to the Vice Chancellor's office. Shortly afterwards he was driven in an electric powered buggy to an amphitheatre, where more than 4000 people, mostly students, were waiting to hear him.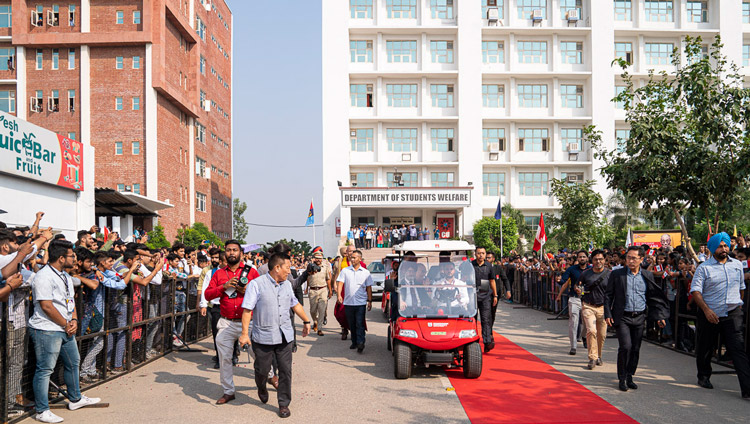 On the stage, after waving to the crowd and returning their greetings, His Holiness took part in the lighting of a lamp to open proceedings in an auspicious way. The Vice Chancellor, Dr RS Bawa introduced His Holiness to the audience describing him as a global spiritual leader, who has spoken of our brain as a temple and who teaches that to be good-hearted is a true source of happiness.
His Holiness addressed the audience from his seat on the stage, greeting them as brothers and sisters. He told them this is how he regularly begins his talks because he feels that since all 7 billion human beings alive today are mentally, physically and emotionally the same, it is as if they are brothers and sisters.
"We all want to live a happy life," he went on, "and we all have a right to a happy life. Indeed scientists have observed that as social animals, with a sense of community, it is the nature of human beings to be compassionate. As human beings we need a sense of community to survive.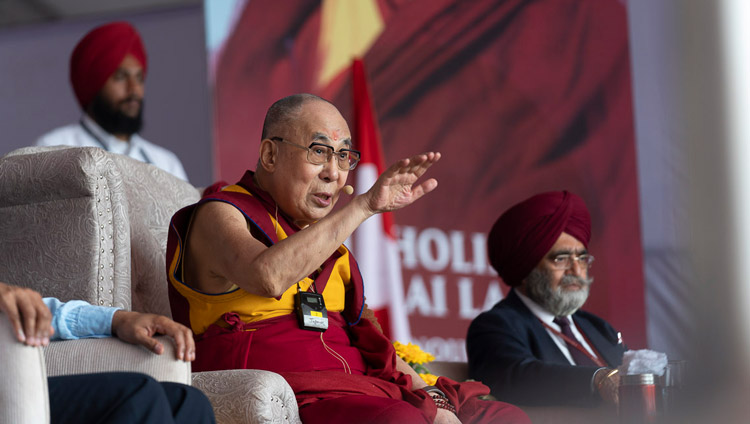 "All major religions involve human beings, and because human relations are based on compassion and loving kindness, that's the common message of all religions. From a philosophical point of view we can find differences of approach, but they all involve methods to implement the message of love.
"At the start of our lives, we survive because of our mother's kindness. Whatever our later profession or status, all our lives start in this way and we continue to survive on the basis of others' support. This is why we should pay more attention to cultivating basic human values of love and compassion.
"Sadly, modern education sets material goals, but has little time for simple human values. Modern education, in India at least, was introduced from the West, where there is little idea how to tackle disturbing emotions. India has been familiar with 'ahimsa' - non-violence and 'karuna' - compassion for thousands of years. If you care for others, how could you harm them? Therefore, 'ahimsa' is the appropriate conduct and 'karuna' the appropriate motivation. The Buddha was one of many who adopted these values.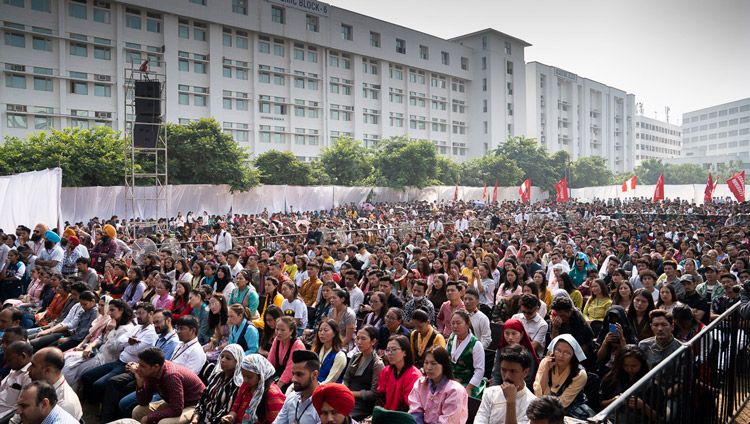 "He abandoned his royal life, practised meditation in remote and isolated places and attained enlightenment. The reality he realized was so different to what was accepted at the time, he hesitated to teach, but eventually he did. For us in Tibet, India is the home of people with deeper understanding.
"In today's world, despite ample material development, too many lack inner peace. One way to counter anger, jealousy and competitiveness is to cultivate non-violence and compassion towards others. This is why I consider these ancient Indian traditions continue to be relevant. Being able to deal with our emotions in an intelligent way will always be relevant. We can learn how to tackle anger and achieve peace of mind by adopting insights from ancient Indian sources in an objective, secular way.
"The Nalanda Tradition of Buddhist education and training was introduced to Tibet by a great Indian master, Shantarakshita, in the 8th century. We Tibetans have kept this tradition alive since then, with its emphasis on the use of logic and reason and its systematic understanding of the workings of the mind and emotions. As a simple human being, a Tibetan and a Buddhist, I myself am a student of this tradition. We learn fundamental texts by heart, study classic Indian and Tibetan commentaries to them, and, on the basis of logic and reason, debate what we've learned with each other. This sharpens the mind and yields deep understanding.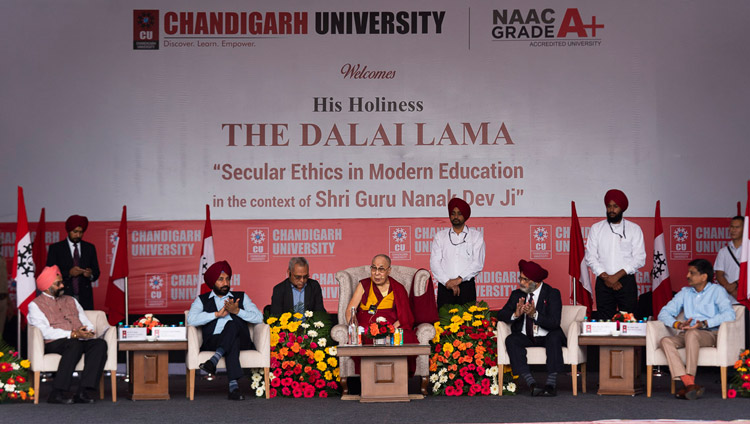 "After coming into exile and visiting Europe, America and the former Soviet Union, I realized that this knowledge we have preserved is both relevant and necessary to the world today. Although it originated in India, modern Indians have tended to neglect this ancient wisdom. Modern education by itself is not adequate to bring about peace of mind, but I believe India has the potential to combine it with ancient understanding of the mind and emotions to achieve that end.
"Guru Nanak, whose 550th anniversary you are observing, celebrated compassion, 'ahimsa' and religious harmony. Although he came from a Hindu background he made a pilgrimage to Mecca to emphasize the importance of inter-religious harmony and mutual respect.
"I've noticed that in the Sikh community there are hardly any beggars because you are not only hard-working people, but also generous in supporting each other. These are good qualities we can all learn from.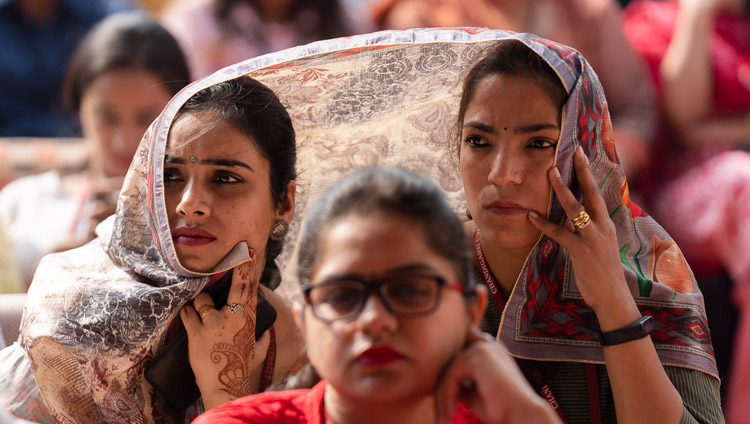 "I have spent the major part of my life in India, where I am the Government of India's longest-staying guest. I believe India can make a significant contribution to the world's well-being. Wherever I go I talk about the need for secular ethics, because whether they are religious or not, everyone needs peace of mind. And on that basis I consider myself a messenger for ancient Indian thought."
His Holiness spoke of his serious interest in science and the conversations he's had with scientists over 40 years or so about cosmology, neurobiology, psychology and physics, particularly quantum physics. Where quantum physics states that nothing exists as it appears, nothing has any objective existence, he confirmed it corresponds to Nalanda thought.
His Holiness mentioned that destructive emotions like anger and fear are rooted in ignorance and self-centred attitudes. Nevertheless, he declared, if we use our brains and intelligence properly, we can achieve peace of mind and become a friend to everyone. He acknowledged a need to pursue self-interest to some extent, but advised that we should do so wisely, taking others' interests into account. We need the wisdom and warm-heartedness that Guru Nanak showed in abundance.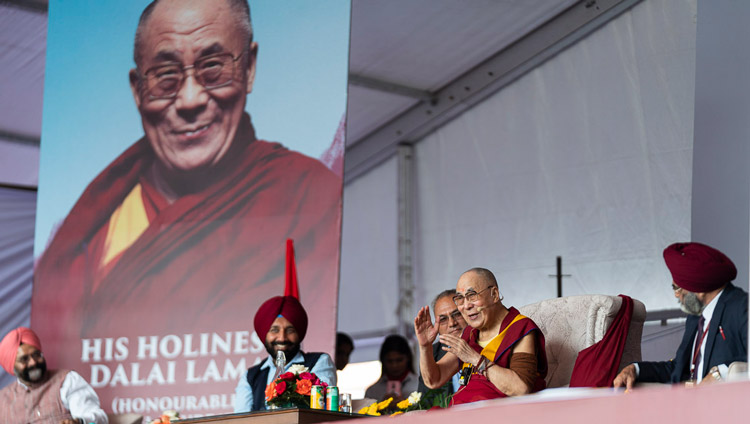 Noting that we are still in the early years of the 21st century, His Holiness expressed his conviction that if we make efforts to change, with a clear vision, it is still possible to make this century more peaceful and more compassionate. He mentioned the importance of recognising that relying on the use of force to resolve conflict and disagreements is out of date and that our larger aim should be a demilitarized world. He suggested that warfare belonged to the feudal system and has no place in a democratic order.
His Holiness outlined his four commitments: as a human being he is determined to promote inner values as a source of human happiness. As a monk he is dedicated to encouraging inter-religious harmony. As a Tibetan he is committed to speaking out about the need to protect Tibet's natural environment and to working to preserve Tibet's language, religion and culture. Finally, he feels compelled to work to revive ancient Indian knowledge.
He told the audience how pleased he was to meet with bright young people like them, people who have the future in their hands. He urged them to make an effort to bring about positive change, to narrow the gap between rich and poor, to challenge the caste system as Guru Nanak and the Buddha before him have done. In our democratic times, he stressed, we all are equal. He mentioned that while prayer is undoubtedly of personal benefit, on a social level it takes action to bring about real change.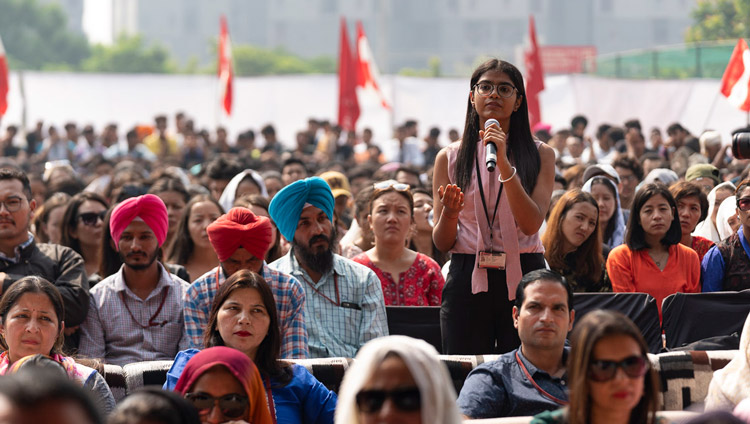 Among questions from the audience, His Holiness was asked about ecology and the environment. "When I was in Tibet," he replied, "I had no idea about the importance of ecology. In exile, it was a surprise for me to learn that you couldn't drink from just any source of water, because some are severely polluted. I remember also being told that the river that runs through Stockholm no longer supported fish because it was so polluted. However, manufacturers and others took greater care of their waste and the river was cleaned up to the point that fish returned. Similarly, once damage to the ozone layer was discovered, steps were taken to put an end to its causes and the hole in it began to repair.
"We can put an end to our consumption of fossil fuels and switch to renewable sources of energy," His Holiness declared. "Global warming is increasing and where our way of life is contributing to reducing the life of the planet, we should take steps to change it."
Responding to a question about whether the atmosphere in which education takes place is as important as the content of the curriculum, His Holiness reiterated the significance of paying attention to the mind itself. He said we are familiar with various levels of sensory awareness, but both positive and destructive emotions are mental experiences. They involve the mind and if we examine the mind we find that it involves different degrees of subtlety. He pointed out that we are most familiar with the relatively coarse consciousness involved in sensory awareness when we're awake. Consciousness when we dream is subtler than that and consciousness in deep sleep in subtler still. Finally, the subtlest awareness occurs at the time of death.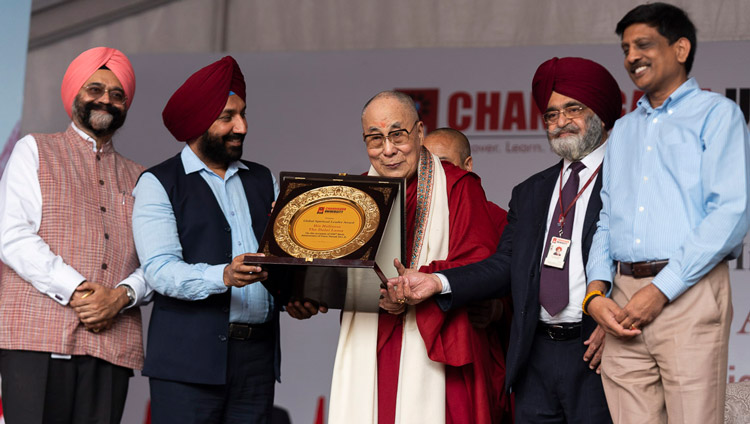 Chandigarh University presented a Global Leadership Award to His Holiness symbolized by an engraved brass plate, a portrait of Guru Nanak and a portrait of His Holiness executed by one of the students. He was then invited to endorse a new scholarship program.
In his words of thanks, DP Singh referred to His Holiness as a unifying forces for millions and thanked him for gracing the university with his presence.
Before leaving the stage, His Holiness had a few words of encouragement for students from the Himalayan region, including Tibet. He planted a tree as a memento of his visit in front of the Academic Block.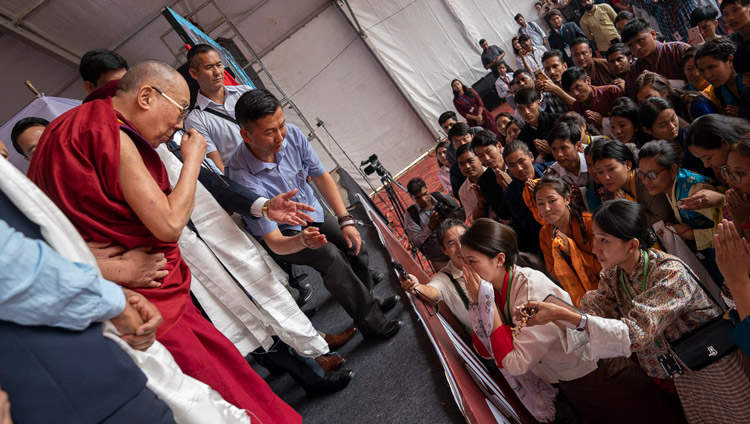 After enjoying lunch with the Chancellor, Vice Chancellor and other members of the university, His Holiness was seen off as he left the campus by crowds of students who smiled and waved. From the university he drove to Nangal on the Punjab border where he stopped for the night in a guest house that he first visited in 1956. Tomorrow morning, he will return to Dharamsala.