McLeod Ganj, Dharamsala, India - This morning, under a cloudless blue sky filled with the brilliant sunlight of winter, His Holiness the Dalai Lama drove the short distance from his residence to the nearby Kirti Jepa Dratsang. He was welcomed at the entrance to the monastery by Kirti Rinpoché who escorted him in. The monastery's open areas were filled by monks, nuns and devoted members of the public. His Holiness stopped briefly to say consecrating prayers before a huge appliqué thangka of Jé Tsongkhapa and his two principal disciples. He walked a little further before pausing to pay attention to young monks from Darjeeling Suke Kirti Monastery debating. Next, he stopped to view an exhibition of books published by Kirti Jepa Dratsang.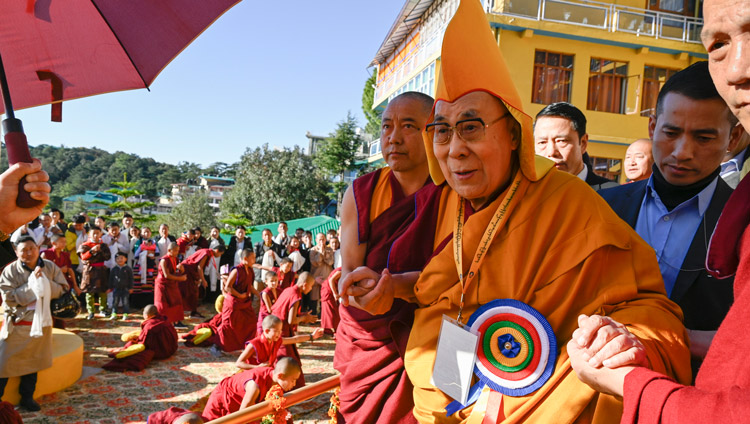 His Holiness took his seat on the stage in a large tented space that had been arranged to host a symposium on monastic education. To his left sat representatives of the Three Pillars of Tibetan democracy and members of the Central Tibetan Administration (CTA) and to his right sat Kirti Rinpoché and Prof Samdhong Rinpoché.
Kirti Rinpoché offered the mandala and threefold representations of the body, speech and mind of the Buddha. Auspicious prayers were recited, including 'The Praise to the Buddha known as the Three Continuums', the 'Praise to the Seventeen Masters of Nalanda' and a prayer for His Holiness's long life by Jamyang Khyentsé, as tea and sweet rice were served.
In conjunction with celebrations of the 600th anniversary of Jé Tsongkhapa's passing away, the Symposium on Monastic Education for Young Monks and Nuns was declared open. Karma Gelek Yuthok, Kalon for Religion & Culture presented Certificates of Graduation to ten monks. Pema Yangchen, Education Kalon released a souvenir book celebrating the 25th anniversary of the founding of Kirti Jepa Dratshang.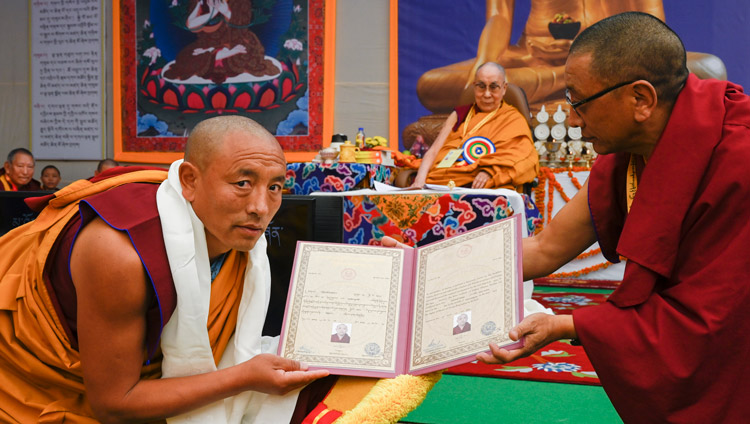 In his address to the gathering, Kirti Rinpoché expressed his gratitude to His Holiness for accepting the invitation. He added that people in Tibet have regularly asked him to request His Holiness to give a Kalachakra Empowerment in the Do-mey region and he hoped he would accept that request too. He spoke of the founding of Kirti Jepa Dratshang in Dharamsala in the 1990s and the restoration of monasteries in Tibet.
Kirti Rinpoché explained that the present symposium had been convened with a view to maximizing the benefit of young monastics.
"As they grow up, monks and nuns, in Tibet and in exile too, face a lot of challenges," Rinpoché observed. "They need guiding rules and regulations. So, we thought it would helpful to hold discussions focussing on monastic training. We also plan to discuss a common curriculum for young monastics' education.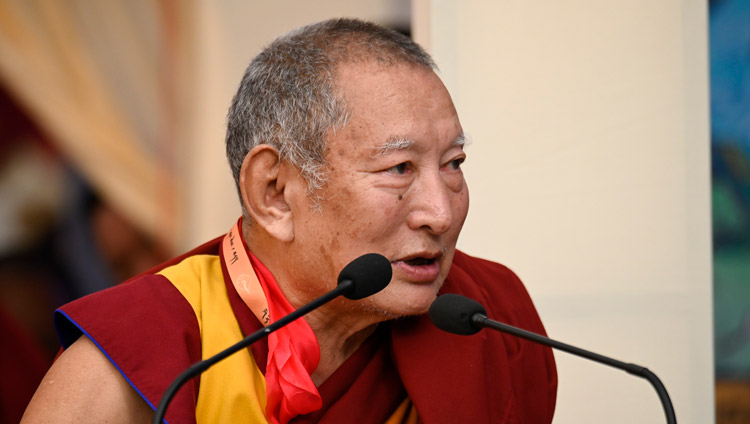 "There have recently been other conferences that discussed His Holiness's reincarnation. Of course, we want His Holiness to reappear among us, but right now our task is to request him to do so. When his reincarnation appears, our responsibility will be to take care of him. And although he has expressed a wish for only a small household in the future, there will need to be a firm and stable institution capable of supporting the work of the Dalai Lama. In conclusion, I'd like to request His Holiness to take care of his health."
Speaker of the Tibetan Parliament in Exile, Pema Jungney recalled that, following His Holiness's lead, the older generation had worked hard to re-establish the monastic centres of learning. He praised the theme of the symposium and voiced his hopes for its success.
Sikyong Lobsang Sangay applauded the way Kirti Rinpoché has followed His Holiness's leadership in exile. "In Tibet," he remarked, "a campaign of Sinicization has been going on for 60 years. Here in exile, however, we've been able to preserve our traditions. Tens of thousands of people have sacrificed their lives for the Tibetan cause. Among those who have committed self-immolation, the greatest number have been from Ngaba, the location of Kirti Monastery in Tibet."
He noted that His Holiness has reclassified the content of the Kangyur and Tengyur under three headings—science, philosophy and religion. Buddhism's account of the science of the mind is something from which everyone can benefit, whatever their personal beliefs.
His Holiness began by greeting Kirti Rinpoché, the leaders of the CTA and everyone attending the symposium. He then read from the colophon to the 'Praise to the Seventeen Masters of Nalanda', which includes the following: 'At the present time, when in the ordinary world there is great advancement in the fields of science and technology, but we are also distracted by the hustle and bustle of our busy lives, it is extremely important that those of us who follow the Buddha should have faith based on knowledge of his teaching'.
"Buddhism speaks of three objects of knowledge," he continued. "Those that are obvious, those that are slightly hidden and those that are obscure. Buddhists say we can understand slightly hidden and obscure phenomena on the basis of inference and reliance on the authority of the Buddha. This applies to our cultivating the path of liberation. We are able to draw inferences about slightly hidden and obscure objects of knowledge because we employ logic and reasoning.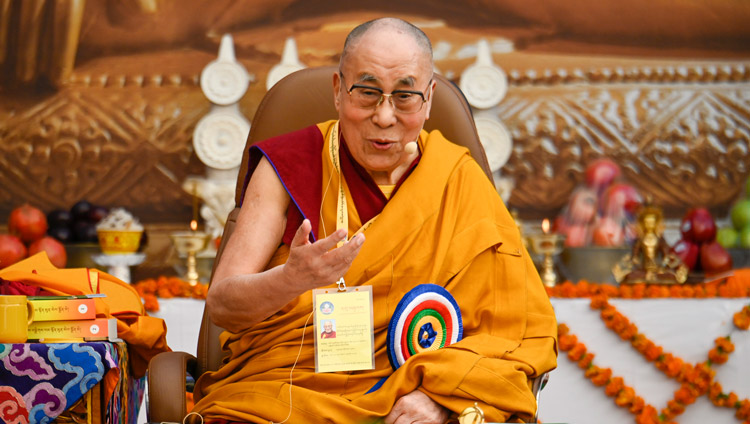 "As the Sikyong pointed out, we can think of the content of the Kangyur and Tengyur in terms of science, philosophy and religion. The science mostly deals with science of the mind which can be of widespread benefit. One of the principal philosophical ideas is dependent arising, which corresponds to notions underlying quantum physics.
"Only in the Nalanda Tradition was there such an emphasis on using logic to understand the Buddha's teaching. However, both the use of logic and understanding of psychology described in the classic texts can be employed in an entirely academic context. Much of the Nalanda Tradition is compatible with science.
"Each of the 17 Masters of Nalanda composed treatises that we continue to study today. In contrast to that, the 16 Arhats left almost nothing behind apart from one verse attributed to Rahula. One of the Arhats is said to reside at Mount Kailash. When Kirti Rinpoché requested that I give a Kalachakra Empowerment I wanted to ask him where he thinks Shambhala is. Once when I was talking to an astrologer, he told me that it was in the vicinity of Kailash and that you had to dig through snow to reach it and so on.
"Similarly, on another occasion, I was talking to Gyen Wangdu about Rudrachakrin the King who will restore Buddhism to the world and how the prediction includes an account of its destruction in the first place. Receiving the Kalachakra Empowerment is popular, but it's not easy to do even the practices associated with the mind mandala. And as for the six branch yogas of the completion stage, they are now really only found among the Jonangpas.
"The Buddha is said to have reflected as follows soon after his enlightenment: 'Profound and peaceful, free from elaboration, uncompounded clear light, I have found a nectar-like Dharma. Yet if I were to teach it, there is no-one who would understand what I said; therefore, I shall remain silent here in the forest.'
"The words 'profound and peaceful' can be taken to refer to his first round of teachings; 'free from elaboration' refer to the second round and the perfection of wisdom. 'Uncompounded clear light' can be understood to refer to the subtle mind of clear light that is employed in highest yoga tantra. There are four empty states which are empty of coarse appearances associated with the stages of dissolution—white appearance, red increase, black near attainment and clear light.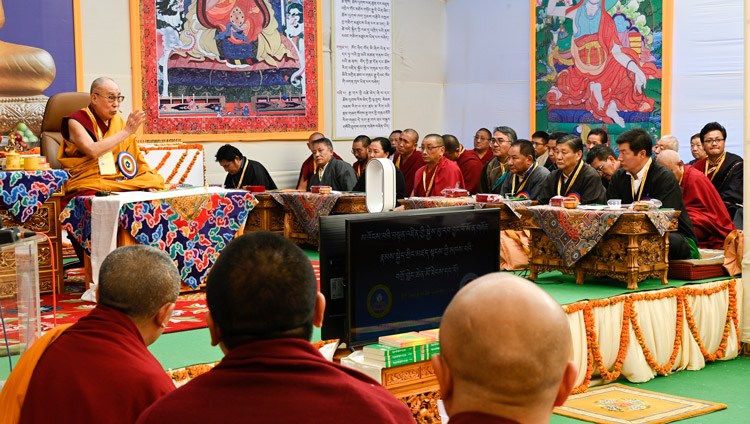 "Panchen Palden Yeshi is reputed to have visited Shambhala and there was a huge grain in the Potala he's said to have brought back.
"The foundation of the Buddha's teaching is love and compassion, on the basis of which you develop the awakening mind of bodhichitta. Bodhi here refers to enlightenment on the basis of wisdom."
His Holiness remarked that Shantarakshita brought the pure, authentic Nalanda Tradition to Tibet and Tibetans have kept it alive for more than 1200 years. He noted that most Asian countries are sympathetic to Buddhism, but when aspects of the Nalanda Tradition reached China, and from there Korea and Japan, they did not include an emphasis on the use of logic and reason. This is only found in the Tibetan tradition.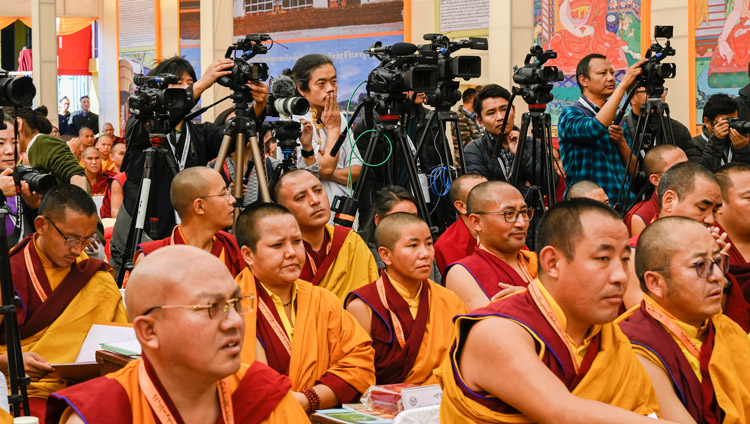 He recalled that when he first voiced and interest in talking to scientists an American friend warned him that science could be the killer of religion. However, he was confident that it was not a threat and has been cooperating and holding conversations with scientists for almost 40 years.
He observed that in today's world many problems were created by human beings themselves despite its being human nature to be compassionate. One factor is that too many people pursue only materialistic goals. His Holiness referred to his commitment to reviving interest in ancient Indian knowledge, especially of the workings of the mind and emotions, in India. He mentioned that several pilot projects are underway.
He reiterated that only Tibetan Buddhism maintains the approach of examining the Buddha's teachings in the light of reason and logic. He recalled that, in the past, when observing debates going on in Sarnath, he sometimes suggested that the debaters set scriptural citation aside to argue solely on the basis of reason.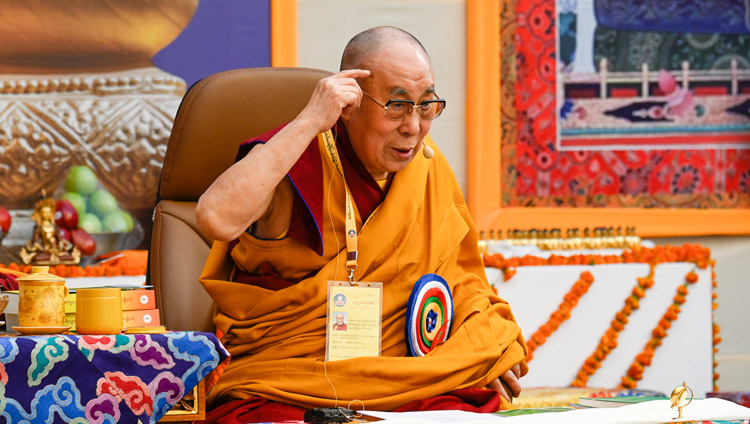 "Kirti Rinpoché has worked hard, especially in developing a curriculum that can be used in Tibet. I'd like to thank him.
"As the Sikyong pointed out, we should all aim to be 21st century Buddhists. In the 'Great Treatise on the Stages of the Path' Tsongkhapa doesn't say we should have a pure vision of the lama. Instead he lists the qualities he should possess. He states that those who wish to discipline others should first be disciplined themselves. They should cultivate ethics, a calmly abiding mind and insight into reality.
"The Shukden practice became prevalent because people followed what the lama said unquestioningly. After coming into exile, I urged monasteries and nunneries to introduce the study of logic and philosophy. It's not blind faith we need, but command of reason and logic. In addition, I suggested that the practice of logic and debate be introduced into ordinary schools, because logic can be applied whatever subject is under examination. Gradually more and more of our people are taking up this approach to study.
"We are the custodians of the Nalanda Tradition and the knowledge it maintained. At the same time, Tibetan is the most accurate language in which to express it. Pride in this contributes to the undaunted spirit of the Tibetan people, which has lent courage to the many who have sacrificed themselves for our cause."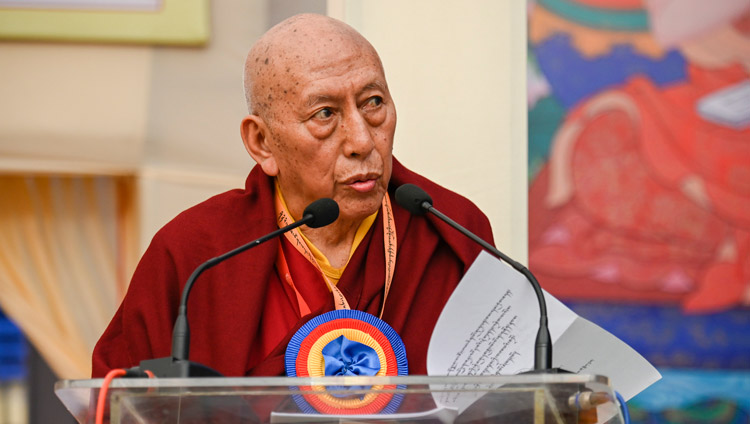 In his opening presentation to the Symposium on Monastic Education Prof Samdhong Rinpoché acknowledged that the aim of the meeting was praiseworthy. "Buddhist teaching is a source of happiness," he said, "but whether it survives or not will largely depend on monastics, male and female, so their training and education is crucial. Under Kirti Rinpoché's influence many monastics are receiving a sound education in Tibet and I appreciate that."
Rinpoché questioned whether there is enough time to do justice to the more than 60 text books Kirti Dratshang has published. He wondered whether some of the material might be summarized.
He spoke about the importance of Tibetan as the medium of study, specifically literary Tibetan. He recommended that the use of dialect be avoided. He expressed support for better teacher training and again praised the handbook for teachers produced at Kirti Monastery. He recommended distinguishing between teachers of secular subjects and Dharma teachers, but urged teachers to integrate what they teach in themselves. He concluded with his good wishes for the success of the symposium.
The Chair of the Symposium Organizing Committee, Ven Tsering, offered thanks to the guests, educators and the 150 monks and nuns from more than 100 monastic institutions for showing interest by their attendance.
His Holiness and other guests ate lunch together, following which he visited the Assembly Hall and the Protector Chapel before returning to his residence. Friends and well-wishers, smiles on their faces and silk scarves in their hands lined the road from one gate to the other.