New Delhi, India - Members and friends of Tushita Mahayana Meditation Centre, New Delhi, invited His Holiness the Dalai Lama to join them today in celebrating the centre's founding 40 years ago by Lama Thubten Yeshé and Zopa Rinpoché. The venue was St Columba's School, adjacent to the Sacred Heart Cathedral, in the heart of the capital, where an audience of more than 5000, including many students from other Delhi schools gathered to listen to His Holiness.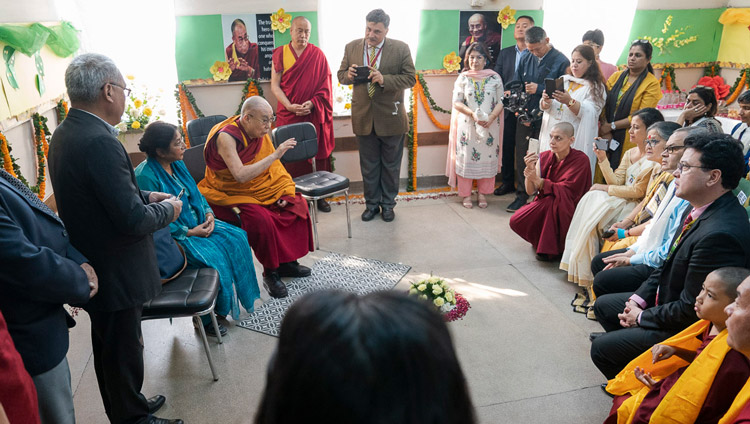 Tushita's Director Dr Renuka Singh and St Columba's Principal Bro E L Miranda welcomed His Holiness as he arrived. In a short meeting with supporters and friends of Tushita, he remarked that Lama Yeshé and Zopa Rinpoché had done a great deal to make people around the world aware of what the Buddha taught.
"Now," he added, "it's important to be 21st century Buddhists reliant more on reason and understanding than faith alone. The Buddha advised his followers not to accept what he said without question, but to investigate and examine it. He explained that people and things are empty of intrinsic existence, but encouraged his followers to investigate this for themselves."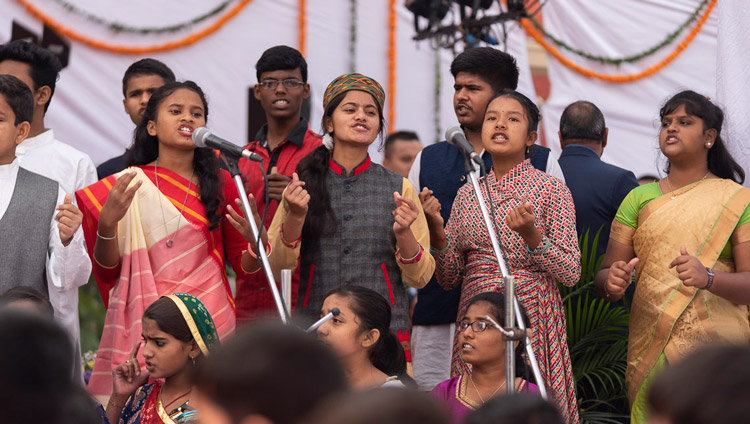 His Holiness greeted the audience with folded hands, a broad smile and a wave before taking his seat on the stage. After Renuka Singh had introduced him to the school children, students of St Columba's performed an entertaining song and dance. Then, to mark the 20th anniversary of the UN Convention on the Rights of the Child, students from Pratyek, an NGO educating and looking after underprivileged children, presented a rap about children's rights.
His Holiness released a new edition of a book 'Daily Inspirations', which contains an inspiring thought for every day of the year. Renuka Singh drew these quotations from his writings and compiled them into a collection.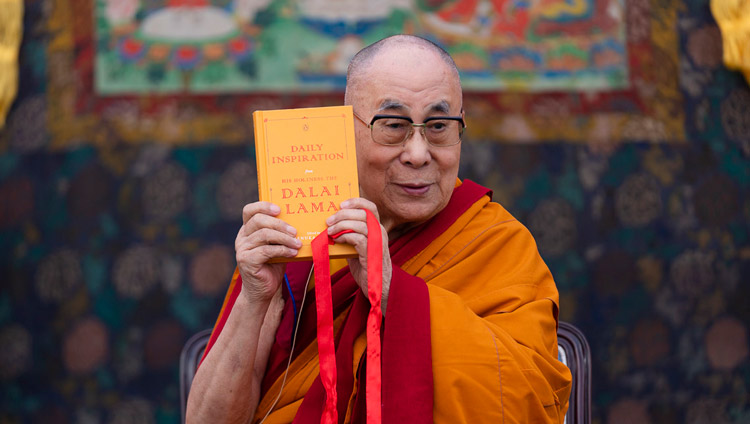 Addressing the audience as "Dear brothers and sisters, young and old", His Holiness told them how happy he is to meet young people. He's nearly 85 years old, he said, but interacting with young people makes him feel younger.
"Time is always moving on," he told them. "Nothing can stop it. The question is whether we use our time properly or not. We can't do anything about the past, but what happens in the future depends on what we do now. We can create a happier, more peaceful future, or a more miserable one. The generation who belong to the 21st century have both the opportunity and the responsibility to deal with this. A lot of problems we face, like war, are created by human beings. But since we participated in their creation, we have the ability to reduce and eliminate them too.
"War and violence come about as a result of anger, selfishness and narrow-mindedness. If we were to have a more compelling sense of the oneness of humanity, there'd be no basis for divisions into 'us' and 'them' and no basis for bullying and killing each other.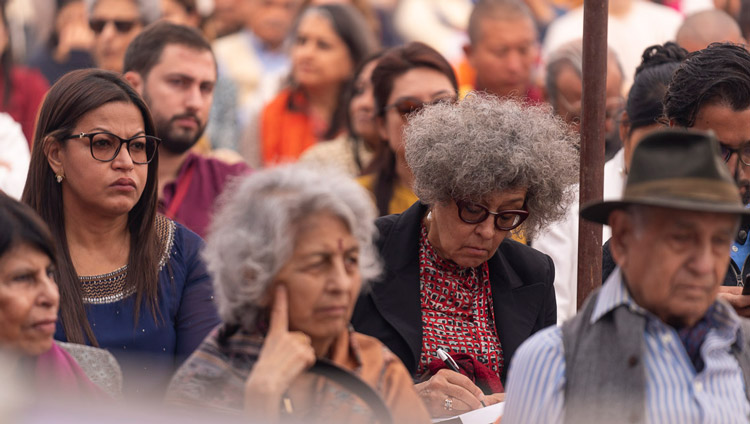 "Human beings are social animals with a concern for the community in dependence on which they survive. In times past, the limits of this concern were family and local community, but now all 7 billion human beings alive today constitute one community.
"Buddhists pray for the welfare of all mother sentient beings. Jews, Christians and Muslims, who see the entire world as God's creation, regard their fellow human beings as children of God and therefore as their brothers and sisters. We have to live side by side with one another. Traditions like some Samkhyas, as well as Jains and Buddhists don't believe in a creator, but shape their actions in terms of 'ahimsa'—non-violence and 'karuna'—compassion. Pursuing these practices, you automatically become more peaceful and compassionate.
"Non-violence and compassion, approached from a secular point of view, are clearly relevant today. We each need these qualities in our personal lives. People can be encouraged to adopt them, not by prayer and rituals, but through education. Our modern education system tends to set materialistic goals, but it can be combined with knowledge of how to train the mind and tackle destructive emotions."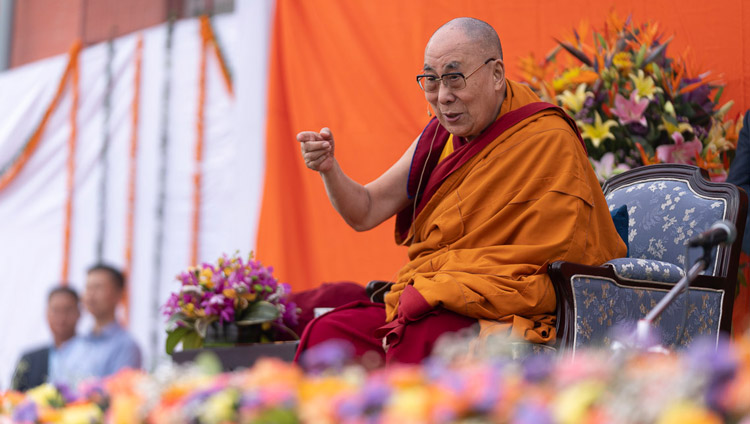 His Holiness explained his four commitments—to promoting loving kindness through education; to encouraging inter-religious harmony, since all religious traditions convey a common message of concern for others; to protecting Tibet's fragile ecology and keeping its system of knowledge alive, and, finally, to working to revive interest in ancient Indian understanding of the workings of the mind and emotions. He declared a conviction that India can make an invaluable contribution to peace in the world by sharing instructions about how, as individuals, we can achieve peace of mind.
He explained that the way he was taught to study entailed first learning a classic book by heart. Then you would read and listen to word by word explanations of it, following which you would explore what you had understood in reasoned debate with fellow students. He stated that the Nalanda Tradition, from which Tibetan Buddhism is derived, took a scientific approach to the mind and inner world that scientists can relate to today.
He acknowledged that we are driven by self-interest, but advised that we must be wisely self-interested rather than foolishly so. Because our own lives depend on other people, it's wise self-interest to take care of them.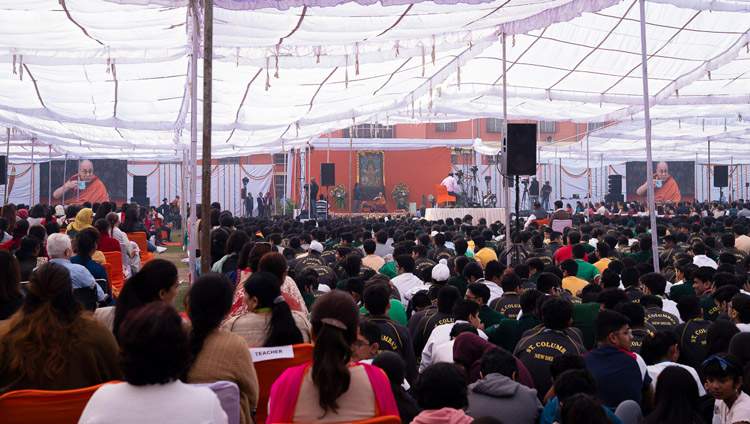 Taking up the 'Eight Verses for Training the Mind", His Holiness commented that the author, Geshé Langri Thangpa, was, with Sharawa, a disciple of Kadampa master, Geshé Potowa. He was a great practitioner of the awakening mind of bodhichitta. Reading the first line, 'May I always cherish all beings', he advised, right from the start, asking who, what or where is this 'I'?
The line in the second verse, 'Cherish others as supreme.' is useful in countering a self-centred attitude. Verse three encourages us to examine which emotions do us harm and which do us good. Verse four highlights the idea that being able to feel compassion even for those we would normally regard with hostility is the test of genuine compassion.
'May I accept defeat And offer the victory to them', and 'May I give all help and joy to my mothers, And may I take all their harm and pain Secretly upon myself,' in verses six and seven refer to the practices of giving and taking. His Holiness recalled that in 2008 when he heard that Tibetans in Lhasa had mounted demonstrations, he was apprehensive of their coming to harm. He imagined removing all the Chinese authorities' anger and hostility and giving them joy and benevolence. He clarified that this practice made little difference to events on the ground, but enabled him not to lose his peace of mind.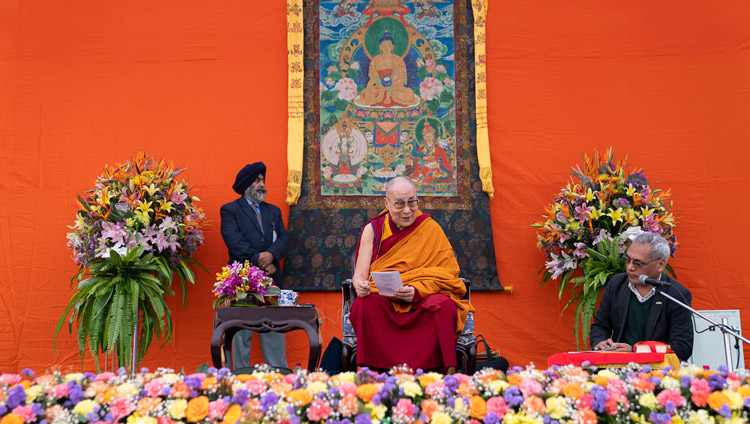 In the last verse, the line, 'May I see all things as illusions', alludes to countering the misconception that things exist as they appear by understanding that they have no independent existence. They do not exist from their own side.
In an exchange of questions and answers, Renuka Singh read out questions from the audience and His Holiness gave crisp answers.
Q. Which comes first, compassion or wisdom?
A. Wisdom takes time to develop, but it's possible to be warm-hearted immediately.
Q. How do you view yourself?
A. As a human being—from Amdo.
Q. How can we handle worry about exams?
A. When I took exams, I was a little anxious. However, I'd studied for 13 years and once the date of the exam was set, I studied harder, so I didn't worry very much.
Q. How can we be academically successful and achieve peace of mind?
A. Think to yourself that you are studying in order to be able to serve others.
Q. Couldn't the idea, 'regard myself as inferior to all ', lead to demoralisation?
A. You can't be demoralised if you have cultivated a sense of altruism.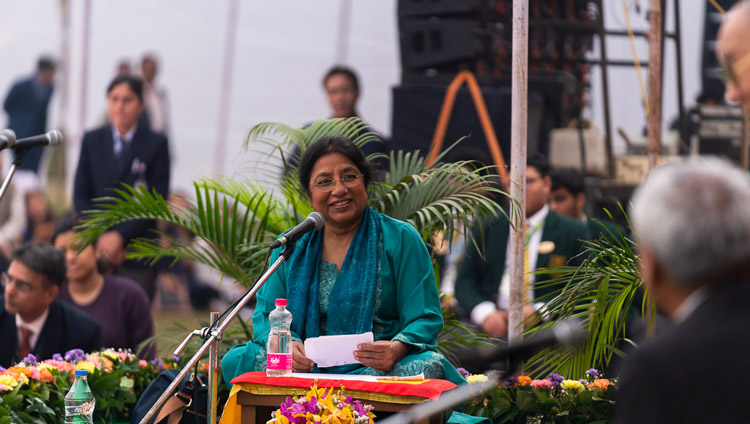 Q. Amidst chaos, what stories have restored your faith in humanity?
A. Everybody wants to live a happy life, so ask yourself what actually ensures happiness and what destroys it.
Q. What's the cause of students' depression?
A. Self-centredness and a lack of understanding of the mind and emotions.
Q. Should the young preserve the old ways or embrace modern culture?
A. Try a combination. Combine modern education with ancient knowledge of the workings of mind and emotions.
Q. How important is meditation for the young today?
A. It's relevant. Try starting classes in silence and thinking about the mind.
Q. Why is a guru important?
A. Jé Tsongkhapa writes in the 'Great Treatise on the Stages of the Path', someone who wants to discipline others must first be able to discipline themselves. And of the ten qualities of a guru listed in the 'Sublime Continuum', the most important are having compassion and affection.
Q. What is happiness?
A. If you have a joyful mind, other problems won't detract from your happiness.
Q. How did you escape from Tibet?
A. That's a long story. I spent nine years trying to deal with the Chinese. In 1954 I went to China and met Party leaders including Chairman Mao. I was impressed, but power spoiled them. Ultimately there has been no freedom, no freedom of the press and so forth, in China. From 10-17 March 1959 I tried to cool the situation down. There'd been violent suppression of Tibetans in Eastern Tibet. There were signs of the same occurring in Lhasa—that and other indications showed that it was time to go.
Q. How to deal with grief?
A. The Buddha died. Nagarjuna died. It's natural.
Q. Is it good to be nationalistic?
A. You need to check whether it is a narrow-minded, short-sighted feeling, which isn't so good and leads to division, or whether it is a broad-minded concern for all.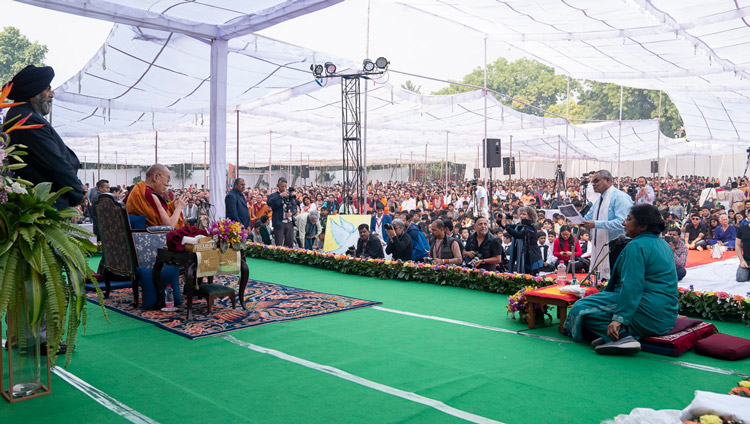 Brother EL Miranda, Principal of St Columba's offered extensive words of thanks. He pointed out that education at the school is intended to prepare students for leadership in order that the dreams of the Mahatma and God may be fulfilled. The school motto, he said, is 'Dare to know, sincerely and consistently'. He requested His Holiness, "Please come again," and, mindful of the Irish brothers who had founded the school, ended with an Irish blessing:
May the road rise to meet you,
May the wind be always at your back,
May the sun shine warm upon your face
And rains fall soft upon your fields,
And until we meet again,
May God hold you in the palm of his hand.