Thekchen Chöling, Dharamsala, HP, India - On receiving news today that his old friend Kapila Vatsyayan had passed away, His Holiness the Dalai Lama wrote to her brother Shri Subash Bhashi to offer his condolences. He noted that he had known Smt Vatsyayan since his first visit to India in 1956 to participate in the 2500th Buddha Jayanti Celebrations.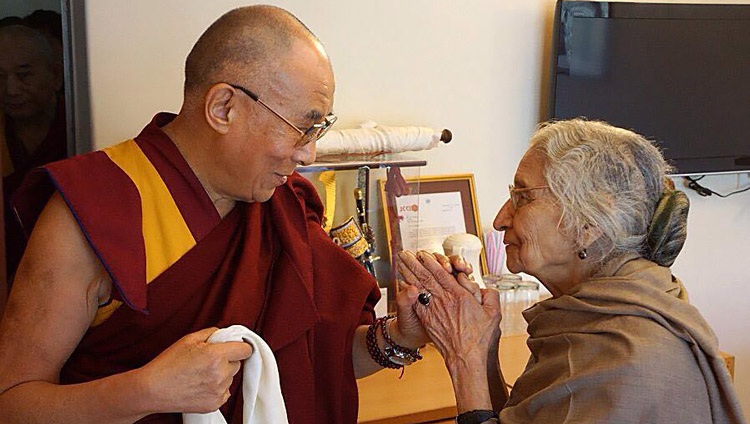 "I used to call her Amala (Mata-Ji) because of the motherly affection she showed me and so many other Tibetans," he wrote. "I have long been grateful for the personal interest she showed in the protection and preservation of Tibetan Buddhist culture. She was actively involved in the establishment of the Central Institute of Higher Tibetan Studies (CIHTS) at Sarnath, Varanasi in the early 1970s, an institution that has grown into a centre of learning well-versed in the ancient Indian wisdom of 'Ahimsa' and 'Karuna'. While Secretary in the Department of Culture, GOI, she was the Chairwoman of the Board of the Management of the Institute till her retirement. I understand that she was also the current Chairperson of Tibet House, our Culture Centre in New Delhi. I consider her to have been a life-long friend of the Tibetan people.
"I deeply appreciated her interest in and support for our efforts to preserve our Buddhist culture and also her forthright approach in dealing with important issues. We have kept in regular touch with each other over the years and last met in November last year in New Delhi."
In closing, His Holiness observed that with her passing both Indians and Tibetans have lost a great friend, for she was also a towering figure in the field of Indian arts and culture. She lived a meaningful life of 92 years, during which her dedication in the service of the nation was an inspiration to all.