Thekchen Chöling, Dharamsala, HP, India - The webcast of the preliminaries for an Avalokiteshvara empowerment began today with His Holiness quietly performing necessary preparatory procedures at his residence. Several monks from his household assisted as and when required. To His Holiness's right was the small mandala pavilion. Behind that stood a statue of 1000 armed, 1000 eyed Avalokiteshvara. On this occasion, on either side of the camera before him were large monitors on which His Holiness could see Lamas and friends from different parts of the world.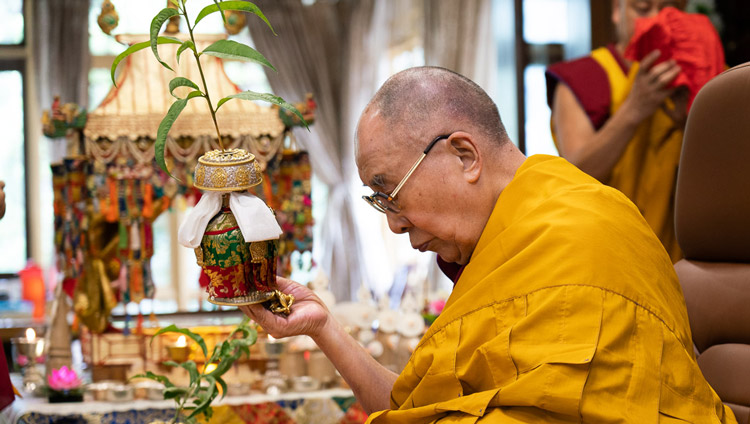 Once he was ready, His Holiness explained the situation. "Many concerned people have asked if I could give an Avalokiteshvara empowerment at this time. Therefore, I'm doing so over the internet. Last year too, when I gave such an empowerment, it was webcast and I heard that people in Tibet were able to follow it. Also, as a preliminary to the Cycle of Manjushri teachings that I began in Bodhgaya and completed in Mundgod, I gave a Vajrabhairava empowerment that devotees could access over the internet.
"If you have a clear intention to receive it and I have the intention to give the empowerment in this way, I'm confident you will receive it. Avalokiteshvara is the embodiment of compassion. If you pray to him and if you cultivate the practice focussed on him, it will help you increase your compassion. It is said that bodhisattvas focus on enlightenment with wisdom and on sentient beings with compassion.
"Among the seven billion human beings, not one is looking for suffering; all of us seek happiness. And yet if we watch news on the television, we see reports of racial discrimination and of people who seem to take a delight in killing. In addition to instances of racial discrimination, like the case of the African-American man in Minneapolis killed by the police, there are reports of religious discrimination too.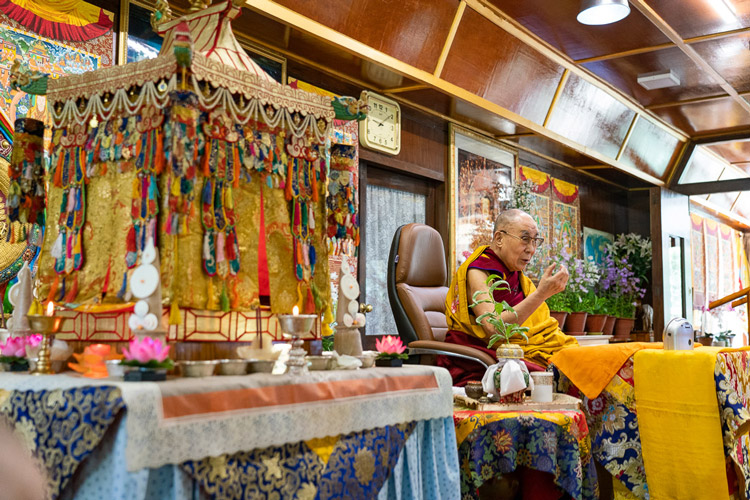 "Scientists declare that it's human nature to be compassionate, but even insects survive in dependence on compassion. All living beings who experience feelings of pleasure and pain ultimately survive as a result of love and compassion. If we human beings help each other, serve each other, with compassion, we'll be happy. If, on the other hand, we let ourselves be carried away by anger and jealousy, we'll be miserable.
His Holiness summarised his four principal commitments. Firstly, he's committed to helping human beings to be happy. He reiterated that if you're warm-hearted you'll be happy, but if you're consistently angry and jealous, you won't. This is why he encourages people to cultivate love, compassion and bodhichitta. Love and compassion, he said, are beneficial to all sentient beings.
He pointed out that, as a result of material development and modern education, people commonly seek happiness in external things, but neglect their minds. True, lasting happiness depends on our taming our unruly minds. This is not so much about intellectual development as cultivating a warm heart. When human beings are warm-hearted, they help others and themselves.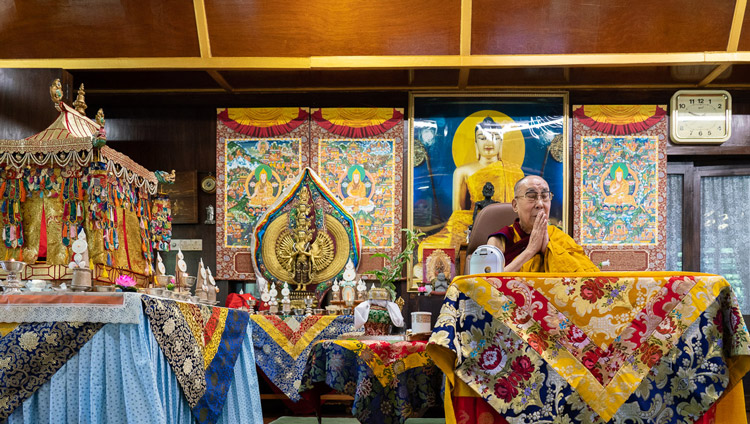 His Holiness remarked that the real reason for his giving this Avalokiteshvara empowerment is to encourage the flourishing of compassion.
Turning his attention to other religious traditions, he observed that they all seek to inspire their followers to develop such qualities as love and compassion, tolerance and self-discipline. Therefore, harmony and respect between them should come naturally. However, preaching love and compassion, but stoking conflict with others, contradicts this. His Holiness declared that he is committed to promoting inter-religious harmony. He cited India, where indigenous spiritual traditions live amicably alongside those that originated elsewhere, as an example that inter-religious harmony is possible.
"I'm a Tibetan," His Holiness continued, "and Tibetans place their hopes in me— they trust me. There was an occasion when I was in Assam, flying in a small plane during a storm when I felt I was in danger and I thought, 'What will happen to the six or seven million Tibetans if I should die?' Because they look to me with respect, I have a responsibility to do what I can to help them.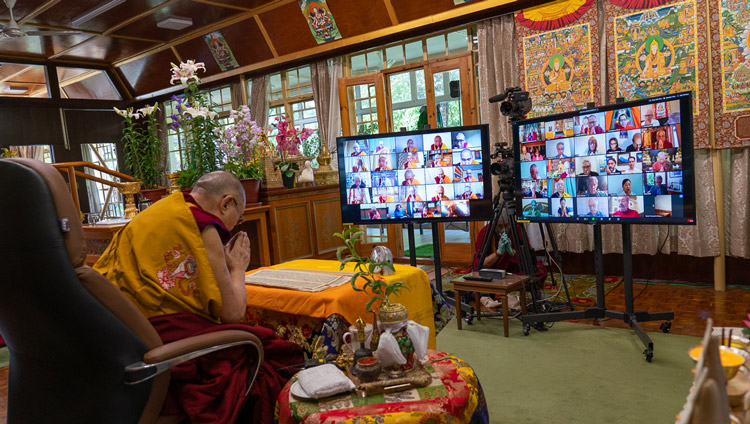 "We lost our country and some of us have had to live as refugees. For us it's been like a blessing in disguise. We live in this sacred land where the Buddha lived and taught, and where Nagarjuna and his followers came after him. India is the original source of all our knowledge. It's a democracy. This is where I became acquainted with Pandit Nehru. Subsequently, many Indian leaders have been my friends.
"Here in exile, many of us live in the monastic centres of learning re-established in South India. I can see Ganden Tri Rinpoché on the screen in front of me. All of you monks and nuns are custodians of the Nalanda Tradition. In the discussions and exchanges of views we've had with scientists, we've been able to contribute to the world at large from what we know. In your study and practice you are doing a service not only to our culture and people, but to humanity as a whole.
"In the more than one thousand years since Shantarakshita brought us the Buddhist tradition, the Nalanda Tradition, we have kept it alive—an invaluable part of humanity's cultural heritage. Even those who have no interest in religious practice can benefit from the knowledge it preserves. When we first came into exile, people still referred to our tradition as Lamaism. Thurman and Berzin there — gestures to the screen in front of him — know all about that. It was as if all that was important was Lamas and their hats. Now, people are clear that our tradition is the Nalanda Tradition with firm roots in Indian traditions.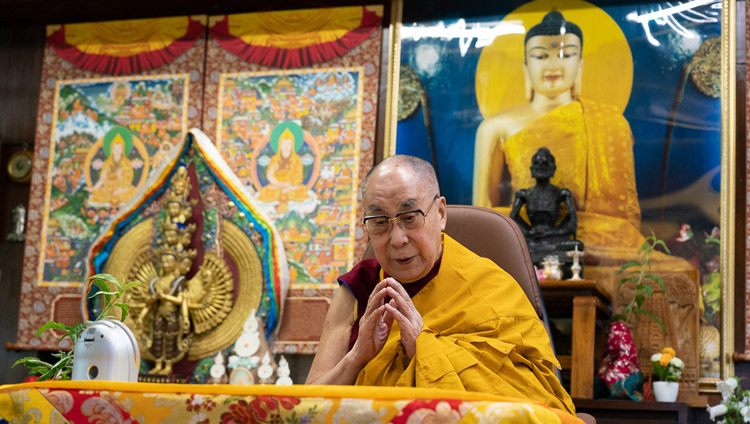 "And although modern education in India tends to focus on materialist goals to the neglect of inner knowledge, these days there is growing interest in ancient Indian knowledge and its understanding of the workings of the mind and emotions.
"So, I'm going to give this Avalokiteshvara empowerment because of the need for compassion in the world today."
As he began the preliminary rites, that include the preparation of the disciples, His Holiness remarked that it's customary at the outset to offer a ritual cake to drive away interfering forces. He declared that he no longer follows this procedure since he realized that there is a contradiction between stating early in the morning that "Having developed the aspiration for highest enlightenment, I shall invite all sentient beings as my guests," and driving them away later in the day.
Ganden Tri Rinpoché could be seen on the screen before His Holiness offering a mandala and the three representations of the body, speech and mind of enlightenment.
"Historically, Tibet is said to be the land to be tamed by Avalokiteshvara," His Holiness observed. "From the time of Songtsen Gampo and Trisong Detsen, many great Lamas and leaders had links with Avalokiteshvara. He is the patron deity of Tibet.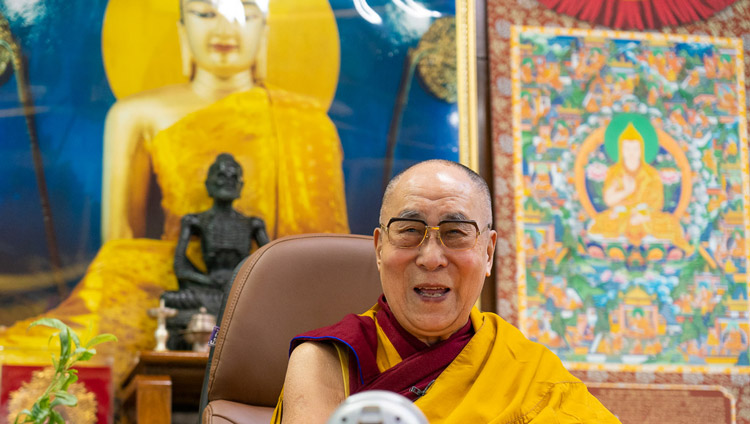 "The great Fifth Dalai Lama once brought together statues known as the three Avalokiteshvara Brothers when he was conducting a retreat. One of those statues, known as Wati Sangpo or the Kyirong Jowo, was in the care of the monks of Dzongkar Chödé Monastery. As a result of the turmoil in Tibet, they managed to move it out of Tibet to Nepal and later brought here to me in Dharamsala.
"When Dzongkar Chödé was eventually re-established in the south, I did a divination to see whether the statue should go with them or stay here. The result was that it stayed here. One thing about it that I've noticed is that its facial expression changes according to the circumstances. I've also dreamt about talking to him and asking him if he had a realization of emptiness, a direct realization of emptiness, and he told me he had.
"As I give this 1000 armed, 1000 eyed Avalokiteshvara empowerment what's most important is to have a pure motivation."
His Holiness gave the vows of a lay practitioner, followed by the bodhisattva vows, and led his audience through the various visualizations of the empowerment. At the end of this preliminary session he said he would give the empowerment proper tomorrow. He also mentioned that Prof Robert Thurman has asked him to grant the permission of Simhanada (Lion's Roar) Avalokiteshvara and that he has agreed to do so.