Thekchen Chöling, Dharamsala, HP, India - Today was 'Ganden Ngamchö', the anniversary of Jé Tsongkhapa's passing away. As His Holiness the Dalai Lama entered the room in his residence from which he speaks to the world over the internet, a steady chant of the 'Mig-tse-ma' praise of Tsongkhapa could be heard from one of the monasteries in South India. Following this His Holiness joined in chanting 'Song of the Eastern Snow Mountains' in praise of Tsongkhapa by Gendun Drup, the First Dalai Lama.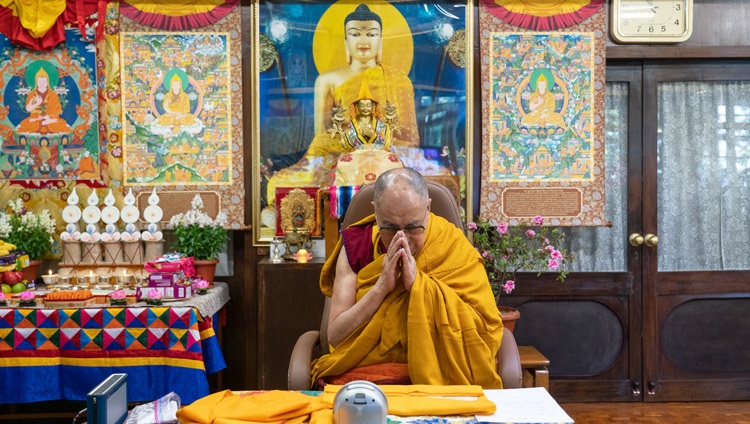 "Today we commemorate the anniversary of Jé Rinpoché's passing away," His Holiness declared. "He was foremost among Tibetan commentators on the essential teachings of the Buddha. His exceptional quality was that he was erudite and he put what he learned into practice. And whatever he experienced as a result he shared with us.
"Amongst all the great masters of Tibet, Jé Rinpoché was someone who focussed on the difficult points of the doctrine. We can see this in what he wrote, especially his five works dealing with emptiness according to the Madhyamaka view: the special insight section of the 'Great Treatise on the Stages of the Path'; the special insight section of the 'Medium Treatise on the Stages of the Path'; 'Ocean of Reasoning' — his commentary on Nagarjuna's 'Fundamental Wisdom of the Middle Way' and 'Illuminating the Thought' — his commentary on Chandrakirti's 'Entering into the Middle Way', as well as 'Essence of True Eloquence'.
"In 'Essence of True Eloquence' Jé Rinpoché highlighted three verses (nos. 34, 35 & 36) from Chapter Six of 'Entering into the Middle Way' that describe the four logical fallacies that would ensue if things had some objective existence in and of themselves. I recite these three verses to myself every day."
His Holiness quoted a verse from Tsongkhapa's 'Destiny Fulfilled', that illustrates his attitude to study and practice.
In the beginning, I sought much learning.
In the middle, all teachings dawned on me as spiritual instructions.
In the end, I practised night and day.
I dedicated all this virtue for the dharma to flourish.
Another verse from the renowned prayer, 'Hundred Deities from the Land of Joy' describes him thus:
In this degenerate age, you strove for extensive learning and meditation,
Abandoning the eight worldly concerns, you gave this life of leisure and opportunity meaning.
O Lord Protector, we sincerely rejoice
In your prodigious deeds.
"As his followers," His Holiness remarked, "this is how we too should practise. Study the great treatises, especially the five texts on Madhyamaka I've already mentioned, but remember that the purpose is to integrate the teachings within ourselves.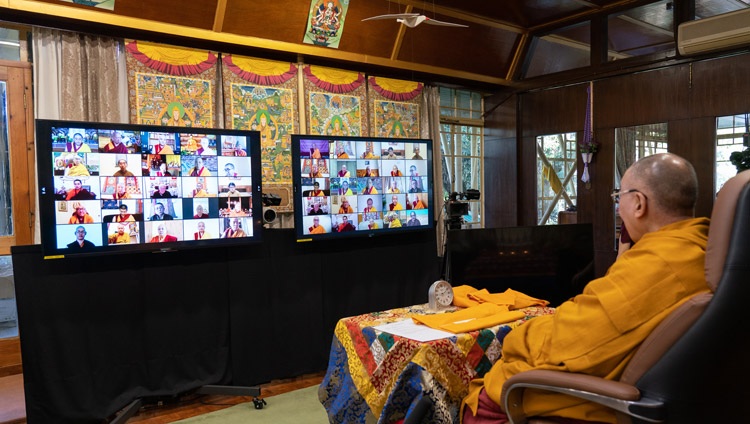 "Here in exile, we have re-established the three great monasteries Drepung, Ganden and Sera, and other centres of learning, where monks and nuns study the five major topics. This is what qualifies us as custodians of the Nalanda Tradition. However, we must not lose sight of the need to integrate what we've learned in practice."
As he opened the pages of 'In Praise of Dependent Arising', His Holiness first quoted a verse from near the end that further illustrates Tsongkhapa's admirable qualities.
Becoming ordained into the way of the Buddha
by not being lax in study of his words,
and by yoga practice of great resolve,this monk devotes himself to that great purveyor of truth.
As he read briskly through the verses, he touched on the Twelve Links of Dependent Arising, which show not only how we become entangled in cyclic existence, but also how we can overcome ignorance to break free. He remarked that if things had intrinsic existence, nothing could change. He noted that with regard to dependent arising, Choné Lama Rinpoché said that dependence does not deny emptiness, and arising means things conform to worldly convention.
His Holiness remarked that we don't need historical accounts of Nagarjuna's life to know what he was like, what's important is to read what he wrote and we have the works of Chandrakirti to help us understand that.
Before beginning to read steadily through the 'Song of Spiritual Experience', which is a concise rendering of the stages of the path, His Holiness pointed out that this genre began with Atisha who presented the path in terms of persons of three capacities. He stressed that the purpose of study and practice is not just to overcome our mental afflictions, but also the cognitive obscurations they leave behind. That's the way to practise the complete path.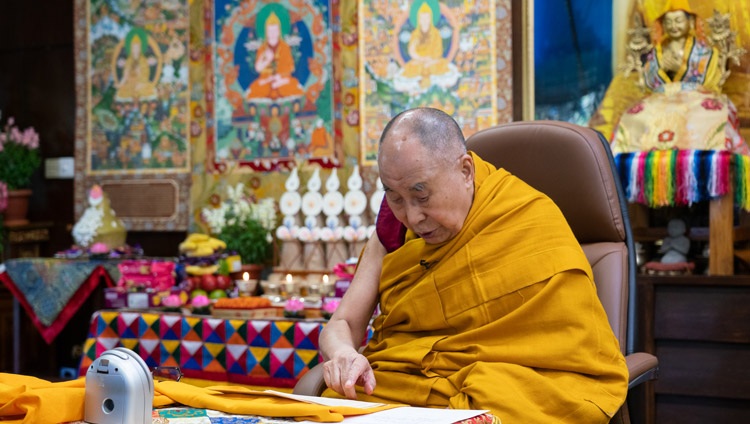 Touching on generating the awakening mind of bodhichitta, His Holiness mentioned two approaches to it. The seven-point cause and effect and exchanging self and others. This latter method is explicitly taught in Shantideva's 'Guide to the Bodhisattva's Way of Life', but, His Holiness remarked, its popularity had declined in Central Tibet. This is one of the reasons he made a point of receiving an explanation of it from Khunu Lama Rinpoché.
Reaching the final verses of the text, His Holiness noted that, following Chandrakirti's reasoning, nothing can be found to have any objective existence.
The third text His Holiness read, the 'Three Principal Aspects of the Path', was composed in response to a request from Tsakho Ngawang Drakpa. Coming to the verses that nominally deal with generating the awakening mind, he mentioned that by applying them to himself he finds them to be a powerful stimulus to generating a determination to be free.
With regard to the correct view, Tsongkhapa is succinct: Appearances refute the extreme of existence, emptiness refutes the extreme of non-existence; when you understand the arising of cause and effect from the viewpoint of emptiness, you are not captivated by either extreme view.
Having read three key works by Jé Rinpoché, His Holiness led a brief ceremony to generate the awakening mind of bodhichitta. At the conclusion he requested his listeners to pledge to practise as Jé Rinpoché taught and integrate what they learn within.
Of three tulkus who asked brief questions that received brief answers, Lelung Rinpoché revealed that he has dreams in which he is asked to make prayers for His Holiness's long life and to request him to continue to give teachings on the profound and vast.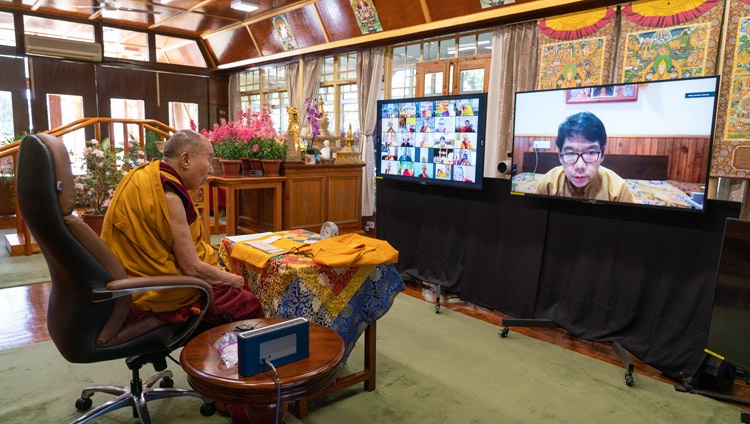 "When I see pictures from Tibet," His Holiness replied, "and I am aware of the devotion of the Tibetan people, I feel an urge to live long. The Tibetan people have placed such hope and trust in me that I will live long.
"When we came into exile, not much was known about Tibetan Buddhism. Since that time the situation has changed and I think we have made some contribution to that.
"I've been told that Kathok Getsé, a scholar at the time of the Seventh Dalai Lama predicted that I would live to the age of 113. Because of Tibetans' devotion I feel I might live until I'm 110 and I make prayers that I will live that long — and all of you should join me in those prayers."
His Holiness put on his pandit's hat as dedication prayers were said, and that done the occasion came to an end.