Thekchen Chöling, Dharamsala, HP, India - Today, His Holiness the Dalai Lama was invited to take part in a conversation about the Necessity of Compassion for the Survival of Humanity. The event was organized by the Center for Contemplative Science and Compassion- Based Ethics (CCSCBE) at Emory University and was introduced by its director Geshé Lobsang Tenzin Negi. He welcomed His Holiness and everyone listening in to the conversation from around the world.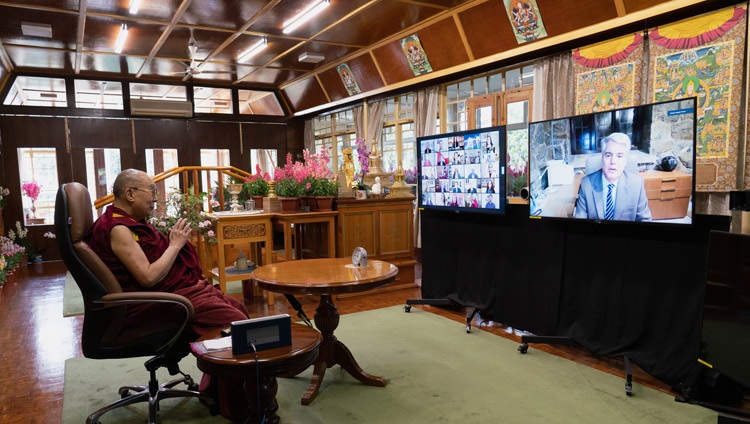 Negi introduced the new President of Emory University, Gregory Fenves, to His Holiness. He also offered a warm welcome, noting that His Holiness is an active advocate of the benefits of compassion, as well as being a Presidential Distinguished Professor at Emory University. Fenves mentioned that the opportunity to work with His Holiness was a factor that had made his new post attractive.
Geshé Lobsang Tenzin Negi took the opportunity to bring His Holiness up to date on the work of the Center for Contemplative Science and Compassion-Based Ethics. He told him that Emory-Tibet Science Initiative has fully implemented its program to establish a comprehensive and sustainable science education for Tibetan monks and nuns in a number of large monasteries and nunneries. The program is at its fourth stage, focussing on training monastic science teachers and researchers, so that monastic science education will be self-sustaining.
Concerning the SEE Learning program to integrate basic human values into education that His Holiness launched a year and a half ago, it has been introduced to more than 58,000 educators in 145 countries. Meanwhile, all SEE Learning materials are made freely available worldwide thanks to His Holiness's support and the generosity of others.
He also mentioned that over the last fifteen years Cognitively-Based Compassion Training has been offered around the world to college and medical students, doctors, nurses, military veterans, and the general public.
Negi introduced the two participants who would be taking part in a conversation with His Holiness. Dr Sanjay Gupta is a practising neurosurgeon and faculty member at Emory University, while also being the chief medical correspondent for CNN. Ms Melani Walton is a leading humanitarian and co-founder of the Rob and Melani Walton Foundation. The Foundation is generously supporting the work of the Center (CCSCBE) at Emory as it seeks to advance a global culture of compassion.
Melani Walton opened the conversation with the observation that 2020 has shown that compassion is as precious as water. She asked how compassion can stand up to injustice.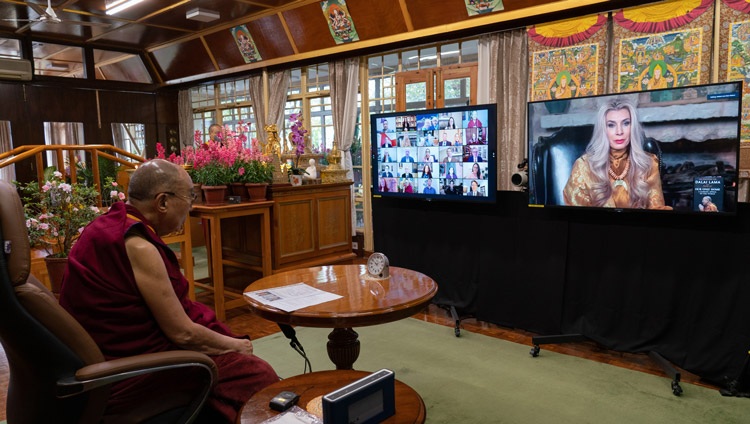 "Firstly," His Holiness began, "I would like to say how happy I am to be able to meet all of you with the help of technology. Our connections with Emory University are long-standing. Emory has introduced many programs of benefit to Tibetan scholars.
"In recent years, more and more people have been paying attention to what it means to find peace of mind. Prior to this, there hadn't been much said about the importance of mental peace. However, despite material and technological developments, we still face a lot of problems. If we pay more attention to ways to develop peace of mind our actions will be more conducive to peace. No one want to face trouble, but we have to consider that many of the problems human beings create for themselves have their source in our agitated and angry minds.
"Ancient Indian tradition is rich in explanations of the workings of the mind and emotions and how disturbing they can be. This knowledge comes from religious sources, but, these days, we can look at them from a secular, objective point of view. We can all learn how to tackle destructive emotions and cultivate positive qualities. Emory University has been involved in research on this for some time, which is very good."
Dr Sanjay Gupta told His Holiness what an honour it was to be with him today. He also mentioned how impressed he always is by how generous His Holiness is with his time. He agreed with what His Holiness had said about having an agitated mind, something that has become especially evident during the covid crisis. Noting that while there are many who have dedicated themselves to helping others during this crisis, there are others who refuse even to wear a face-mask. How, he wanted to know, can we encourage more people to be more compassionate around the world.
"This pandemic we're facing," His Holiness replied, "is very unfortunate. Large numbers of people have died as a result in the US, in India, Europe and China. Scientific experts are working on ways to deal with it who know much more about it than me. I'm just a Buddhist meditator, but it seems to me that being too anxious creates problems for us. It would help if we gave in less to fear and anxiety. What we need is inner strength, which in itself will help us defend ourselves. I believe that if we are subject to fear and anxiety, we are more susceptible to falling ill.
"Physical hygiene has an important role in protecting our health, but we also need a sense of emotional or mental hygiene. An example of the value of this is a monk I knew who spent 18 years in a Chinese jail. He told me that during that time there were several occasions when he felt in danger. I thought he meant there were dangers to his life and asked him to explain. When he clarified that he'd been in danger of losing compassion for his jailers, I realised how important peace of mind was to him and how maintaining a compassionate attitude meant he faced fewer problems.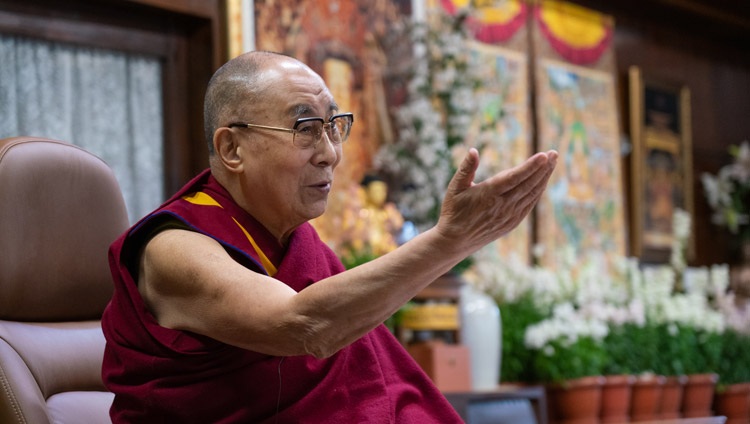 "Scientists have observed that we are showered with affection from the moment we are born. Our lives depend on the community in which we live, so compassion and consideration for others is a biological necessity.
"Young children naturally respond to other smiling faces. They don't care about the colour, faith or nationality of their companions. It's only when they start going to school that they begin to pay more attention to differences of race, faith or place of origin. This tends to lead to suspicion, fear and mistrust. To counter these negative responses, education should pay more attention to the oneness of humanity. We are all the same in being human and we all have to live together."
Melani Walton thanked His Holiness for his new book with Franz Alt, 'Our Only Home'. She asked about the importance of educating the heart for a healthy planet.
"Whether we take a spiritual approach or not, we all have to be realistic. We have to think of the entire planet and the whole of humanity, which requires having a more open mind and basing education on scientific findings."
Sanjay Gupta recalled that when he was with him in the Tibetan settlement of Mundgod in South India, His Holiness had spoken of the importance of a genuine, warm smile. Now that everyone has to wear a mask and can't touch each other, he asked how we can express feelings of warmth.
His Holiness responded that reacting to others with suspicion creates a distance between you. If you can be open to everyone, you'll be able to see the whole world as one family. You'll have much less fear and anxiety. This is where the Indian tradition of 'ahimsa', non-violence, not harming others, has a valuable contribution to make today.
"Wherever I go, I try to cultivate a sense of the oneness of humanity. Then I see everyone I meet as being essentially the same. And people respond positively to this. Animals too. I remember once visiting a park in Vienna where birds were feeding from people's hands without fear. Fear leads to isolation, so it's helpful to be open to others. I know that if I only showed a stern face, people would be much less friendly to me.
"Warm-heartedness is a key factor in everyone's happiness. That's why all religious traditions convey a message of compassion. If you believe in God, you can believe we're all children of one compassionate father and, accordingly, should be compassionate towards each other. Followers of non-theistic traditions consider that since we live life after life, it's better to conduct ourselves with compassion."
Melani Walton mentioned how moved she had been by His Holiness's call in 'Our Only Home' for a revolution of compassion. She asked how a more determined approach to protecting the planet could be an expression of compassion.
His Holiness replied that modern education is inadequate, because it doesn't foster a sense of the oneness of humanity. Protecting the planet is something that affects us all. We need to be less focussed on narrow self-interest. He told her that as soon as he wakes up each morning this is a verse he recites to himself.
As long as space endures and
as long as living beings remain,
until then may I too abide
to dispel the misery of the world.
Then he asks himself, "I woke up, but where is this 'I'? If I think about the Buddha, the Buddha's body, speech and energy, none of them is the Buddha — so, where is he? The feeling of having a solid 'I' has no basis. It's merely a designation. Thinking over these things helps reduce our strong sense of self. And it's supported by the quantum physics' observation that nothing exists as it appears. At the same time, cultivating a sense of altruism reduces our self-centred attitudes.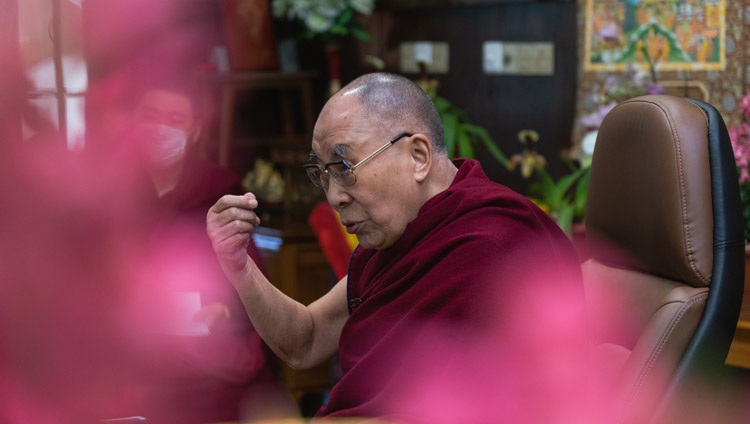 "We think of things in positive or negative terms. We view people as friends or adversaries. But it's worth investigating where is this foe. My own principal practice concerns these two elements, wisdom that nothing exists as it appears and method in the cultivation of altruism.
"As far as wisdom is concerned, I'm a follower of Nagarjuna and Chandrakirti who followed him too. I read Chandrakirti's 'Entering into the Middle Way' and his auto-commentary to it whenever I can. When he criticizes great masters like Vasubandhu and Dignaga for shrinking from embracing Nagarjuna's view out of fear, I feel I'm fortunate not to belong to their faction.
"Altruism combined with the idea that nothing exists as it appears is a profound and powerful practice. And by following it we can reduce our negative emotions."
Ms Walton asked how looking after others contributes to our own welfare and His Holiness reiterated that we are all part of the seven billion human beings alive today. We have to set an example.
"I speak often about the value of compassion, but if I were also to get angry whenever things don't go well, it would be hypocritical. Setting a good example is a proper way to serve others."
Dr Gupta asked why compassion seems to fade with time.
"This can happen if we only rely on our instinctive feelings rather than on reason. The Nalanda Tradition takes a reasoned, logical approach and emphasizes analytical meditation. Once I was giving a talk in Japan and I suggested that although cultivating single-pointed meditation is good, analytical meditation is more effective. I advised those listening to me to use the temple as place to discuss and debate what the Buddha taught to achieve a deeper understanding.
"Recognising that things are dependently arisen destroys the basis of ignorance, the misconception that things exist intrinsically from their own side. This is something we Tibetans first learned from Shantarakshita, the great philosopher and logician who came to Tibet in the 8th century. He encouraged us to investigate what the teacher says. The Buddha too encouraged investigation and analysis. We have been able to work constructively with scientists because of our background in logic and reason.
"At a deeper level, we are concerned with two truths — conventional and ultimate truth. Ultimate truth is directly opposed to ignorance. Altruism, which is a reflection of conventional truth, reduces our self-centred attitudes. My own practice is rooted in these two truths. There are certain things we have learned from scientists and some things they have learned from us. The human capacity for analysis is very precious and the deeper understanding of reality it leads to is precious too."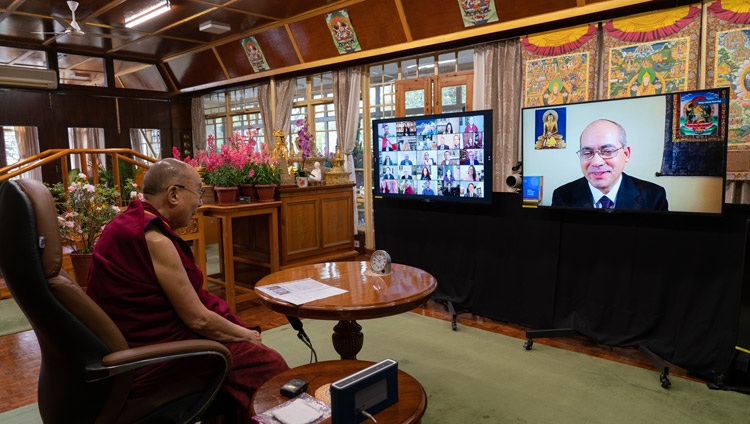 Melani Walton acknowledged the importance of compassion and told His Holiness in closing that from tomorrow the Center for Contemplative Science and Compassion-Based Ethics will be conducting online meditations on compassion that anyone can join. From February it will be conducting a 21-day compassion challenge. She told His Holiness that everyone who had taken part prays for his healthy, long life.
Geshé Lobsang Tenzin Negi thanked His Holiness for taking part in the conversation. "As I mentioned earlier," he replied, "all religious traditions emphasize the importance of loving-kindness. It's something all sentient beings need. Therefore, warm-heartedness and loving-kindness are what we need to promote. I want to thank all my friends here, my spiritual brothers and sisters, for the work they are doing. I appreciate it. And until my death, I'm determined to make whatever contribution I can to making this a better world. Thank you."