Thekchen Chöling, Dharamsala, HP, India - Mrs Natalia Inozemtseva, Deputy Director of Save Tibet Foundation, Russia, introduced this morning's dialogue between His Holiness the Dalai Lama and a group of Russian neuroscientists. She recalled that the first in this series of meetings took place in Delhi in 2017 under the banner 'Fundamental Knowledge'. A subsequent meeting was held in Dharamsala in 2018. Consequently, Russian scientists launched a project of research into 'thukdam', the phenomenon that sometimes occurs when an accomplished meditator dies and their subtle consciousness remains in the body, even after clinical death.
Prof Svyatoslav Medvedev of the Russian Academy of Sciences and founder of the Institute of the Human Brain, St Petersburg summarized what his team have done so far. They have established research laboratories in the Tibetan settlements in Bylakuppe and Mundgod. They have examined 104 monks in meditation and were recently able to observe a monk who was in 'thukdam' for 37 days at Gyutö Monastery. They invited a forensic physician to examine the physical body at various stages after death. They have demonstrated that the body of a person in 'thukdam' is in a quite different state from the body of someone undergoing the ordinary process of death. This is their first scientific evidence.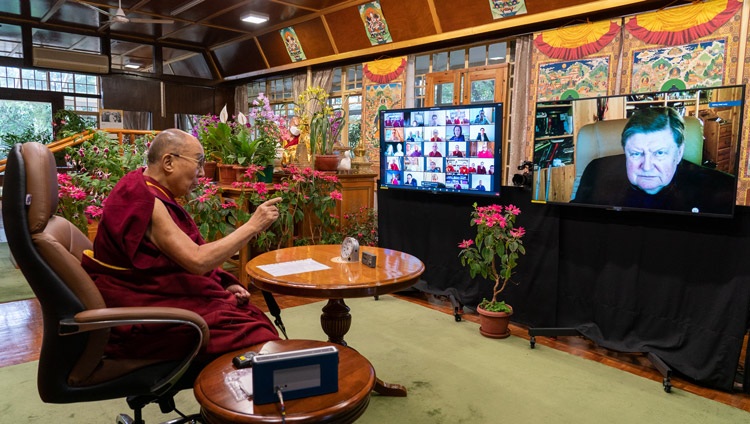 Prof Medvedev invited His Holiness to clarify what value the study of 'thukdam' could have for humanity in general. He replied that Tibetan Buddhists believe that people go through a process of dissolution in the course of death. Once some accomplished meditators cease breathing, the process of dissolution they go through includes three visions—whitish appearance, reddish increase and black near attainment. In the course of these three stages 80 different conceptions dissolve—33 during the vision of whitish appearance, 40 during reddish increase and finally seven during the stage of black near attainment.
"We need to undertake more research," His Holiness said, "and investigate more cases of 'thukdam' to establish whether the visions are associated with dissolution of the coarser elements. Since it is observed that the body of a person going through this process can remain warm, it may be that the dissolution of the earth, water and fire elements do not coincide with the three visions.
"When an ordinary person dies, there is a dissolution of the elements. Buddhists believe that beings go through past and future lives, so there is some bearing on this too. My own Senior Tutor, Ling Rinpoché remained in 'thukdam' for 13 days. Recently, a monk at Gyutö Monastery remained in this state for 37 days. This is an observable reality, which we need to be able to explain.
"There is evidence to see and measure. We can also find a detailed explanation of the inner subjective experience of the process of death in the Guhyasamaja Tantra texts. I hope scientists can take all this into account and come up with an explanation."
Prof Alexander Kaplan, Head of the Laboratory for Neurophysiology and Neuro-Computer Interfaces, Moscow State University (MSU), asked what Buddhist ideas could help Western scientists to understand the workings of the brain? His Holiness told him that in the past, modern science as it had developed in the West had tended to focus on external phenomena—things that can be seen and measured.
"Gradually people have begun to recognize that peace of mind has an important role to play in our day to day lives. Consequently, scientists have also begun to show an interest in how to develop peace of mind. Mental afflictions like anger, fear and frustration detract from our good health, so, never mind about our next life or our reaching enlightenment, all seven billion human beings alive today need peace of mind here and now.
"In order to achieve and maintain peace of mind, we need to understand the workings of the mind and the whole system of emotions. Buddhism outlines 51 mental factors in six categories: five ever-functioning mental factors; five ascertaining ones; eleven constructive emotions; six root disturbing emotions and attitudes; twenty auxiliary disturbing emotions and four changeable mental factors. On the basis of understanding these we can learn to tackle destructive emotions as they arise, even under difficult circumstances. Peace of mind is within our reach."
Konstantin Anokhin, Director of the Institute for Advanced Brain Studies, MSU, wanted to know about evidence for the existence of past lives. His Holiness told him that he has heard of cases of children who belong to communities that give past and future lives no credence, who apparently describe memories of past lives. Among Indians and Tibetans, people who accept the idea of past and future lives, children with such recollections are not unusual.
"There was a boy born in Tibet, who, once he could talk, insisted to his parents 'This isn't where I belong, I want to go to India'. They brought him to India and came to Dharamsala. But even here he said, 'This isn't my place'. So, they took him to Mundgod Tibetan Settlement in South India. When they reached Ganden Monastery, the boy told them, 'This is where I belong' and led them to one of the houses. They went inside and pointing to a drawer, he said, 'My glasses are in there'. They looked and they were.
"In my own case, as a small boy, I recognized monks in the party searching for the Dalai Lama's reincarnation. I was able to remember their names. One of the principal procedures employed when seeking to recognize the reincarnation of a Lama is to show the candidate a number of possessions. If a child is able to recognize and select those items that had 'belonged to them before', it is taken as a positive indication. However, these memories fade as the children grow up.
"Something else that could be regarded as significant is that some children are able to study and learn much more readily than others. This is taken to imply that they are already familiar with the material from their studies in their previous lives. In my case I learned easily, which could be a sign of revising what I had learned before."
Yulia Boitsova, Researcher at the Laboratory of Neurovisualization, Institute of Human Brain, St. Petersburg, asked if there are external signs that reveal that a practitioner has entered into deep concentrative meditation. His Holiness first noted that two different modes of meditation can distinguished. Single-pointed concentration strengthens mental ability and focusses the usually scattered mind. This is a common practice. In addition, there is analytical meditation that seeks deep understanding.
Single-pointed meditation is also known as calm abiding. The mind becomes restful and consequently the heartbeat is reduced. The meditator is physically relaxed, which contributes to his or her good health.
Geshé Ngawang Norbu of Sera Jé Monastery, where he is Supervisor of the Russian Science Center, asked His Holiness if there is a specific meditational practice that generates similar results regardless of the individual's own spiritual realization. His Holiness replied that in general investigations of single-pointed and analytical meditation external observations would not differ very much. However, the subtlety of the object of meditation, emptiness, for example, is likely to be different.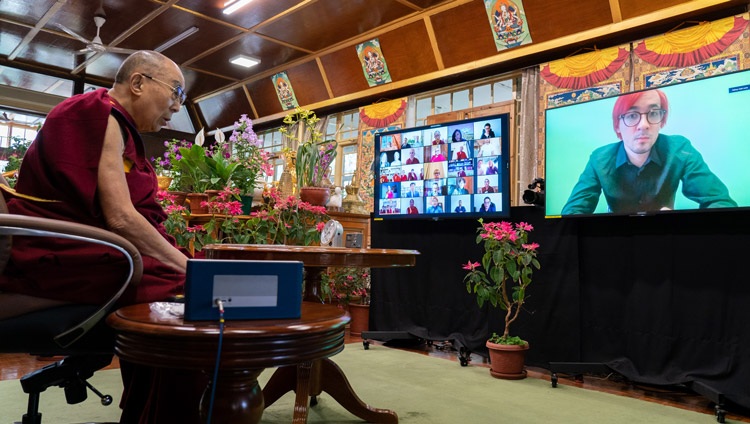 Lev Yakovlev, an undergraduate student of Prof Alexander Kaplan, enquired if anything like clear light can be experienced in ordinary life. His Holiness first clarified that attaching electrodes to the subject's head and body to measure subtle changes in the brain or physiognomy should create no problems.
He went on to explain that some scholars say that the dissolution of the 80 conceptions is followed by the three visions of whitish appearance, reddish increase and black near attainment. Others state that their dissolution occurs simultaneously.
"One way to identify different levels of consciousness," His Holiness remarked, "is to pay special attention to your sleep as a result of which you may recognise the clear light of sleep, which is coarser level of the mind of clear light.
"There are people who, as they fall asleep, can separate their dream body from their physical body. There's a story from Tibet of an elderly mother telling her son that she was going to sleep for several days. She asked him not to disturb her during that time. Her dream body left her physical form and travelled here and there. This is in an ability that some people have due to experiences in their previous lives. When she awoke, she was able to describe people and events she'd seen on her travels that she couldn't otherwise have known about.
Lobsang Phuntsok, a monk-researcher from Sera Jé Monastery, sought His Holiness's comments about the difference between people who genuinely enter 'thukdam' and others whose consciousness remains due to attachment. His Holiness agreed that it was possible that some people's consciousness fails to depart when they die due to their attachment to something in this life. However, a genuine practitioner is able to enter 'thukdam' as a result of daily visualizing the dissolution process as part of their tantric practice. This would be consistent with the kind of life they have led.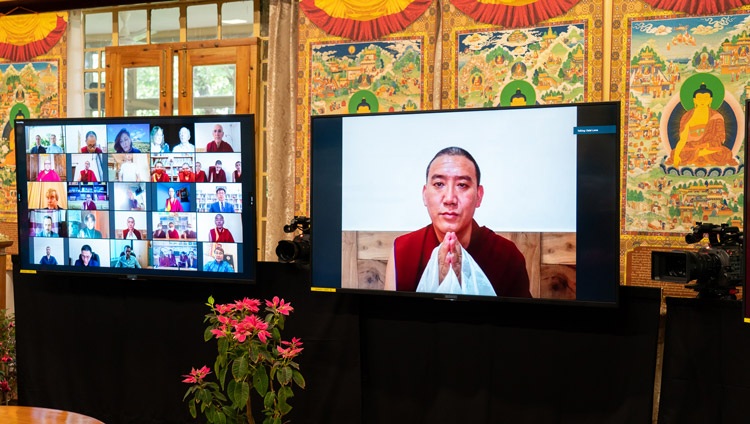 Nikolai Syrov, another undergraduate student of Prof Alexander Kaplan wondered whether the different pace of life these days, as compared to ancient times, might affect our ability to meditate. His Holiness felt that it depends more on the practitioner than the circumstances. Jetsun Mila lived like a poor mendicant in empty caves and this strengthened his practice. His teacher, Marpa Lotsawa, on the other hand, lived as a householder, but was still able to cultivate a sound practice of meditation.
Monks should be able to emulate Jé Tsongkhapa's example of studying the classic texts, reflecting on what they learn and then gaining experience of it in meditation. His Holiness cited the example of Tongpön Rinpoché at Drepung, who was the teacher of Tehor Kyorpön Rinpoché, who in turn taught Gyen Nyima and Khensur Pema Gyaltsen. Because of his strong determination and inner strength, he was able to keep up deep meditation even while living in a noisy, bustling monastery.
Prof Kaplan asked His Holiness's advice about using animals for scientific experiments. His Holiness conceded that it may be possible to learn about the relationship between the mind, the brain and the body using animals. The key point he stressed was that the animals should not come to harm and should be treated with compassion. Such experiments should be part of a broad vision to benefit all living beings.
Konstantin Anokhin raised another question about rebirth. His Holiness observed that for those of us who have no memories of them, past lives are a hidden phenomenon justified only by reason. For those who have memories, they are an experience.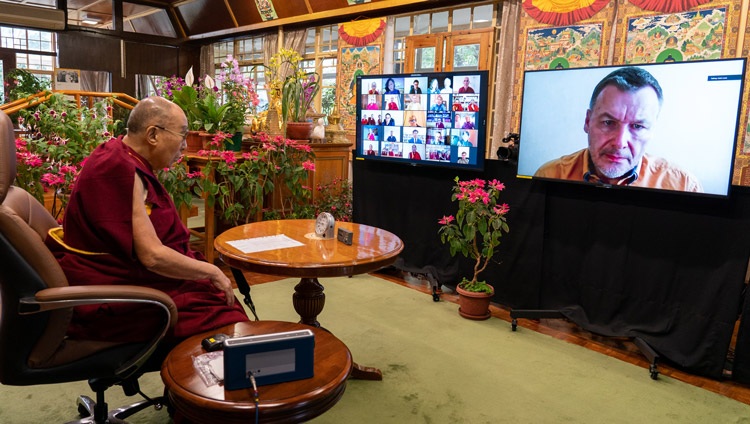 "Rebirth involves consciousness," His Holiness explained. "Consciousness consists of a continuity of moments of consciousness. Its nature is clarity and awareness. The minds of all conscious creatures are like this. If we try to find a beginning to consciousness, we come up against the need for it to arise from a compatible cause—that is a previous consciousness. Therefore, we conclude that consciousness has no beginning because its source has to be a previous moment of consciousness.
"Although animals may have more acute sensory perceptions, human beings have sharper intelligence. However, it is mental consciousness that is crucial to both. We talk about past lives on the basis of the continuity of consciousness. Our subtlest consciousness has no beginning and no end. So, the mind goes on life after life until the attainment of Buddhahood."
His Holiness told Lobsang Phuntsok that the factor underlying the potential to combine Buddhist science with modern science is that both systems rely on reason and logic. Science has been introduced in the monasteries. Drepung Loseling has a science and research laboratory. Meanwhile, the study of science has been incorporated into the Geshé curriculum. At the same time, Buddhist monks and nuns are helping modern scientists better understand the workings of the mind.
Geshé Lodoe Sangpo asked whether there are noticeable physical signs that 'thukdam' has taken place. His Holiness reported that his Tutor, Kyabjé Ling Rinpoché had told him of cases where a person appeared to be in a state of 'thukdam', but in fact had been possessed by a spirit. Such people were easily pushed over.
His Holiness clarified that generally someone who is thought to have entered 'thukdam' should be known to have undertaken a good spiritual practice founded on the three principals of the path—the determination to be free, the awakening mind and an understanding of emptiness of intrinsic existence. They should have cultivated a sound tantric practice involving consistent familiarity with the three visions and taking the three bodies into the path.
Project coordinator Telo Tulku Rinpoché spoke on behalf of the whole group of Russian neuroscientists and monk-researchers from Sera Jé, Mé, Gaden Jangtsé, Shartsé, Drepung Gomang, Loseling, Tashi Lhunpo, Gyumé and Gyutö Monasteries, when he expressed deepest gratitude to His Holiness for his advice and support. Rinpoché declared he would be honoured to continue to serve His Holiness as his Representative to Russia, Mongolia, and CIS countries.
He prayed for His Holiness's good health and long life.