Thekchen Chöling, Dharamsala, HP, India - This morning, Sofia Stril-Rever opened a conversation between His Holiness the Dalai Lama at his residence in Dharamsala and guests of the French 'Be the Love' programme and the Canadian 'One Better World Collective'. She observed that the key to a sustainable future is an altruistic mindset that values collaboration over competition and benefits people's well-being as a whole. She invited His Holiness to explain how, in the 21st century, cultivating altruistic love can enable us to heal our divisions and move realistically towards global peace, justice and happiness?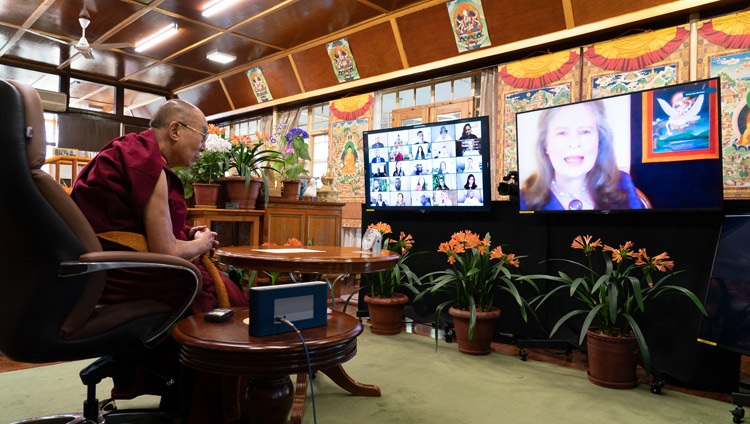 "Now, I'm 86 years old," he began. "And in my lifetime, I've seen a great deal of bloodshed in a variety of wars. The result of such violence has just been suffering and more hatred. This is one of the reasons why I admire the European Union. Historically several of the nations that are among its members, especially the French and Germans, have regularly fought with each other down the centuries. However, after the end of the Second World War they realized that constantly viewing your neighbour as your enemy serves no good purpose. Think how many lives have been lost in this squabbling and how many have been saved in the peace of the last 70 years or so.
"Today, we have to think about the whole of humanity. It's no longer enough just to think of your own nation or continent. The whole world has to be included. We need to acknowledge that we are all part of a global economy and we are all threatened by climate change and global warming.
"At a fundamental level, we are all the same as human beings. There may be minor differences of the colour of our skin, the shape of our eyes or the size of our noses—but when it comes to our emotions and our consciousness, we are the same.
"I am committed to promoting a broader awareness of the oneness of humanity. When I was still in Tibet, I admit that I only really thought about my fellow Tibetans. But after coming into exile in India, I've met people from many different places and made friends with them. I've realized that we are all the same in being human.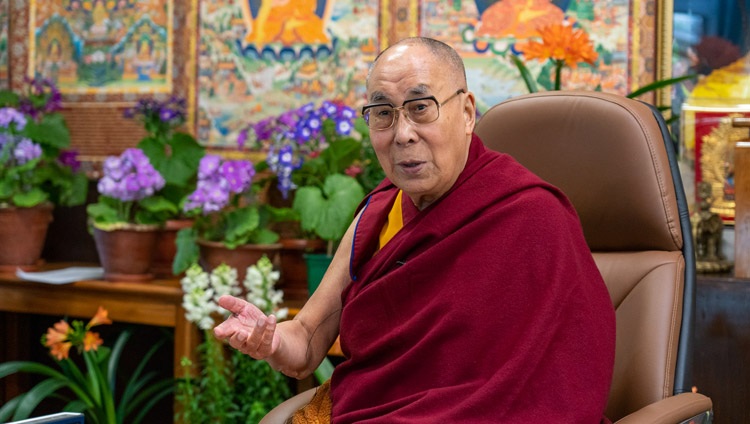 "As I've already said, what's important is that we think of the whole world. It's realistic. We need to recall the oneness of humanity. Our differences of religion, race or nationality are secondary compared to what we have in common as human beings.
"Whether or not you are religious is a personal matter, but the fact remains that all our religious traditions carry a message of the importance of loving kindness. It's because of this that religions can live together. So, I'm committed to encouraging inter-religious harmony.
"I urge all of you friends to join in trying to build a happier world and a happier humanity. Now, let's have some questions."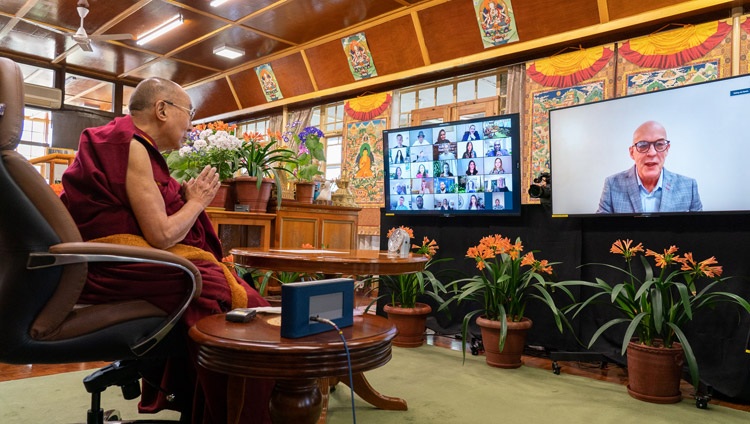 Ian Speirs of the One Better World Collective explained that there were six groups among the guests. Their members would introduce themselves and one of them would ask a question on behalf of the group.

Vivienne Harr, Raheen Fatima and Clover Hogan, members of the Young Activists Group introduced themselves. Clover asked, "When did you decide to make yourself personally responsible, and what brought it about?"
His Holiness replied that he is a religious person who has been trained from childhood to cultivate concern for all sentient beings. "In exile, meeting people from many different parts of the world, I realized that we are all the same as human beings—physically, mentally and emotionally. Despite this we confront widespread division which leads to conflict and violence. In the past it was natural for people to have a narrow perspective; their concern limited to their own country. Now, we have to think about the whole world. This is both realistic and of practical benefit.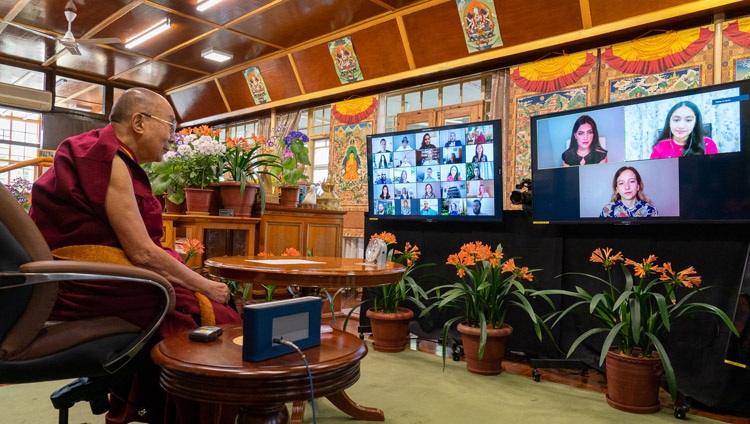 "Wherever I go, whoever I meet is just another human being. To think of other people only in terms of 'us' and 'them' is out of date and a source of problems."
For the second group, Michael Render wanted to know why so often fear prevails over love. His Holiness told him that narrow minded thinking is unrealistic. What's much more important is to be concerned about the whole world.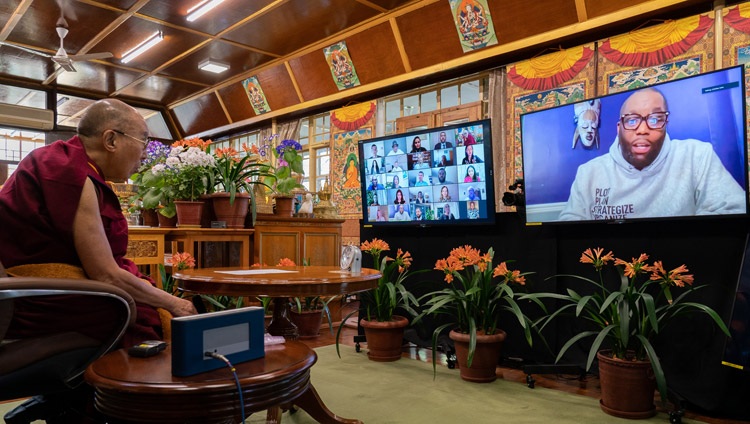 For the next group, Béatrice Martin asked how we can achieve greater equality.
"We are all the same just as human beings," His Holiness declared, "although there are small differences between men and women. When compared in terms of physical strength, women are generally not so strong. However, the Buddha, for example, granted equal rights to men and women. And as far as intelligence is concerned there's no difference. Nor is there any difference between men's and women's brains. We need to exert greater efforts to achieve the equality of men and women, and when religious beliefs or traditional customs stand in the, it's time for them to change. More broadly, men and women need each other and the need is equal."
From the Women's Influencers' group, as she introduced herself, Mozhdah Jamalzadah told His Holiness how divided and exhausted Afghanistan, her homeland, has become. Stephanie Benedetto and Susan Rockefeller also introduced themselves and Rockefeller asked His Holiness how his teachings can help women to care for themselves, others and the Earth.
"My main interest," he told them, "is to encourage people to cultivate warm-heartedness. As soon as we are born, our mothers take care of us. They feed us milk. Women are, by and large, more sensitive to others' feelings. By nature, they seem more compassionate. Therefore, we need women to be more active. Sometimes I speculate that if we had more women leaders, the world would be a safer place. Look at Finland and New Zealand and the achievements of their women leaders.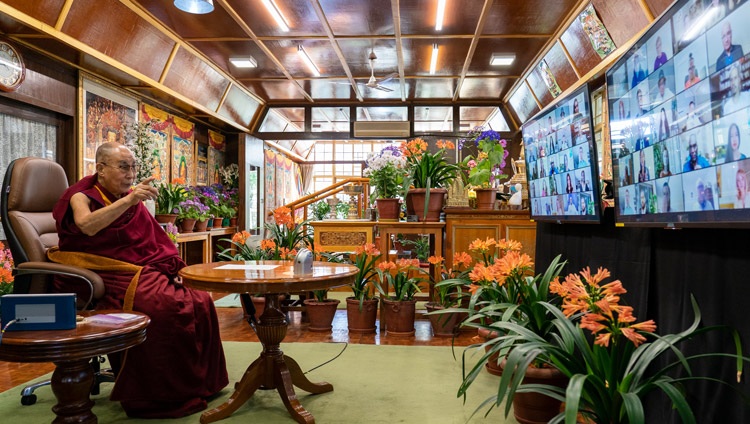 "We all have the same rights, but I think it's time for women to take more responsibility in public life. We need them to be more involved in the promotion of compassion."
For the fifth group, veteran singer and pacifist Buffy Sainte-Marie asked what steps we can take to compassionately confront misogyny.
"Through education," His Holiness replied. "Thinking of women as of somehow less value or as inferior must change. In order to achieve a more peaceful world, women must be able to play their part."
Xiuhtezcatl Martinez, Massey Whiteknife and Emmanuel Jal introduced themselves on behalf of the Peace Activists Group and Emmanuel, a refugee from Sudan, asked His Holiness how he overcame the trauma of going into exile. His Holiness replied that relations between Tibet and China are long-standing and go back at least to the seventh century when a Tibetan king married a Chinese princess. It's the unfree, totalitarian system prevailing in China, he said, that is the problem. It extends even to the point that narrow-minded communist officials equate steps to preserve Tibetan language and culture with separatism and try to eliminate them.
"When I went to China in 1954, I was impressed by Mao's and other communist leaders' commitment to the welfare of ordinary working-class people. But later, the way they exercised power and brought violent oppression to Tibet created problems and we escaped.
"In the context of the oneness of humanity we all have to live together peacefully and humanely. We don't dwell on differences between Chinese and Tibetans. We escaped because there was danger. I was met by old friends at the Indian border. Later, I met Pandit Nehru and he was very supportive. He helped us set up education for our children and re-establish centres of learning for monks and nuns.
"I'm a refugee, but I am also a guest of the Government of India. We're happy to have been able to preserve our culture, which dates back to Shantarakshita's introduction of Buddhism to Tibet in the eighth century. He established the Nalanda Tradition, a mode of training primarily dependent on reason and logic. As a result, we've been able to establish good working relations with scientists.
"If we had not become refugees, our outlook would have been more limited. As a refugee, I believe I've become more practical."
Massey Whiteknife, a member of the Mikisew Cree First Nation, asked whether teachings traditional to his people concerning love, respect, courage, honesty, wisdom, humility, and truth can heal humanity and the Earth.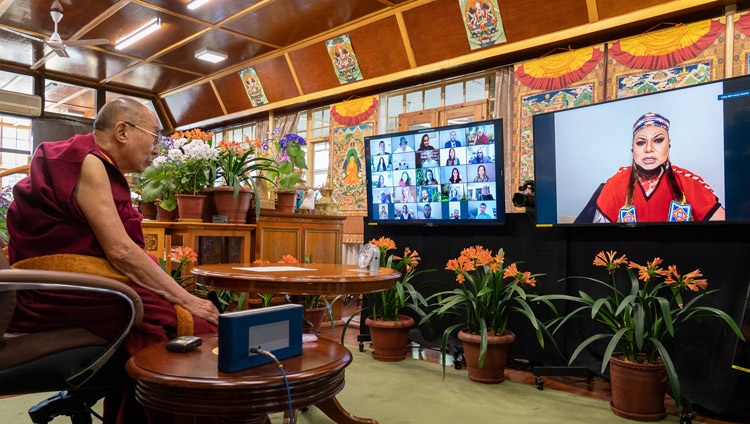 His Holiness replied that native peoples have generally lived more closely with nature. "Ultimately, as sentient beings, we depend on nature, so we must preserve our close relations with her. Sometimes we seem to think that technology will solve our problems and allow us to do whatever we like. But we'd be better to rely on the power of nature. For example, we need to curtail our burning of fossil fuels to generate energy and rely instead on wind farms and solar power."
In answering Raheem Fatima's question about whether he'd been a revolutionary when he was her age, His Holiness conceded to an early interest in science and technology. As a result of their conversations together Mao Zedong praised his scientific-mindedness. But when Mao looked him in the eye and declared that religion is the opium of the people, His Holiness concealed his shock. When he was in China, he learned to appreciate socialism, but socialism that allows for individual freedom rather than strict party control.
His Holiness told Stephanie Benedetto that he is able to laugh and remain joyful despite the world's suffering because as a Buddhist monk trained in the Nalanda Tradition, he cultivates altruism. As soon as he wakes up in the morning, he rekindles his sense of altruism and his understanding that everything is dependently arisen. This brings deep peace of mind.
In the normal run of things problems occur, but it is much more fruitful to approach them with a peaceful, happy mind. Feeling worried or demoralized isn't of much use. Altruism helps. "I believe in the enthusiasm and sharing experience with other people."
Buffy Sainte-Marie observed that it's difficult to speed up the ripening of an apple, but wondered if it might be possible to speed up the ripening of a person. His Holiness repeated that human beings learn about kindness and compassion from their mothers. "Scientists say we are social animals. We have a natural concern for our own community. Warm-heartedness brings with it a sense of inner peace. It is an antidote to anger, jealousy and fear. If you persist in being angry, no one will want to be with you. But if you have peace of mind, friends will gather around you. This is common sense."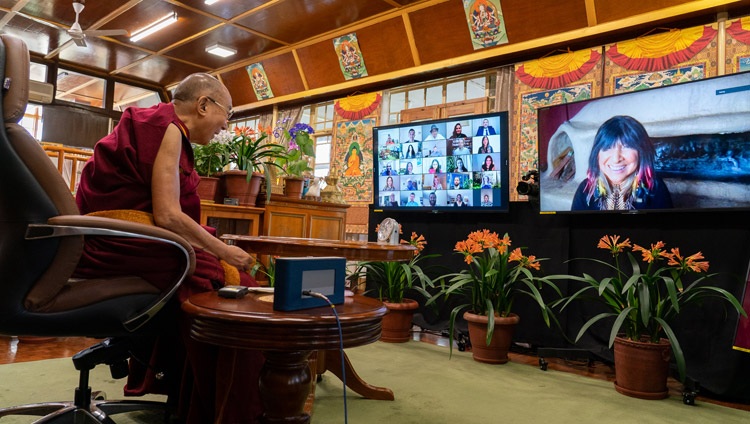 Ian Speirs told His Holiness it had been an honour to be able to talk with him. Sofia Stril-Rever thanked His Holiness, his office and everyone who had contributed to organizing the online conversation.
"Your unfailing example of love in the service of humanity is a source of inspiration, courage and hope," she added, "Please take care and stay well."
"See you again," His Holiness replied, "as human brothers and sisters we each have a responsibility to contribute to a happier humanity and a more peaceful world. Share this with your friends. Change comes step by step."