Shewatsel, Leh, Ladakh, India – Before leaving Jammu for Ladakh this morning, His Holiness the Dalai Lama met with a group of more than 400 Ladakhi students who are studying there. During an hour-long interaction, he reminded them of how Mahatma Gandhi promoted 'ahimsa' as a political tool during India's freedom struggle. At the present time, he added, it's important for young Indians to promote 'karuna' or compassion, for which there is such a need in today's world.
His Holiness's plane had hardly taken off from Jammu, climbing through dark monsoon clouds, before it began its descent among the mountains of Ladakh.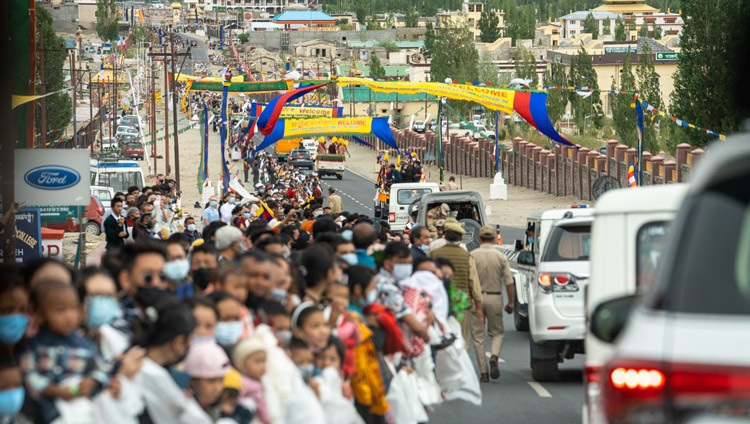 Once he had landed in Leh, the people of Ladakh gave His Holiness a rousing welcome. They lined the road all the way from Kusho Bakula Rinpoché Airport to his residence at Shewatsel Phodrang, near Choglamsar. When he reached there, Drikung Chetsang Rinpoché, Thiksé Rinpoché and other Lamas greeted him. Mr Tashi Gyalson, Chairman of the Ladakh Autonomous Hill Development Council (LAHDC), his colleagues, Mr Jamyang Namgyal, MP, Mr Thupten Chhewang, President of the Ladakh Buddhist Association (LBA) and Acharya Tenzin Wangdak, President of the Ladakh Gompa Association (LGA), as well as district officials, former government servants and representatives of various organizations, were also present to pay their respects.
Since thousands of Ladakhis and Tibetans, monastics and lay people, young and old, school children in uniform among them, lined both sides of the road as his motorcade passed, it was as if the entire local population had turned out to greet His Holiness, eager smiles on their faces, scarves, vases of flowers and sticks of incense in their hands.
At Shewatsel Phodrang His Holiness was welcomed once again by local dignitaries. As is customary, tea and sweet rice were served.
"I am very happy to be here once more," His Holiness told the gathering, speaking first in Tibetan and then in English. "I am very moved by the number of people who have turned out to welcome me. The people of Ladakh and I have a special bond between us based on faith and loving-kindness, of which I am very appreciative.
"I would also like to take this opportunity to encourage you to plant trees whenever and wherever you can. My friend the late Indian environmental activist Sunderlal Bahuguna entrusted me with the task of reminding the people of the Himalayan region of the importance of trees. Planting and caring for them is a crucial step we can all take towards offsetting global warming and climate change.
"After a few days' rest here, where the weather is easier on my knees, I would like to give a Chenrezig (Avalokiteshvara) empowerment and continue the explanation of the ninth chapter of Shantideva's 'Entering into the Way of a Bodhisattva' that I began in 2018."
As he stepped up to the newly installed lift that would carry him up to his residence, His Holiness waved to the assembled guests. And with that he retired for the day.