Thekchen Chöling, Dharamsala, HP, India, - Representatives of the TCV Global Family and the North American Tibetan Association (NATA), the two groups offering prayers for His Holiness the Dalai Lama's long life, gave him a traditional welcome as he walked into the yard of the Tsuglagkhang, the Main Tibetan Temple today. There were musicians, singers and dancers, groups of them in costumes belonging to different regions of Tibet. His Holiness smiled and waved as he walked steadily towards the lift and again as he walked around the temple to the door.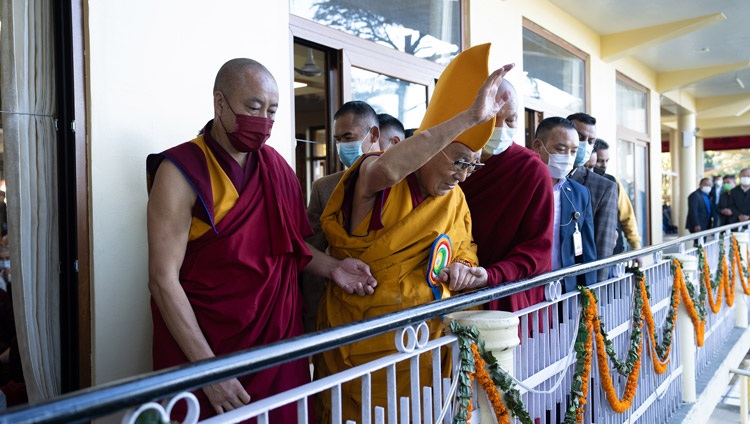 An estimated 5000 people had gathered to take part in the event, including 700 from the TCV Global Family and 150 from NATA. There were in addition hundreds of students currently attending TCV schools.
Facing His Holiness directly, and leading the ceremony, was Ling Rinpoché. To his left sat Samdhong Rinpoché and Kirti Rinpoché, while to his right was Ringu Tulku, the Abbot of Namgyal Monastery, Thomtog Rinpoché and the monastery's Dorjé Löbpön.
The ceremony began with the recitation of a prayer invoking the previous incarnations of Avalokiteshvara in India and Tibet composed by Trulshik Rinpoché. The subsequent long-life prayer was based on the Fifth Dalai Lama's 'Amitayus Extracting the Pure Ambrosia'.
As a procession of offerings was carried through the temple including volumes of scripture, statues and bundles of fabric, the Chant Master performed a mandala offering. Ling Rinpoché got to his feet and stood before His Holiness to recite a tribute and request.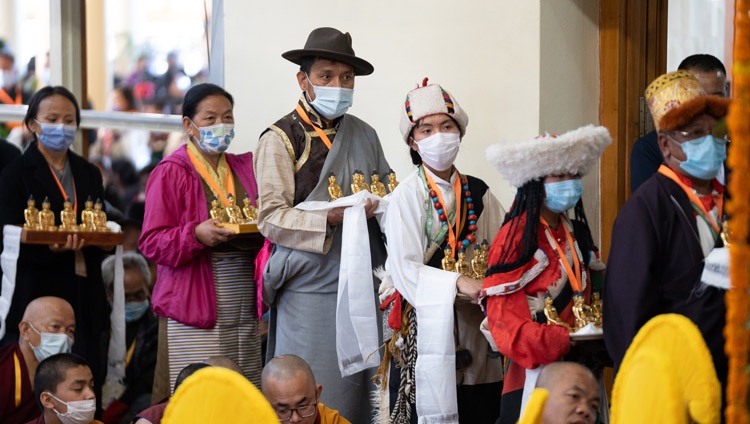 "Homage to the Three Jewels," he began. "This is a request from members of TCV past and present, students, staff and teachers, as well as from Tibetans living in North America to you, the object of veneration of all Tibetans.
"Although you were enlightened aeons ago, you continue to give teachings that accord with the aptitudes of sentient beings across space. The books of Kadam say Avalokiteshvara has appeared many times as a human being. There were the Dharma Kings of Tibet and the First Dalai Lama, who was a disciple of Jé Tsongkhapa. Then there was the Fifth Dalai Lama who took responsibility for the temporal and spiritual affairs of Tibet. The government he led involved monastic and lay representatives and foreshadowed democracy in that it was not authoritarian.
"The 13th Dalai Lama made many changes to Tibet's systems of government and education. He introduced hydro-electric power to Tibet and formulated a Tibetan currency.
"In due course, you were born in the vicinity of Jé Tsongkhapa's birthplace as was indicated by visions in Palden Lhamo's sacred lake. You studied with your tutors, Kyabjé Trijang Dorjé Chang and Kyabjé Ling Dorjé Chang. You took the vows of a fully ordained monk under Ling Rinpoché's tutelage.
"You have never wavered from the practice of bodhichitta and have sown the seeds of enlightenment in numerous disciples. With great courage you have given the Kalachakra Empowerment on many occasions. You've studied logic and philosophy, as well as receiving many tantric empowerments, teachings, transmissions and commentarial explanations.
"Being fully qualified by all this knowledge, you accepted temporal and spiritual responsibility for Tibet at the age of sixteen. You reformed the Tibetan system of government and introduced a sense of justice. Giving teachings to hundreds of thousands of people you also sowed the seeds of the spiritual path.
"You've travelled the world and addressed so many different people. Even the most learned scholars are no match for you when it comes to giving explanations. You have served the Dharma and sentient beings in profound and vast ways.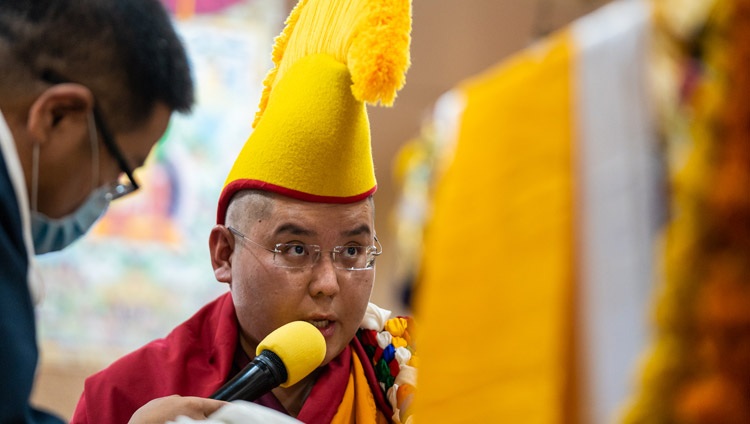 "After the occupation of Tibet and the imposition of oppressive Chinese communist rule you came into exile followed by tens of thousands of Tibetans. With far-sighted vision you saw to it that Tibetan refugees were provided for. You established settlements where they could live. You set up medical facilities to take care of their health. You re-established the great monastic centres of learning, as well as institutions such as the Central Institute for Higher Tibetan Studies, that have produced many scholars qualified to become abbots.
"Students from the Himalayan regions and Mongolia have been made welcome at these centres of learning where the tradition of rigorous study has continued without decline.
"You criticized the practice of Shukden or Dolgyal.
"Out of kindness you have spread the Dharma even in lands where the Buddha's teachings had not been heard before.
"You have worked to create harmony among the various Buddhist traditions of Tibet, and among the major religious traditions of the world.
"You reassessed the teaching of the Buddha in terms of three categories—science, philosophy and religion, and commissioned the compilation of books entitled 'Science and Philosophy in the Indian Buddhist Classics'. You created a new bridge between modern science and traditional Indian knowledge.
"With a vision of resolving the Tibetan issue in a mutually beneficial way you formulated the Middle Way Approach, a non-violent, secular approach. Based on your peaceful legacy you have been granted such awards as the Nobel Peace Prize and the Congressional Gold Medal.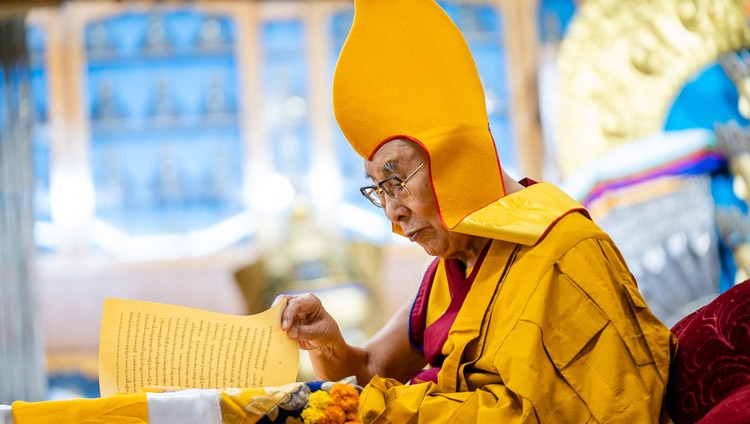 "Inspired by your vision Tibetans living inside Tibet have come into exile to gain an education and scholars who have trained in exile have gone back to Tibet to teach.
"You have raised awareness of the urgent need to protect the world's natural environment.
"You instigated the introduction of a democratic system among Tibetans in exile in which all adults, men and women, can participate. In 2001 you began to retire and in 2011 you devolved all your temporal responsibility to the elected leadership.
"You have dedicated your life to the welfare of sentient beings and revealed that you are guided by four commitments. According to the first, you are committed to promoting human values. The second involves encouraging inter-religious harmony. The third concerns the trust the Tibetan people place in you and your role as their spokesperson. This extends to raising awareness of the need to keep Tibetan culture alive and to protect the natural environment of Tibet. Finally, you have declared your dedication to reviving interest in ancient Indian knowledge, particularly as it pertains to the workings of the mind and emotions.
"We cannot fully repay the kindness you have shown us Tibetans and sentient beings as a whole. However, as a token of our gratitude we are conducting this ceremony involving different kinds of offerings and fervent prayers to request you to live long. Your life is of utmost importance to Tibetans; it is indispensable to the benefit of all sentient beings. We pray you will continue to show concern for all sentient beings, especially the people of Tibet."
Ling Rinpoché then presented His Holiness first with the mandala offering then a statue of Amitayus, a scripture and a chörten, which together represent the body, speech and mind of a Buddha. Next, he offered a vase of long-life nectar, a bowl of long-life pills and a long-life wand. These were followed by ritual cakes of different shapes and colours representing the four kinds of activity---peace, increase, control and force. There was a tray bearing the eight auspicious symbols, the parasol, fish and so forth. Next was a tray of the eight royal emblems, a wheel, jewels, a queen and so forth and lastly the eight auspicious substances, which include materials offered to the Buddha and blessed by his accepting them—a right-coiling conch shell, yogurt, durva grass, vermilion, bilva fruit, a mirror, giwang medicine and white mustard seed.
The prayer for His Holiness's long life composed by his two tutors was recited and followed by a prayer to the Dharma protectors of Tibet written by His Holiness. There was a musical interlude as children from TCV played and sang a song whose chorus was, "May you live long."
"Today," His Holiness declared, "Tibetans in exile, young and old, have offered this prayer for my long life. And although they are not physically here with us, they are joined by several million Tibetans in Tibet who show whole-hearted faith and regard for me. There may even have been people elsewhere around the world who have heard that this ceremony was taking place.
"Tibet is known as the land with a special connection to Avalokiteshvara. I am someone who has been blessed by Avalokiteshvara and have links to him through karma and prayers. I've tried to work for the flourishing of the Dharma and Tibetan culture and I offer any contribution I have made by way of practice to Avalokiteshvara. I will live for another two decades for the sake of Tibetans and the cause of Tibet.
"I meditate on bodhichitta and emptiness every day as a result of which I feel at ease in my mind and I'm physically fit. Bodhichitta is my principal practice. It brings me inner strength, free from anxiety and fear. I urge all of you too to work hard to develop bodhichitta, confident that you've been blessed by Avalokiteshvara.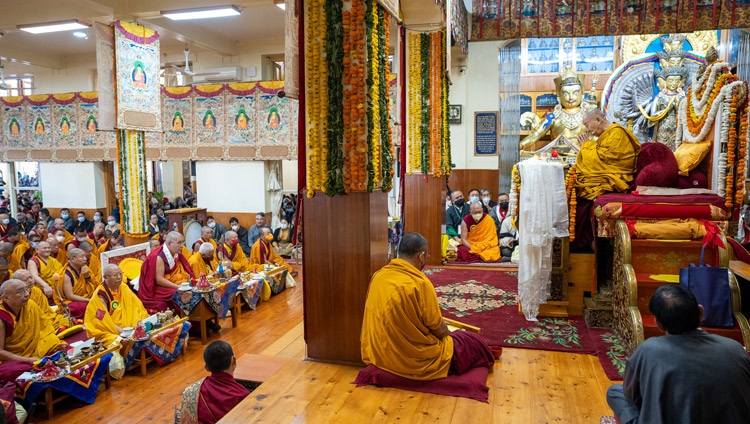 "I'm getting older, but I can still talk. Those who have a connection with me in this life will be cared for by Avalokiteshvara in life after life until enlightenment."
His Holiness then gave a reading transmission of a sadhana entitled 'Inseparability of the Spiritual Master from Avalokiteshvara' that he composed many years ago at the request of Assistant Cabinet Minister, Shankawa Gyurme Sonam Tobgyal who, with sincere faith and offerings, asked His Holiness to write a simple and complete sadhana about the inseparability of Avalokiteshvara and himself.
"I have made this life worthwhile," His Holiness disclosed, "and I'm determined to keep up the work. The Tibet issue will be resolved."
The ceremony was concluded with recitations of the Prayer for the Flourishing of the Teaching of the Buddha and the Prayer of the Words of Truth.