Thekchen Chöling, Dharamsala, HP, India - As the early rays of the sun shone over the mountains this morning, His Holiness the Dalai Lama walked into the temple garden from the gate to his residence. More than 260 members of eight opera troupes—namely the Tibetan Institute of Performing Arts, Tibetan Opera Associations from Paonta, Kalimpong, Kollegal, Nepal, Mussoorie Tibetan Homes Foundation, Bhandara and the Chaksampa troupe from the USA—as well as representatives from the Mainpat, Mundgod, Odisha, Bylakuppe and Chauntra troupes, in addition to more than 70 delegates from the Umaylam (Middle Way Approach) Association who recently held their Fifth General Body Meeting waited to greet him.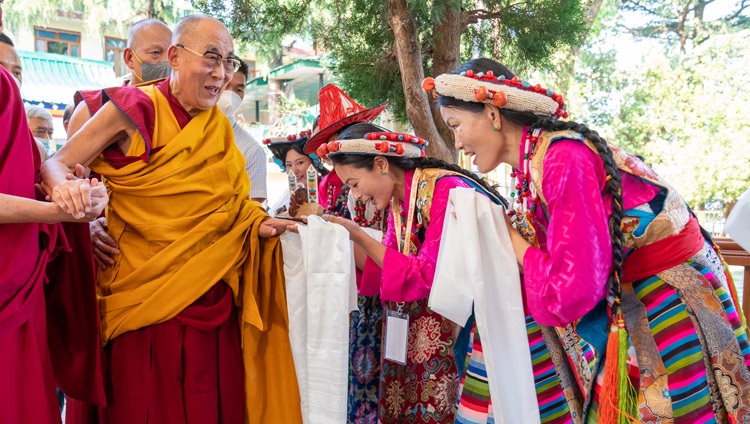 His Holiness briefly consecrated objects set out for his blessing and, dipping his finger into the milk he was offered as part of the traditional Chema Changpu offering, flicked it into the air. He was formally welcomed by a group of female performers from TIPA who sang as he walked to his seat beneath the temple.

"This is an opportunity for us to celebrate our traditional culture," His Holiness began. "In Lhasa, the Sho-tön festival was observed over four days. I used to really enjoy it. It gave me time off from my studies and recitations in front of my tutors. It was one of my favourite holidays because my family had a house at Norbulingka and my mother would attend the Sho-tön Festival and would come to see me. Those were happy days.
"On the first day of the festival, the Gyalkhar Chösong troupe would perform operas about a Chinese Princess marrying the Tibetan king (Gyalsa and Belsa) and the story of the Dharma King Sudhana (Norsang). On the second day, the Chung Riwoché troupe would present one story about two brothers, Dhonyö and Dhondup, and another about the Dakini Nangsa Öbum. On the third day, the Shangpai troupe would enact the story of the Chinese princess marrying the Tibetan king, as well as the story of King Drimé Kunden (King Visvantara). Finally, on the fourth day, the Kyomo Lung troupe would perform operas about the Dakini Drowa Sangmo and Pema Öbar (Padma Prabhajvalya).
"We used to really enjoy ourselves during the Sho-tön Festival, so I thought it would be good today if each of the troupes taking part here could perform one song each to remind us of those cheerful days.
"Today, we are celebrating our traditional culture. Even after we came into exile, we tried not to think only of ourselves as we made the utmost effort to preserve our own traditions. Keeping our performing arts alive is a vibrant part of that. Things are definitely changing in China. There's no use fighting with the Chinese. We are not seeking total independence from the People's Republic of China (PRC). According to our Middle Way Approach we are prepared to live within the PRC, so long as we have genuine autonomy, which would allow us, as Tibetans, to look after our own language and traditions in the expectation that one day we will take them back.
"These days increasing numbers of Chinese are showing interest in our Tibetan Buddhist traditions. No other Buddhist country has preserved the Nalanda Tradition as we have done. There is growing acknowledgement that it is a tradition that takes a scientific approach based on critical analysis rather than faith alone. There is also some recognition that destructive emotions such as anger and attachment arise because we tend to see things as having an autonomous existence from their own side."
His Holiness spoke of how Tibetans had kept Buddhism alive in their own land without sharing it extensively with others. He remarked that coming into exile as refugees had given rise to unanticipated opportunities. Despite being few in number, Tibetans in exile have not only been able to keep their religion and culture alive, they also discovered that many people across the world are interested in the heritage they have preserved.
He recalled that when Songtsen Gampo commissioned the creation of a Tibetan written script, despite his close links to China, he chose to model it on the Indian Devanagari alphabet. Songtsen Gampo was married to a Chinese princess, but was also strongly aware of his Tibetan identity. In the 8th century Trisong Detsen invited Shantarakshita, a preeminent philosopher and logician from the famed Nalanda University to Tibet. When he discovered written Tibetan he encouraged the translation of Indian Buddhist literature, the words of the Buddha and subsequent explanatory treatises, into that language. As a result, the Kangyur and Tengyur came about.
In exile, the establishment of separate Tibetan schools contributed to the preservation of Tibetan religion and culture. Today, scientists regard these traditions with interest and respect. The quality of Tibetan knowledge cannot be destroyed by Chinese hostility. His Holiness encouraged Tibetans to be proud of the language and Tibetan traditions they have preserved.
There followed a poignant musical interlude as a lead singer from each of the opera troupes present stepped forward to sing a song while the entire assembly joined in with the chorus. These lead singers included older men and women in traditional costume, as well as members of the younger generation. The songs began with a prayer for His Holiness's long life and ended with a wish for peace in the world.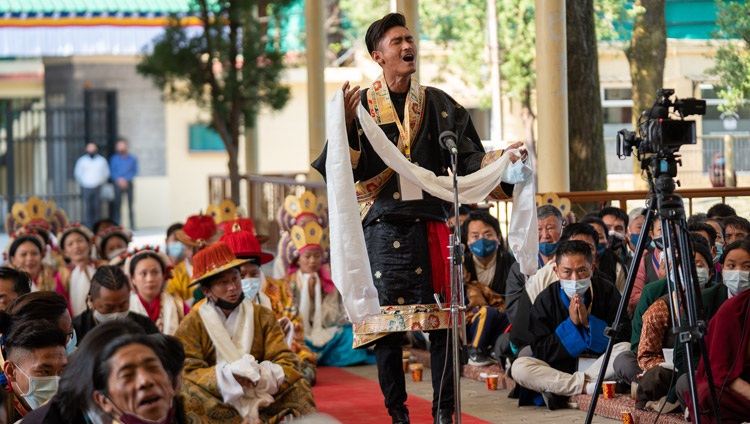 Urging Tibetans to be proud of their identity and heritage, His Holiness referred to himself as the boy recognised on the basis of the three syllables A, Ka and Ma, which were reflected in the surface of Lhamo Latso.
"I was born in the Tsongkha region of Do-mé, far from Lhasa," he explained. "Then I came to Lhasa where I studied Buddhist philosophy with my Tutors and became a Geshé. I received many teachings from Tagdrag Rinpoché and my other Tutors, as well as instructions from erudite masters like Gyen Rigzin Tenpa and Khunu Lama Rinpoché. As a result, this person born in Do-mé has served the Buddhist tradition. However, I have also made many friends among Hindus, Muslims, Christians, Jews and so forth across the world.
"I'm nearly 87 years old, but according to one prophecy, I may still live for another ten or fifteen years. I'll do my best, but I urge you all to work hard too. We need to remain healthy and to bring up healthy children who will be able to take our culture and traditions forward.
"Someone I know who works in a university in Tibet told me 'The Chinese may rule us now, but there's a real possibility that through our spiritual traditions we may lead China in the future. Communism in crumbling.' Mao Zedong commended what he called my scientific turn of mind, but when he told me that religion is poison, I only pretended to agree. As far as I'm concerned, Tibet's tradition, derived from the Nalanda Tradition, is based on reason and logic and deals with transforming the mind.
"In exile in this free country, I have used my intelligence and exercised my critical faculties. Indeed, we have all worked hard and our work has borne fruit. Please keep it up.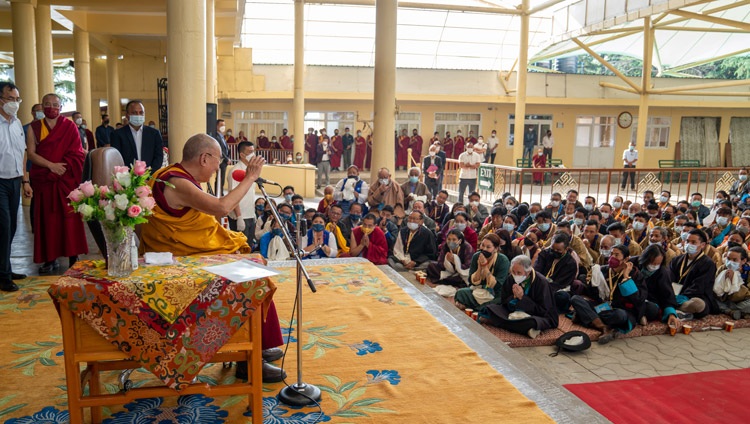 "It has been very cheering to hear these moving songs this morning, which evoke memories of the Sho-tön festivals of my childhood. The people of Tibet cannot be easily changed as evidenced by the way we have protected our tradition in the face of Chinese opposition, both hard and soft. Our traditions are rational, practical and of benefit to others. They are not easily destroyed."
His Holiness then recited the concluding verses of the prayer of the Words of Truth:
Thus, the protector Chenrezig made vast prayers
Before the Buddhas and Bodhisattvas
To fully embrace the Land of Snows;
May the good results of these prayers now quickly appear.
By the profound interdependence of emptiness and relative forms,
Together with the force of great compassion
in the Three Jewels and their Words of Truth,
And through the power of the infallible law of actions and their fruits,
May this truthful prayer be unhindered and quickly fulfilled.
Finally, he repeated what he had said earlier about remaining with China and not seeking independence, so long as there is genuine autonomy.
"Harsh treatment cannot go on forever. Our traditions aimed at bringing about peace of mind will survive. Be proud, be at ease, and be happy."