Shewatsel, Leh, Ladakh, India - Today, His Holiness the Dalai Lama was invited to lunch in the Abispang garden of Spituk monastery by the Ladakh Buddhist Association (LBA) and the All-Ladakh Gonpa Association (LGA). The road along which he drove was lined by the faithful in their best clothes with flowers in their hands.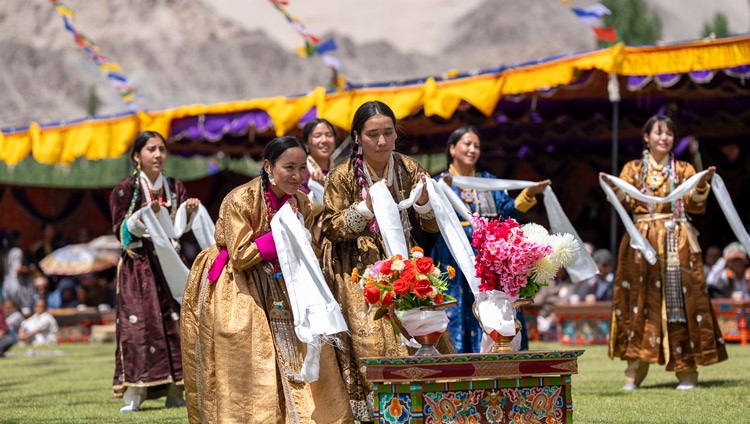 Former MP and current President of the LBA, Thupstan Tsewang, briefly welcomed His Holiness and thanked him for having visited Ladakh once again, for giving teachings, and for having given audience to so many of the people of Ladakh.
Addressing members of the audience as, "My dear dharma brothers and sisters", His Holiness told them that he was pleased to come to Ladakh for several weeks to avoid the humidity of the rainy season in the lower regions of India that include Dharamshala, his long-term residence in Himachal Pradesh.
"The people of Ladakh have shown me great devotion and clearly have sincere faith in the teaching of the Buddha. I've been pleased also to see the friendship and camaraderie that exists here between Muslims, Buddhists and people of other faiths.
"After Tibet lost its freedom, I came into exile, and since then I have observed the unchanging faith and dedication of the people of the Himalayan region from Ladakh to Arunachal Pradesh. On this occasion too, I was able to come to Ladakh and give some teachings. I would like to thank everyone here, lay people, monastics, our Muslim friends and others for their friendship and warm-heartedness. The people of the Himalayan region hold me close in their hearts, and I feel close to them too."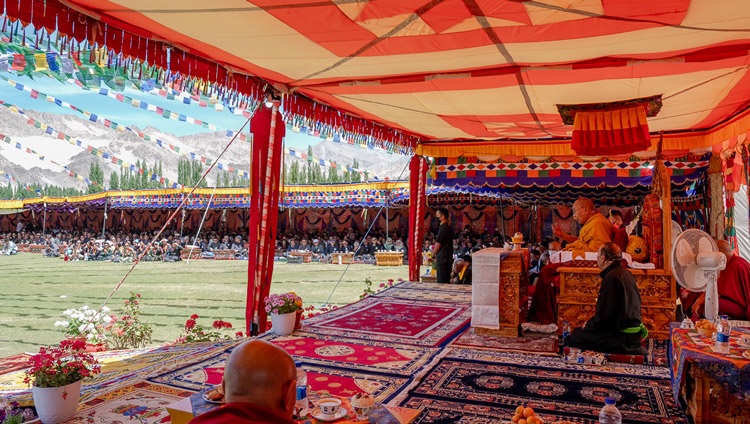 His Holiness recited the first verse of the Praise to Manjushri:
I pay homage to Manjushri
Who has a youthful demeanour,
And whose light of wisdom
Dispels the darkness of ignorance.
"I have been doing the practice of Manjushri, the combined practice of peaceful and wrathful aspects of Manjushri, for many years. As this verse makes clear, Manjushri helps dispel the darkness of ignorance, which essentially involves the misconception that beings and things exist independently and objectively. Insight into the nature of things also brings clarity to our day-to-day conduct.
"We all bask in our mother's affection from the moment we're born. This is the way our lives start and why it's important that we then continue to live our lives in the light of love and compassion.
"Everywhere in world people talk about peace. But will it simply fall from the sky? It will not. Generally, we fight for our own victory and the defeat of our rivals. It would be much better if we had a stronger sense of the oneness of humanity. So many people died in the first and second world wars, but what good did it bring? We must try to resolve differences through dialogue and discussion, not by resorting to the use of weapons. We should protect the lives of others.
"From the moment of birth, we survive as a result of our mother's love and compassion. If we go on to live our lives on the basis of love and compassion, we'll find true peace of mind and be able to contribute to peace in the world.
"I'm 88 years old, nearly 90. I've seen such violence during my lifetime. Nuclear weapons were used at the end of the second world —very sad. Instead of thinking of others in terms of 'us' and 'them' and being focused only on our own side, we should aim for peace and harmonious coexistence in the world. I pray that we may create a world in which there is no more violence or fear."
His Holiness pointed out that historically people have also fought each other in the name of religion. But, since all religions convey an essential message of love and being of service to others, others, to fight on the basis of religion is contradictory. He added that there are differences in philosophy, but these are differences we should respect, not fight over. We should aim for the kind of inter-religious harmony we find in Ladakh.
The apricots and apples he had been offered reminded His Holiness of the apricots that grew abundantly in Norbulingka. "I used to sit under the trees and knock them down with a stick. We had apples too, but not as good as these." His Holiness then bit into an apple to show how strong his teeth are and that he has not lost a single tooth that he received from his mother.
His Holiness mentioned how important it is to study philosophy and logic, which really helps achieve peace of mind. It's one thing to pray, he said, but if you study it helps reduce your ignorance. He revealed that he's found from his own experience that meditating on the awakening mind of bodhichitta and the view of emptiness really strengthen peace of mind.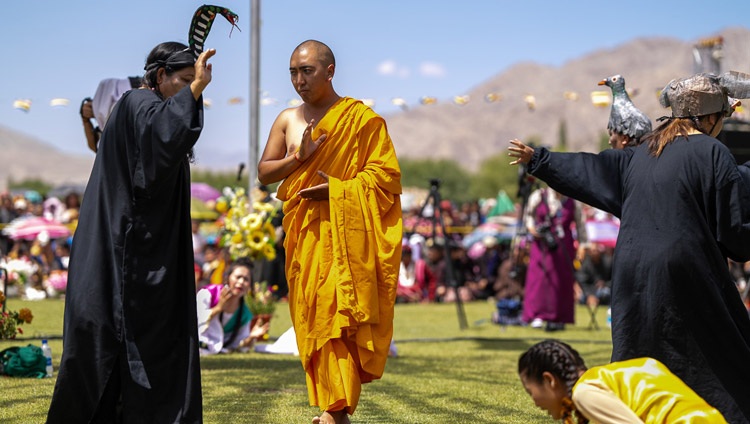 "I would like to thank the local Union Territory Government, the Government of India for all their help while I've been here. I would also like to thank the organizers of this event and my fellow guests for receiving me here today.
"I have nothing else to say. We'll meet again in the coming years. Thank you."
After lunch, as he was preparing to leave, His Holiness had a few final words to add.
"You have invited me here with joy and celebration, for which I'd like to say—Tashi Delek.
"Elsewhere in India distinction is sometimes drawn between one caste and another. However, you should know that all human beings are the same with no need to regard some as high and others as low. As for us, we are all followers of the Buddha. We all have the same Buddha nature and the ability to achieve Buddhahood. Therefore, it would be better if we worked to develop the awakening mind of bodhichitta by cultivating love and compassion towards everyone.
"That's all. Thank you."