Khaltse, Ladakh, India - This morning, His Holiness the Dalai Lama flew from Leh to Khaltse in the Sham Valley west of Leh. He landed at the helipad near the teaching ground in Khaltse after a flight of less than half an hour. He was accorded a warm welcome by the local community led by the Chief Executive Councillor (CEC) of the Ladakh Autonomous Hill Development Council (LAHDC), Tashi Gyalson, representatives of various organisations and religious communities of Sham region.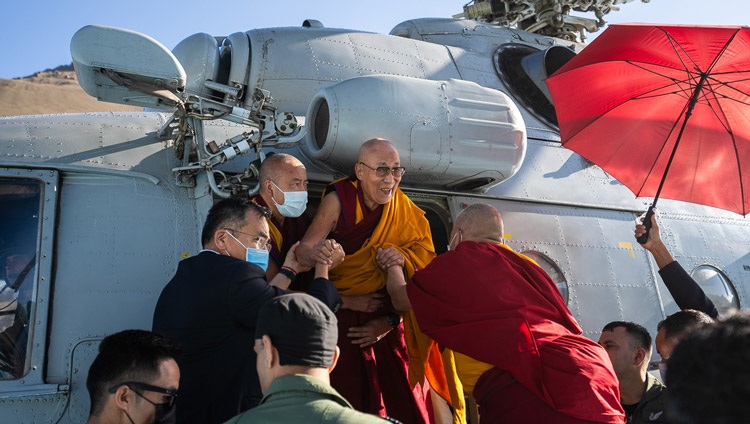 On his way to the teaching ground, His Holiness inaugurated the sites of a proposed degree college and a new residence (Phodrang) for him and his household.
President of the Khaltse, Sham administration, Tsewang Norbu, Jamyang T. Namgyal, MP and Tashi Gyalson, the LAHDC CEC made speeches to welcome His Holiness. Tsewang Norbu declared that the people of the Sham Region felt both fortunate and blessed to be able to fulfil their wish to offer His Holiness a proper welcome and to receive teachings from him.
Adult members of the local community and students from the region presented cultural performances to celebrate the occasion.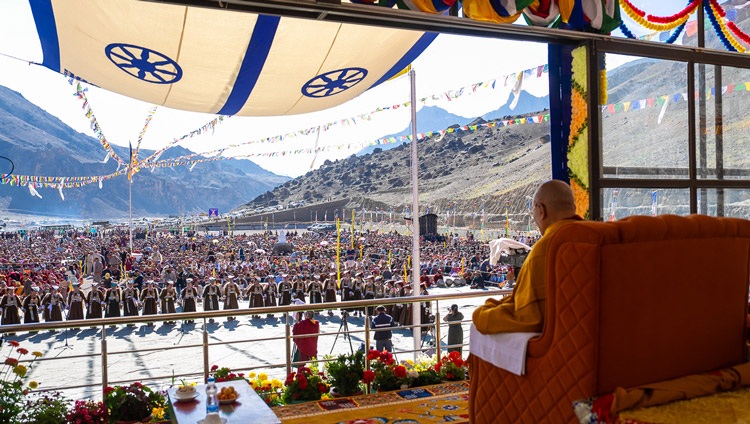 His Holiness was then requested to address the gathering estimated to number more than 15,000 people.
"Today" he began, "I am very pleased to meet the people of this region, who show me such affection regardless of whether they are a religious or not.
"I have visited many different places across the world and have concluded that we are all the same as human beings. All of us cherish love and affection, therefore it's extremely important to promote and adopt these qualities among ourselves. We've all been nurtured in the shelter of our mother's love and affection from the moment we were born.
"It is wonderful that there is a growing sense these days of the need to promote these heartfelt qualities. Although there has been tremendous progress in material development, thinking of others in terms of 'us' and 'them' has led to widespread jealousy and suspicion. One way to counter these negative feelings is to cultivate an appreciation of the oneness of humanity.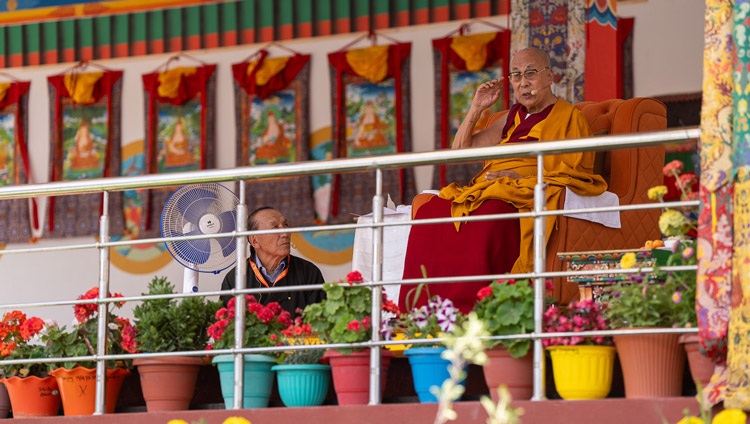 "I'd like to acknowledge your devotion and rock-like faith in me and assure you that tomorrow I will offer you a long-life empowerment related to White Tara tomorrow morning.
"The purpose of religious practice is to tame the mind, and, by eliminating the three poisons of greed, jealousy, and ignorance, to develop a warm heart. For my part, I make a point of cultivating the awakening of the bodhichitta mind every morning when I wake up, which brings me peace of mind and good health. It may be, part of religious practice to pray and perform rituals, but the most important thing is to become a peaceful person. The prayers I make to be able to benefit others contributes to my developing peace of mind. We must seize the opportunity to be friendly, not hostile, to each other.
"Happiness is not about being rich or famous, but enjoying peace of mind. This is what brings us real satisfaction. Therefore, it is essential to found our lives on the practice of love and compassion. Ultimately, when the time comes to draw our last breath, we'll be surrounded by family and friends, who will respond with loving kindness similar to the love and affection our mother showed us when we were born."
His Holiness emphasized that whether you believe in religion or not, it is important to cultivate warm-heartedness and live a meaningful life. This is the way to be happy and live in peace.